C.F.O.I.R
Posted by venessa miemis on Wednesday, August 4, 2010 · 28 Comments I just wrapped up a final project for an aesthetics course this semester, the assignment being to create a "Database of the Self." I chose to make the database as a representation of the roles we play in terms of how we interact with information online. The roles are overlaid on a panarchy, which shows a visualization of adaptive lifecycles.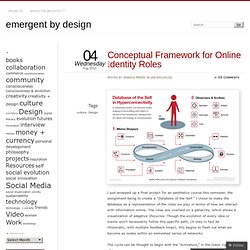 MATURE Conceptual Model | MATURE IP
What is knowledge maturing? Learning is an inherently social and collaborative activity in which individual learning processes are interdependent and dynamically interlinked with each other: the output of one learning process is input to the next. If we have a look at this phenomenon from a macroscopic perspective, we can observe a knowledge flow across different interlinked individual learning processes.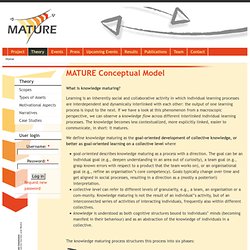 Mapping hyperconnectivity – Conceptual Framework for Online Identity Roles [04Aug10] | Open Intelligence
collaboration
Culture Hack: Collaborating with Strangers Posted by venessa miemis on September 11, 2012 · 11 Comments below is an entry for the CultureCon Contest by Sebastien Paquet – The culture hacking story I want to share with you is almost ten years old now. Back then I was a Ph.D. student in Computer Science with a deep interest in social software. I was posting to my blog daily, and building a […]
Design Thinking > Collaboration – Memetic Cartography
Posted by venessa miemis on Thursday, July 1, 2010 · 21 Comments I'm in the middle of taking a course on Virtual Learning Environments (syllabus here), and reading a few chapters from Adaptive Software Development by Highsmith. It approaches the team-building and collaboration process from the perspective of complex adaptive systems theory, and contains some interesting insights in evolutionary development and creating environments where emergence can occur.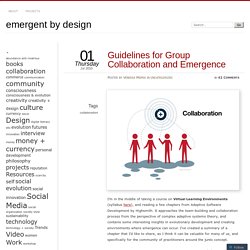 Guidelines for Group Collaboration and Emergence
FH(_)-Friendship in Hyperconnectivity
panarchy
Three Stands of MATURE: Content, Processes, and Semantic Structures | MATURE IP
To further refine the view of the maturing process, we also have to broaden our view to include the knowledge assets that are vital for the working and development of any kind of network or organisation. These assets are of three kinds: contents, processes and semantics. Contents such as documents, images, videos etc. certainly play a central role. However, they only provide a static picture of the world. We see a need to also include knowledge assets that are more tightly related to the actual work process, the dynamic aspect of the organisation. Large organisations already support this by developing business process models and workflows.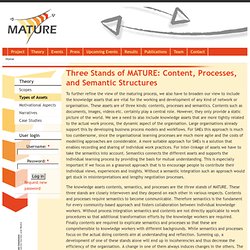 :: Database of the Self in Hyperconnectivity ::
Profiling practices
In information science, profiling refers to the process of construction and application of profiles generated by computerized data analysis. The technical process of profiling can be separated in several steps: