Burning man
Get flash to fully experience Pearltrees
Sur la côte Ouest des États-Unis, le festival Burning Man, le plus dingue de la planète, s'est achevé la nuit dernière. Récit tout en longueur de ces folles nuits dans la ville éphémère de Black Rock City. MAJ : Le Burning man dans une (belle) vidéo ? C'est comme si vous y étiez et c'est ici . Tous les ans, au début du mois de septembre, se déroule dans le désert du Nevada le fameux festival Burning Man [en]. Projet collectif un peu fou qui existe depuis plus de vingt ans.
Pyromaniacs on the payroll? Sure. Counterculture events like this week's Burning Man attract exactly the kind of creative people you want working for you. (Business 2.0 Magazine) -- If you want to make an appointment to see Larry Page and Sergey Brin this week, you'll have a harder time than usual doing so. The Google founders are making their annual pilgrimage to the Black Rock Desert in Nevada for the Burning Man festival.
Unless you're wealthy , you've probably been spending Burning Man Week moping about how you couldn't afford tickets to America's favorite festival of radical self-expression this year. But make no mistake: Those rich people touring the playa on their Mad Max cruisers are suffering, too. As the Wall Street Journal tells us, many of this year's Burners With Money to Burn are doing all they can to avoid the heat, food shortages, and other potential inconveniences of Black Rock City life by spending shitloads of money to recreate the comforts of home.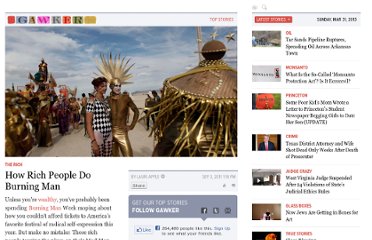 Burning Man --that once-a-year sojourn to the Nevada desert--is much more than a hedonistic experiment in self-reliance, art, the sharing economy , and psychotropic drugs. It's also an event that has spawned a tight-knit worldwide community that has created a number of Burning Man-related organizations, including Burners Without Borders , Black Rock Solar , and the Black Rock Arts Foundation (a group that brings public art installations to cities). It's only fitting that the Burning Man community's latest do-gooder venture-- the Burning Man Project --will work on revitalizing a down-and-out area of San Francisco, Burning Man's home city. The project, which is largely funded by Burning Man parent organization Black Rock City, LLC, aims to use the 10 principles of Burning Man to change urban environments for the better.
Utilisateurs d'un lecteur d'écran : cliquez ici pour accéder à la version HTML brut +Vous Recherche Images