Persuassion/Con/Psychological Manipulation/Lies
Mind Control/Consciousness
The 33 Strategies of War
Scope The book is divided into five parts: Self-Directed Warfare, Organizational (Team) Warfare, Defensive Warfare, Offensive Warfare and Unconventional (Dirty) Warfare.[1] Each part contains a differing number of strategies, each in a chapter. Descriptions of battles, political and business situations are accompanied by Greene's interpretation. All chapters end with a "Reversal" to give a brief discussion of where the strategy may not apply.[citation needed]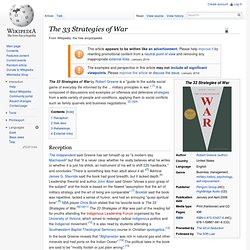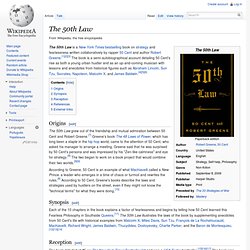 Origins[edit]
The 50th Law
The Art of Seduction
The Art of Seduction - Robert Greene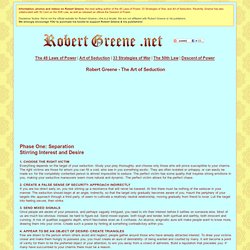 Phase One: Separation Stirring Interest and Desire
seducersworld Forums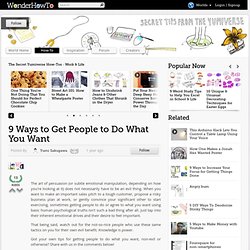 The art of persuasion (or subtle emotional manipulation, depending on how you're looking at it) does not necessarily have to be an evil thing. When you want to make an important sales pitch to a tough customer, propose a risky business plan at work, or gently convince your significant other to start exercising, sometimes getting people to do or agree to what you want using basic human psychological truths isn't such a bad thing after all.
9 Ways to Get People to Do What You Want
The Definitive Book of Body Language (9780553804720): Barbara Pease, Allan Pease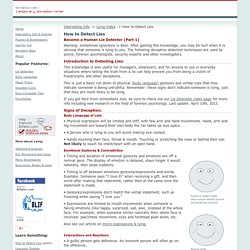 How to Detect Lies - body language, reactions, speech patterns
Interesting Info -> Lying Index -> How to Detect Lies Become a Human Lie Detector (Part 1) Warning: sometimes ignorance is bliss. After gaining this knowledge, you may be hurt when it is obvious that someone is lying to you. The following deception detection techniques are used by police, forensic psychologists, security experts and other investigators. Introduction to Detecting Lies: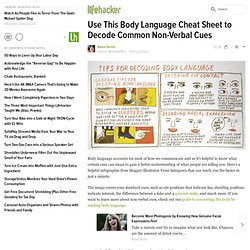 Use This Body Language Cheat Sheet to Decode Common Non-Verbal Cues
This is a good, basic overview of the topic.
How Science Can Teach You to Easily Spot a Liar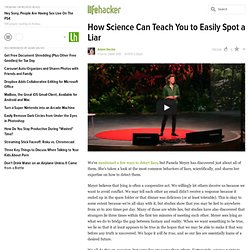 Usual psychobabble garbage. "Liars look you in the eyes too much."
Liespotting: Proven Techniques to Detect Deception: Pamela Meyer
I think the problem with both emails is that they are too long. Do you really need five sentences of pleasantries?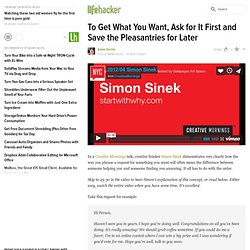 To Get What You Want, Ask for It First and Save the Pleasantries for Later
How to Read Body Language to Reveal the Underlying Truth in Almost Any Situation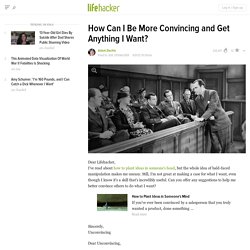 How Can I Be More Convincing and Get Anything I Want?
With friends and familly I use passive guilt... Over what seems a casual talk (show interest in what the person to manipulate) suggest you're having some trouble but you're strong and you're going to get through; then tell them you could use some help but there's no one who's willing to help but that's ok.
If you've ever been convinced by a salesperson that you truly wanted a product, done something too instinctively, or made choices that seemed entirely out of character, then you've had an idea planted in your mind. Here's how it's done. Note: We've gotten a lot of emails about how to do this in specific situations.
How to Plant Ideas in Someone's Mind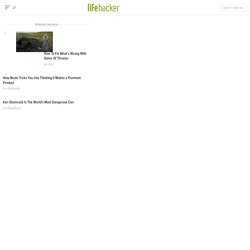 8 Clever Bandits
Victor Lustig: the criminal who managed to "sell" the Eiffel Tower, twice!
Arthur Schopenhauer (1788-1860), was a brilliant German philosopher. These 38 Stratagems are excerpts from "The Art of Controversy", first translated into English and published in 1896. Carry your opponent's proposition beyond its natural limits; exaggerate it.
SCHOPENHAUER'S 38 STRATAGEMS, OR 38 WAYS TO WIN AN ARGUMENT
For all of you who have ever been involved in an online debate in any way, Arthur Schopenhauer's "38 Ways To Win An Argument" is indispensable. Most of these techniques will seem familiar to you, right from questioning the motive of a person making the argument instead of the argument itself (No. 35), exaggerating the propositions stated by the other person (No. 1) , misrepresenting the other person's words (No. 2) and attacking a straw man instead (No. 3). It's a full handbook of intellectual dishonesty there. Indeed, I generally avoid online debates because they inevitably degenerate to No. 38. The full text is below the fold. Many thanks to my friend Nitin Pai for reintroducing me to it.
38 Ways To Win An Argument—Arthur Schopenhauer - The India Uncut Blog - India Uncut
Psychological manipulation
HOW TO CHEAT AT EVERYTHING
Perfect Persuasive Messages
Poor Man's Polygraph Part 1
How to Manipulate People
Top 10 Conversation Hacks
Confidence tricks
25 Acts of Body Language to Avoid
Deception
10 Ways to Instantly Build Self Confidence