Ancient Alien Theories
AncientAliensHistoryChanel
20,000 Year-Old Aluminum 'Vimana' Aircraft Landing Gear Discovered. Terrence Aym beforeitsnews Some scholars are convinced an ancient, advanced civilization existed where the nation of India is today.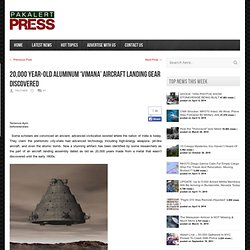 They claim the prehistoric city-state had advanced technology including high-energy weapons, jet-like aircraft, and even the atomic bomb. Now a stunning artifact has been identified by some researchers as the part of an aircraft landing assembly dated as old as 20,000 years made from a metal that wasn't discovered until the early 1800s. For many years certain researchers in India and Asia have tried to convince Western skeptics that the so-called religious texts of the Vedas are really descriptive history. UFO 'battle' over Nuremberg, Germany in 1561 - Nuremberg, Germany - April 4, UFO Case Report: Date: April 4, Location: Nuremberg, Germany At sunrise on the 14th April 1561, the citizens of Nuremberg beheld "A very frightful spectacle.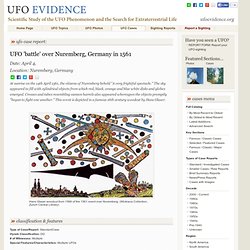 " UFO Folklore ! Ufo & Nasa, UFO & Roswell, UFO & Disney UFO & Military. The Story of Vimanas The chariot had all necessary equipment.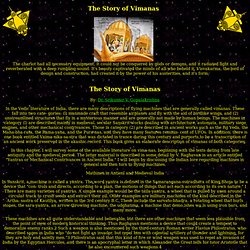 It could not be conquered by gods or demons, and it radiated light and reverberated with a deep rumbling sound. It's beauty captivated the minds of all who beheld it. Visvakarma, the lord of design and construction, had created it by the power of his austerities, and it's form, Hopi Indians, Native American Indian, Southwest American Indian, hollow earth, inner earth, vortexs, sacred mountains, ufo's , Hopi, Shambhala, Mt. Meru, Hopi Prophesies, Hopi Mythology, Shambhala, Living in the Light by Mary Sutherland, Burlington Wiscon. Hopi Legend of Shambhala and the Sacred Mountain Mount Meru.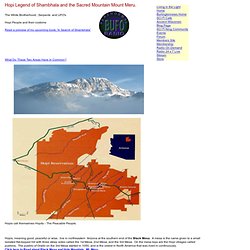 The White Brotherhood , Serpents and UFO's Hopi People and their customs. The Ancient Maya and their origins. The Maya were a civilization that devoted much of their time to the worship and study of the cosmos and celestial bodies.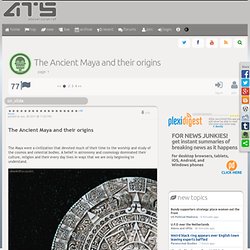 A belief in astronomy and cosmology dominated their culture, religion and their every day lives in ways that we are only beginning to understand. The Maya lived their lives by a very complex calendar that was based upon the movements of the stars and planets, and while many of their beliefs and practices may appear to be nothing but superstition, it seems evident that their calendar was based upon real events and real movements in the sky that do in fact have an effect on the Earth. The Mayans reveal their darkest mysteries: New excavation reveals secrets of the Mayan calendar - including black-clad figures and symbols never seen before.
Wall covered in calculations relating to Mayan calendarLine-up of men in black uniformsAstrological calculations not fully understoodDates seem to stretch 7,000 years into FUTUREContradicts 'doomsday' predictions about 2012First paintings found on walls in Mayan dwellingsHuge city in Guatemala finally reveals its secrets By Rob Waugh Published: 18:04 GMT, 10 May 2012 | Updated: 10:46 GMT, 11 May 2012 A vast city built by the ancient Mayan civilisation and discovered nearly a century ago in modern day Guatemala is finally starting to yield its secrets - including a hint that apocalyptic predictions around the 'end' of the Mayan Calendar may be wrong.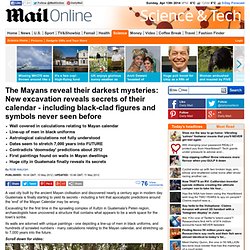 Ancient Technology - The Top Ten. Naturally, every UFO enthusiast or believer in a once technologically advanced Atlantean civilization has pointed to these images as proof of their theories.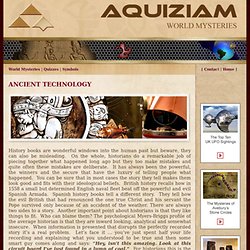 Equally, every mainstream Egyptologist has gone to great lengths to explain that they are nothing more than the result of older hieroglyphs that were plastered over and then carved again so that when the plaster later collapsed the modified images that were under the plaster reappeared but in their new and coincidental design. This has been the official line debunking the Abydos Machines. Quite complex charts have been created to show how the process took place.
Chinese and Hindu UFO's Alien Visitation History. In India, it was and still is believed that man descended from gods who flew fiery crafts.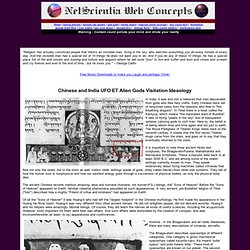 Early Chinese texts tell of long-lived rulers from the heavens who flew in "fire-breathing dragons". In Tibet there is a book called the Kantyua, which means "the translated word of Buddha". It tells of flying "pearls in the sky" and of transparent spheres carrying gods to visit man. Gods from Outer Space? Have we been visited?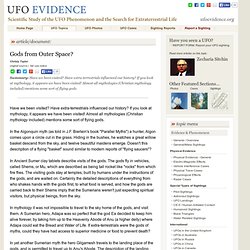 Have extra-terrestrials influenced our history? If you look at mythology, it appears we have been visited! Almost all mythologies (Christian mythology included) mentions some sort of flying gods. In the Algonquin myth (as told in J.F. Bierlein's book "Parallel Myths") a hunter, Algon comes upon a circle cut in the grass. Gods? Here is a part from a text which you can find at : It seems that the Pleiadeans who speak here tell us that Mankind was in a much better state before the Annunaki-gods arrived.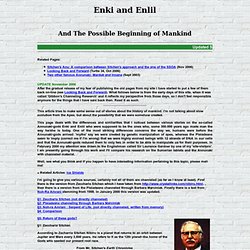 These 'gods' just tore up our D.N.A. in order to be able to use us for their own purposes. The Bible UFO Connection. Alien Intervention Into Our Ancient History. The ancient biblical inspired writers was right about the universe creation with that insight. Toward the cener of our Milky Way Galaxy Where they are so much star light that they would be no darkness. JOB 26:7 The Bible seems to show that God's throne in heaven is in another dimension toward what we call the space north. UFOs & the Bible, Genesis 6 & Return of Nephilim, demons & Enoch, End of Age Prophecy, ancient astronauts, Angels Aliens & Demons, 2012 End Times, antichrist, conspiracy, satan & mars. From noted author and UFOlogist John Keel, Operation Trojan Horse p. 215, 216: "Throughout most of history, the manifestations of demonology and demonopathy have been viewed from a religious perspective and explained as the work of the Devil.The bizarre manipulation and ill effects described in the demonological literature are usually regarded as the results of a great unseen conflict between God and the Devil.
In UFO lore, the same conflict has been observed and the believers have explained it as a space war between the "Guardians" (good guys from outer space), who are protecting our planet, and some evil extraterrestrial race. The manifestations are the same, only the referenceis different. UFO's In Ancient Art. Undefined ~ "The Baptism of Christ" ~ Fitzwilliam Musuem, Cambridge, England Painted in 1710 by Flemish artist Aert De Gelder depicts a classic, hovering, silvery, saucer shaped UFO shining beams of light down on John the Baptist and Jesus. What could have inspired the artist to combine these two subjects?
Japan's Utsuro Bune Encounter 1803. Posted on Oct, 13 2009 @ 10:50 AM Wow this is very interesting. The symbols don't look earthly to me. As another member mentioned the people back would have no idea what it was made out of, and they certainly wouldn't scream alien at it. Dogu Figures | Freaky Phenomena. Tokyo Excess: Alien Art - Haniwa & Dogu Figures (Jomon & Yayoi Periods) When I was deciding to visit Japan I did a pile of background reading and was researching the museums over there as I have a big interest in archeology. Well, I started coming across these interesting images of the famous "Dancing Haniwa" and amazing clay figures of women called dogu. Well, these images are also embedded in the Japanese pysche and are hold great interest for the Japanese too. On my visit to Tokyo I made a trip to the National Museum to see these wonderful artifacts and was not disappointed! These wonderful neolithic and early bronze age clay figures from Japan rank right up there with my love of Minoan art (look at the pottery and snake goddess figurines from my page on the Minoans).
Jomon Dogu « Ancient Aliens. Vimanas. THE ANUNNAKI: OUR INTERGALACTIC HERITAGE & EARTH - Estelle Nora Harwit Amrani. Who are the Anunnaki? | What is the Planet Nibiru? Anunnaki , The Alien Gene Connection in our Human Evolution, Anunnaki,Alien Genes in Human Evolution, Burlington UFO Center, Burlington, Wisconsin. Ancient Sumerians – Annunaki and Creation – Book of Enoch Fallen Angels.
The Anunnaki Manipulation of Man - The Lies of The Anunnaki. ALIEN UFO INFORMATION: Anunnaki, Dragons, Reptilians In Art And History? NIBIRU FOUND! * CNN NEWS BRIEF! Ancient Aliens | Ancient Ufo Drawings and alien artwork. The Study In Spiritual Science | Archeology, Ancient Texts, Folklore, Mythology, and how it does indeed relate back to the Spiritual realm. 2012 CHANGES ARE NOW.
The Mayan Calendar, Facts, Theories and Prophecies | Historic Mysteries. Ancient Technology - The Top Ten. Ancient Astronaut Theory, Ancient Alien Theory. Ancient Aliens Blog | Ancient Alien Theory - AliensWereHere.com: Ancient Alien Theory and Gobekli Tepe. Ancient Alien Theory Official Site | Ancient Aliens Community.
UFO Sightings and Ancient Alien Wars, Alien Crafts, vimana, rama empire, lord shiva, vedic literature,Ancient Documentation of Alien Races , UFO's, Alien Crafts, Shambhala. The Amazing Monolithic Churches of Ethiopia - The Lalibela. Sacred Places: Dome of the Rock, Israel. The largest stones of all time. Tiahuanaco: Gatway to the Gods. The Mysterious Black Stone of Kaaba - Worship of a Meteorite?
---