Madmaz
paul carey
Free: British Pathé Puts Over 85,000 Historical Films on YouTube. British Pathé was one of the leading producers of newsreels and documentaries during the 20th Century.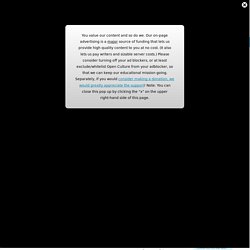 This week, the company, now an archive, is turning over its entire collection — over 85,000 historical films – to YouTube. The archive — which spans from 1896 to 1976 – is a goldmine of footage, containing movies of some of the most important moments of the last 100 years. It's a treasure trove for film buffs, culture nerds and history mavens everywhere. 8 Natural Weather Phenomena You Won't Believe Are Real. The weather has been known to do all kinds of weird and wonderful things, some of which are incredibly hard to imagine without seeing them.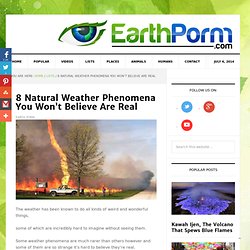 Some weather phenomena are much rarer than others however and some of them are so strange it's hard to believe they're real. That said, here are eight such phenomena… 1. A definitive bucket list of the 25 things you need to do as an adventure traveler. EVERY TRAVELER HAS THEIR OWN "bucket list," whether they call it that or not.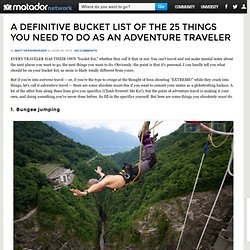 You can't travel and not make mental notes about the next places you want to go, the next things you want to do. Obviously, the point is that it's personal. I can hardly tell you what should be on your bucket list, as mine is likely totally different from yours. 17 Death-Defying Photos That Will Make Your Heart Skip A Beat.
From scaling steep cliff faces to slacklining at dizzying heights, the people in these death-defying photos are true daredevils.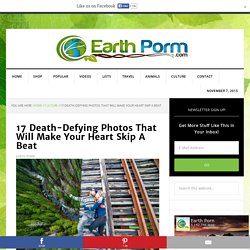 Their antics will have you biting your nails in fear just looking at them! 1. The Cliffs of Moher, Ireland. Brian.carnell.com. 17 Reasons These People Deserve Gold Medal For Their Love For Animals. 1.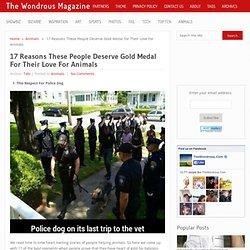 This Respect For Police Dog We read time to time heart melting stories of people helping animals. So here we come up with 17 of the best moments when people prove that they have heart of gold for helpless animals. They can do everything they capable of to rescue animals and keep them happy and healthy. Native. Man Walks All Day to Create Massive Snow Patterns (Part 3) Adding Color To The Most Iconic Photos In History. 10 Choices You Will Regret in 10 Years. Post written by: Angel Chernoff Email "If only…" These two words paired together create one of the saddest phrases in the English language.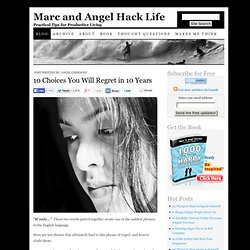 82 mind-blowing movies facts you probably didn't know. 1.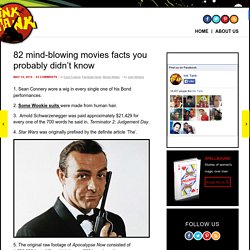 Sean Connery wore a wig in every single one of his Bond performances. 2. Wookie suits are made from human hair. 3. 30 Incredible Views you'd see if you were a bird. 91 Pictures That Amazed Us During 2013 (PHOTOS) If You Have Nerves Of Titanium, These 13 Unbelievable Places Are For You. Wow. This world we live in is a mighty big place.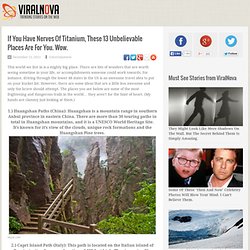 There are lots of wonders that are worth seeing sometime in your life, or accomplishments someone could work towards. For instance, driving through the lower 48 states in the US is an awesome travel idea to put on your bucket list. However, there are some ideas that are a little less awesome and only the brave should attempt. The places you see below are some of the most frightening and dangerous trails in the world… they aren't for the faint of heart. The 16 Spectacular Roads You Need To Drive On Before You Die | The nature is something really amazing and beautiful like we can see on these photos below.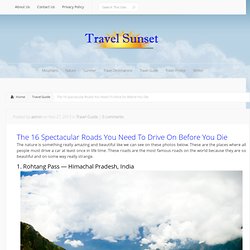 These are the places where all people must drive a car at least once in life time. These roads are the most famous roads on the world because they are so beautiful and on some way really strange. 1. The Top 75 Pictures of the Year for 2013. Update: if you liked this post, you'll adore our latest post on the 38 Most Haunting Abandoned Places on Earth HERE.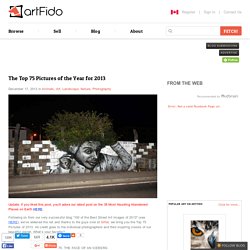 Following on from our very successful blog "100 of the Best Street Art Images of 2013″ (see HERE), we've widened the net and thanks to the guys over at Sifter, we bring you the Top 75 Pictures of 2013. All credit goes to the individual photographers and their inspiring visions of our beautiful planet. What's your favorite? Photograph by strummingmusic on Reddit Photograph by HALEY LUNA. These 17 Places Are Straight Out Of My Dreams. Especially That 6th One...Whoa. There are so many places in the world that will blow your mind, it's hard to keep track of them all.
Canyons, waterfalls, cities and forests all have the power to reduce your legs to jelly and make you start writing romantic novels. No matter just how many there are in existence, we did our best to find some of the ones you should really consider putting on your bucket list, because, wow. Nurse reveals the top 5 regrets people make on their deathbed. By: Bronnie Ware, inspirationandchai.com, Guest Contributor For many years I worked in palliative care.
My patients were those who had gone home to die. Some incredibly special times were shared. I was with them for the last three to twelve weeks of their lives. Nature Knows: Amazing macro-photography of individual snowflakes [10 Pictures] Who Needs Photoshop When These 15 Unbelievable Pictures Are Completely REAL? Whoa. You'll think you're bring tricked, but these photos aren't manipulated or faked… they are 100% real. Each of these jaw-dropping scenes were captured just as they exist. A mixture of perfect timing, optical illusions and just flat-out insane nature led to this gallery being created. All I can say is: Woah. 1. This isn't a teenager miraculously walking on water: actually, this is just a perfectly timed photo. 27 Breathtaking places to visit in your lifetime... 20 of The World's Most Powerful Photographs.
45 Perfectly Timed Photographs That Will Leave You Stunned. - StumbleUpon. The Top 75 'Pictures of the Day' for 2012. 60 insane cloud formations from around the world [PICs] You must live in the present on today's deposits invest it so as to get from it the utmost in health happiness and success the clock is running make the most of today. Sorry, I'm not going. EVER. 27 Surreal Places To Visit Before You Die.
Pictures No Sleep | The Most Amazing Pictures Ever Taken part 2/2. The 32 Places To Visit When You Retire. 47 unearthly lightning strikes [PICs] Astronaut Andre Kuipers Shares Stunning Images of Earth from Space. Incredible Space Pics from ISS by NASA astronaut Wheelock. Green lake in Austria. Yosemite National Park. 40 Must-See Historical Photos. 10 More Amazing Wonders of the Natural World. 25 Places That Look Not Normal, But Are Actually Real. 37 Out-of-this-World Photos: Earth from Above. The 33 most beautiful abandoned places in the World.
10 Unbelievably Beautiful Places You've Probably Never Heard Of. 15 Photos Of The Night Sky That Will Fill You With Awe. Stumblers Who Like Plitvice Lakes National Park, Croatia. Сайт будет переделываться :( - StumbleUpon. Rare Historical Photos. - StumbleUpon. 22 Motivational Pictures To Get You Off Your Ass : DormStormer. Ethereal Macro Photos of Snowflakes in the Moments Before They Disappear. 101 Most Beautiful Places To Visit Before You Die! (Part II) Jacob's Well, Wimberley, Texas. 36 Jaw-Dropping Nature Photos. Untitled Document. 50 Strange Buildings of the World. - StumbleUpon. Stumblers Who Like The Cool Hunter - Amazing Places To Experience Around The... Timing Is Everything [57 Photos] Rising Beer Bottle Bar Trick. 10 Most Unbelievable Places in the World. Globe Genie - Joe McMichael. Too beautiful to be real? 16 surreal landscapes found on Earth. Top 20 Earth Pictures found on Stumble Upon. - StumbleUpon.
---