Madmaz
paul carey
Man Walks All Day to Create Massive Snow Patterns (Part 3)
Adding Color To The Most Iconic Photos In History
10 Choices You Will Regret in 10 Years
post written by: Angel Chernoff Email "If only…" These two words paired together create one of the saddest phrases in the English language.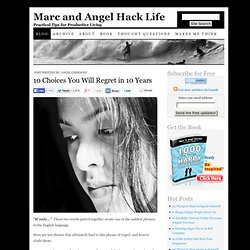 1. Sean Connery wore a wig in every single one of his Bond performances. 2. Wookie suits are made from human hair. 3.
82 mind-blowing movies facts you probably didn't know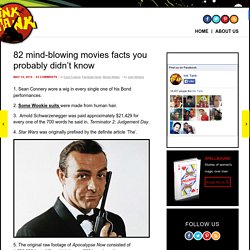 30 Incredible Views you'd see if you were a bird.. or from a airplane, Heli, Airglider etc.. but hey it just sounds cooler.. 1. Barcelona | Image credits: Aldas Kirvaitis
30 Incredible Views you'd see if you were a bird
91 Pictures That Amazed Us During 2013 (PHOTOS)
This world we live in is a mighty big place. There are lots of wonders that are worth seeing sometime in your life, or accomplishments someone could work towards. For instance, driving through the lower 48 states in the US is an awesome travel idea to put on your bucket list. However, there are some ideas that are a little less awesome and only the brave should attempt. The places you see below are some of the most frightening and dangerous trails in the world… they aren't for the faint of heart.
If You Have Nerves Of Titanium, These 13 Unbelievable Places Are For You. Wow.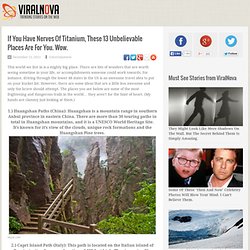 The 16 Spectacular Roads You Need To Drive On Before You Die |
Update: if you liked this post, you'll adore our latest post on the 38 Most Haunting Abandoned Places on Earth HERE. Following on from our very successful blog "100 of the Best Street Art Images of 2013″ (see HERE), we've widened the net and thanks to the guys over at Sifter, we bring you the Top 75 Pictures of 2013. All credit goes to the individual photographers and their inspiring visions of our beautiful planet. What's your favorite? Photograph by strummingmusic on Reddit Photograph by HALEY LUNA
The Top 75 Pictures of the Year for 2013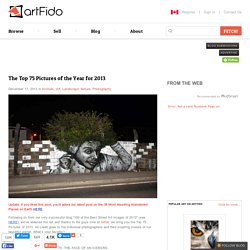 These 17 Places Are Straight Out Of My Dreams. Especially That 6th One...Whoa.
There are so many places in the world that will blow your mind, it's hard to keep track of them all. Canyons, waterfalls, cities and forests all have the power to reduce your legs to jelly and make you start writing romantic novels. No matter just how many there are in existence, we did our best to find some of the ones you should really consider putting on your bucket list, because, wow.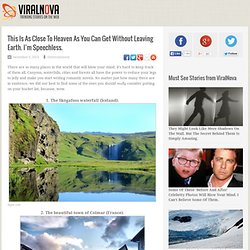 Nurse reveals the top 5 regrets people make on their deathbed
By: Bronnie Ware, inspirationandchai.com, Guest Contributor For many years I worked in palliative care. My patients were those who had gone home to die. Some incredibly special times were shared. I was with them for the last three to twelve weeks of their lives.
Nature Knows: Amazing macro-photography of individual snowflakes [10 Pictures]
You'll think you're bring tricked, but these photos aren't manipulated or faked… they are 100% real. Each of these jaw-dropping scenes were captured just as they exist. A mixture of perfect timing, optical illusions and just flat-out insane nature led to this gallery being created. All I can say is: Woah. 1. This isn't a teenager miraculously walking on water: actually, this is just a perfectly timed photo.
Who Needs Photoshop When These 15 Unbelievable Pictures Are Completely REAL? Whoa.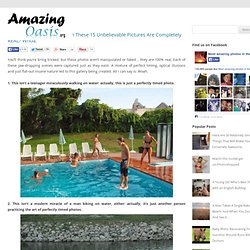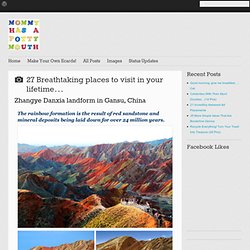 Zhangye Danxia landform in Gansu, China The swing at the "End of the World" in Baños, Ecuador The Great Blue Hole in Belize The Great Blue Hole is a submarine sinkhole off the coast of Belize.
27 Breathtaking places to visit in your lifetime...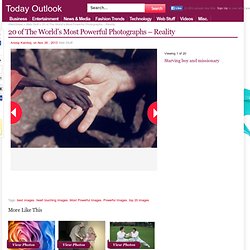 Viewing 1 of 20 Starving boy and missionary Viewing 2 of 20 Inside an Auschwitz gas chamber Viewing 3 of 20 Heart surgeon after 23-hour-long (successful) heart transplant.
20 of The World's Most Powerful Photographs
Chance, position, timing, angles, lighting, and being in the right place at exactly the right moment make these photographs some of the most intriguing and mind-bending pictures of all-time. Explore the perfect timing of capturing lightning strikes on skyscrapers. The perfect timing of snapping a friend's picture just as a bicycle crashes into a pole. See the perfect angles and timing as Buddha snatches an airplane from the sky and a crane snatches the Eiffel Tower from the ground.
45 Perfectly Timed Photographs That Will Leave You Stunned
- StumbleUpon
Oct 17, 2012 *Update: The Top 100 'Pictures of the Day' for 2012 have just been published. Click here to check out the most up-to-date post!
The Top 75 'Pictures of the Day' for 2012
60 insane cloud formations from around the world [PICs]
You must live in the present on today's deposits invest it so as to get from it the utmost in health happiness and success the clock is running make the most of today
Sorry, I'm not going. EVER.
27 Surreal Places To Visit Before You Die
Pictures No Sleep | The Most Amazing Pictures Ever Taken part 2/2
We all think about time when we will went in retirement, because that will be ti period in our life when we can relax and think about places to visit, to travel. These are the 32 most amazing, beautiful and really wonderful places that you must visit when you retire…, one day. 1.
The 32 Places To Visit When You Retire
47 unearthly lightning strikes [PICs]
Astronaut Andre Kuipers Shares Stunning Images of Earth from Space
Incredible Space Pics from ISS by NASA astronaut Wheelock
Green lake in Austria
Yosemite National Park
40 Must-See Historical Photos
10 More Amazing Wonders of the Natural World
25 Places That Look Not Normal, But Are Actually Real
37 Out-of-this-World Photos: Earth from Above
The 33 most beautiful abandoned places in the World
10 Unbelievably Beautiful Places You've Probably Never Heard Of
15 Photos Of The Night Sky That Will Fill You With Awe
Stumblers Who Like Plitvice Lakes National Park, Croatia
Сайт будет переделываться :(
- StumbleUpon
Curiosities: Rare Historical Photos
- StumbleUpon
22 Motivational Pictures To Get You Off Your Ass : DormStormer
Ethereal Macro Photos of Snowflakes in the Moments Before They Disappear
101 Most Beautiful Places To Visit Before You Die! (Part II)
Jacob's Well, Wimberley, Texas
36 Jaw-Dropping Nature Photos
Untitled Document
50 Strange Buildings of the World
- StumbleUpon
Stumblers Who Like The Cool Hunter - Amazing Places To Experience Around The...
Timing Is Everything [57 Photos]
Rising Beer Bottle Bar Trick
10 Most Unbelievable Places in the World
Globe Genie - Joe McMichael
Too beautiful to be real? 16 surreal landscapes found on Earth
Top 20 Earth Pictures found on Stumble Upon
- StumbleUpon