Love and dating.
Why You Should Kiss More. Judging from the way a good kiss makes you feel all giddy and tingly inside, you may have already known that kissing is great for you.
But, bet you didn't know exactly why, did you? Kissing is a way of expressing love and affection, alongside hugs and "i luv u" text messages. A passionate lip-lock could make a person of any age feel like a high-schooler falling in love for the first time. Heartstrings. cIrNx.jpg (JPEG Image, 744x1707 pixels) _lh3htlHGVw1qcf6vlo1_500.jpg (500×195) Sweet love story (not really an MLIA) Differences between love and marriage. What is Love?
---------------------- One day, Plato asked his teacher, "What is love? How can I find it? " 742 ways to say I love you. Life,love,sadness,quote,sad-de9c5521d85a0e17c656fa3d1c14148a_h.jpg (JPEG Image, 500x500 pixels) Love-is-a-condition. Where is the love? 10 No-Fail First-Date Conversations. [Editor's note: This may be advice for men, but women can follow all of these talking points, too!]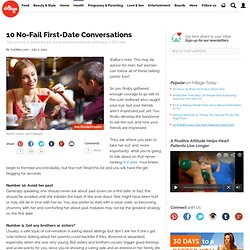 So you finally gathered enough courage to go talk to the cute redhead who caught your eye, but your friends aren't impressed just yet. You finally develop the backbone to ask her out, and now your friends are impressed. A Very Honest First Date - Pizza Comedy. 41.jpg (JPEG Image, 640 × 325 pixels) Does She Love You? Have a question?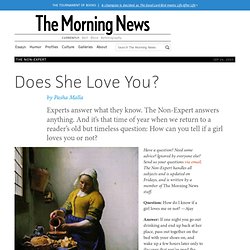 Need some advice? Ignored by everyone else? Send us your questions via email. The Non-Expert handles all subjects and is updated on Fridays, and is written by a member of The Morning News staff. Initiating Sex - How to Initiate Sex. You've heard all about the benefits of having sex—it can improve your health, help you sleep and, obviously, strengthen your relationship.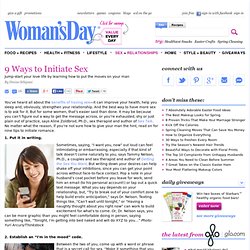 And the best way to have more sex is to ask for it. But for some women, that's easier said than done. It may be because you can't figure out a way to get the message across, or you're exhausted, shy or just plain out of practice, says Aline Zoldbrod, Ph.D., sex therapist and author of Sex Talk. No matter what the reason, if you're not sure how to give your man the hint, read on for nine tips to initiate romance. A Girl's Guide to Geek Guys. So, your crush on the bass player from Vibrating Sandbox has finally died a whimpering death and you're wondering where to go from here.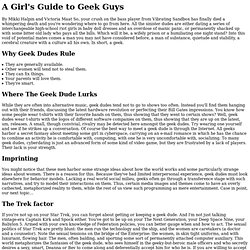 All the sinister dudes are either dating a series of interchangeable high-school riot girls in baby doll dresses and an overdose of manic panic, or permanently shacked up with some bitter old lady who pays all the bills. Which will it be, a wifely prison or a humiliating one night stand? Into this void of potential mates comes a man you may not have considered before, a man of substance, quietude and stability, a cerebral creature with a culture all his own. 10 Hilarious, Wise, And/Or Offensive Laws Of Modern Man. 50 Dating Rules for Smart Girls Who Don't Need Dating Rules | Stylish Thought. Products for Extremely Close Couples. With Valentine's Day creeping up, couples may find themselves searching for unique romantic gifts.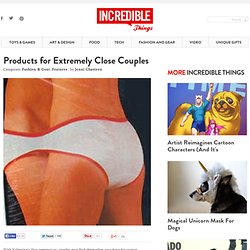 Everyone else may find themselves searching for the nearest exits to get away from the lovey-dovey stuff. Some couples are just so sweet it's sickening. Sure, being close to your partner can be really amazing, but there is such a thing as too close and everyone sees it but you two. Where is the love? Declaration of Romantic Intent. W-horz3.jpg (JPEG Image, 580x1207 pixels) What girls need to realize... We guys don't care if you talk to other guys.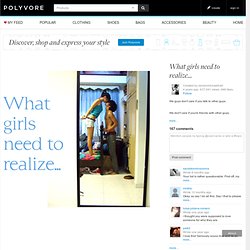 We don't care if you're friends with other guys. But when you're sitting next to us, and some random guy walks into the room and you jump up and tackle him, without even introducing us, yeah, it pisses us off ...... It doesn't help if you sit there and talk to him for ten minutes without even acknowledging the fact that we're still thereWe don't care if a guy calls or texts youbut at 2 in the morning we do get a ... little ... ... concerned. Nothing is that important at 2 amThat it can't wait till the morning.
Also, when we tell you you're pretty/beautiful/gorgeous/cute/stunning, we freaking mean it. I Don't Know Anything About Dating. It's difficult for me to talk about relationships and dating because it seems everyone knows more than me, and it always becomes rapidly clear as I elucidate my own flawed opinions that I don't know anything about anything and should just shut the hell up.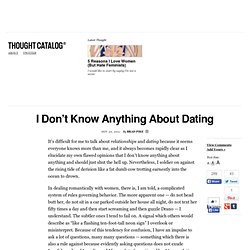 Nevertheless, I soldier on against the rising tide of derision like a fat dumb cow trotting earnestly into the ocean to drown. In dealing romantically with women, there is, I am told, a complicated system of rules governing behavior. The more apparent one — do not head butt her, do not sit in a car parked outside her house all night, do not text her fifty times a day and then start screaming and then guzzle Drano — I understand. The subtler ones I tend to fail on.
---