truc geek qu'on ferait bien aussi ?
Get flash to fully experience Pearltrees
Matt Farah, journaliste américain, a eu le privilège d'être invité par Stephen Wynne, le PDG de DMC, à Houston pour tester la Delorean Electrique . L'occasion d'en savoir un peu plus sur la nouvelle version de cette automobile. Depuis qu'elle est apparue dans la trilogie Retour Vers le Futur , la Delorean est devenue mythique. DMC en profite et a prévu de sortir la prochaine évolution de sa voiture en 2013, comme nous vous l'annoncions en octobre dernier. Un prototype de cette DMCEV-12 avait déjà effectué une première sortie l'an dernier au Motorsports Park de Houston.
For the 2011 Nazareth Adult Soapbox Derb y I wanted to design a car that people would like and made me feel heroic. So I decided I would model it after one of the most important vehicles of our nation's history: the T-65 X-wing fighter.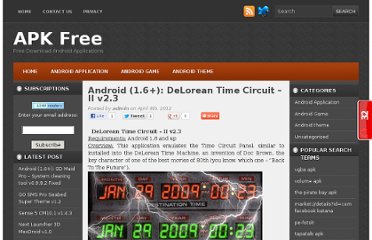 Android (1.6+): DeLorean Time Circuit – II v2.3 Posted by admin on April 9th, 2012 DeLorean Time Circuit – II v2.3 Requirements: Android 1.6 and up Overview: This application emulates the Time Circuit Panel, similar to installed into the DeLorean Time Machine, an invention of Doc Brown, the key character of one of the best movies of 80th (you know, which one – "Back To The Future"). [break] It's not just a mock-up, but a functional timer device. "Present Time" displays the current system time of your iPhone or iPod (could be a nice stylish digital clock for your car), "Last Time Departed" is the time when you started the application for a last time.