USA
History Globe. In 1606, some 105 adventurers set off from England to try and establish the first permanent English colony in the New World.
They settled in what is now the state of Virginia and called their colony first James Fort, and then James Towne, in honor of James I, the King of England. The early years of the colony were nearly a total disaster. Almost half of the settlers died due to poor choices in settlement location, management of resources, and quarrels with the indigenous Powhatan Indians. Welcome to Discovering Jamestown: An Electronic Classroom Adventure for Teachers and Students. Ballard & Tighe Publishers - Explore America - Interactive Web-based Activities. On the Trail of Captain John Smith: A Jamestown Adventure.
NMAI Codetalkers. A Day in the Life: Student Interactives: Role Playing Game. In each role, players face the challenges of daily life in early America while learning about the social classes and customs of the time.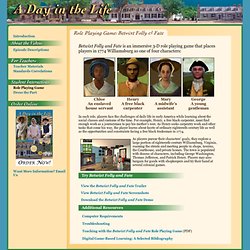 For example, Henry, a free black carpenter, must find enough work as a journeyman to pay his mother's rent. As Henry seeks carpentry work and other tasks that come his way, the player learns about facets of ordinary eighteenth-century life as well as the opportunities and constraints facing a free black tradesman in 1774. As players pursue their characters' goals, they explore a large portion of eighteenth-century Williamsburg, Virginia, roaming the streets and meeting people in shops, taverns, the Courthouse, and private homes. Apples to Oregon Free Unit Study. Westward Hooooo - Dynamic 2 Moms.
Albert Bierstadt's The Rocky Mountains Landers Peak Permission by Mark Harden - The Artchive One Dakota pioneer wrote: "When God made man, He seemed to think it best to make him in the East and let him travel West".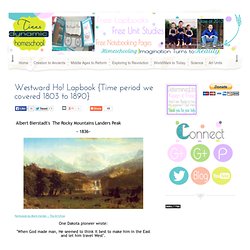 The Oregon Trail was given National Historic Trail designation in 1978, honoring this great migration that helped assure that one day the Oregon country would one day be part of the United States. The Oregon Trail. This web site is brought to you by teachers Michael Trinklein and Steven Boettcher, creators of The Oregon Trail, the award-winning documentary film which aired nationally on PBS.
During the three years we spent researching the film, we found lots of great material we thought would be great for teachers and home schoolers--so we built this this site to make it all available. Enjoy the adventure! Copyright c. 2012 by Boettcher+Trinklein Inc. All the articles on this site were written by Michael Trinklein. Teaching Guide. Introduction Pioneer Travel is a curriculum web that allows students to interact with specific content about the experiences, adventure and challenges pioneers endured during their travel west.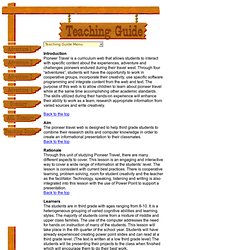 Through four "adventures", students will have the opportunity to work in cooperative groups, incorporate their creativity, use specific software programming and integrate content from the web and text. The purpose of this web is to allow children to learn about pioneer travel while at the same time accomplishing other academic standards. The skills utilized during their hands-on experience will enhance their ability to work as a team, research appropriate information from varied sources and write creatively. Back to the top Aim The pioneer travel web is designed to help third grade students to combine their research skills and computer knowledge in order to create an informational presentation to their classmates.
---