USA: Rights & Liberties
Human rights and civil liberties in the USA. Dec 4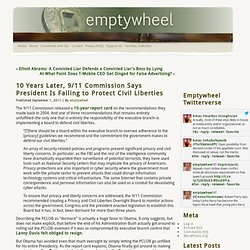 The 9/11 Commission released a 10-year report card on the recommendations they made back in 2004. And one of three recommendations that remains entirely unfulfilled–the only one that is entirely the responsibility of the executive branch–is implementing a board to defend civil liberties. "[T]here should be a board within the executive branch to oversee adherence to the [privacy] guidelines we recommend and the commitment the government makes to defend our civil liberties."
10 Years Later, 9/11 Commission Says President Is Failing to Protect Civil Liberties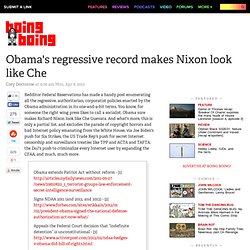 Obama's regressive record makes Nixon look like Che
Redditor Federal Reservations has made a handy post enumerating all the regressive, authoritarian, corporatist policies enacted by the Obama administration in its one-and-a-bit terms. You know, for someone the right wing press likes to call a socialist, Obama sure makes Richard Nixon look like Che Guevara. And what's more, this is only a partial list, and excludes the parade of copyright horrors and bad Internet policy emanating from the White House, via Joe Biden's push for Six Strikes, the US Trade Rep's push for secret Internet censorship and surveillance treaties like TPP and ACTA and TAFTA; the DoJ's push to criminalize every Internet user by expanding the CFAA, and much, much more.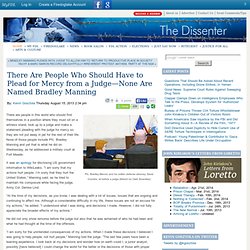 Pfc. Bradley Mannin and his civilian defense attorney, David Coombs, sit before a judge (Sketch by Clark Stoeckley) There are people in this world who should find themselves in a position where they must sit on a witness stand, look up to a judge and make a statement pleading with the judge for mercy so they are not put away in jail for the rest of their life.
There Are People Who Should Have to Plead for Mercy from a Judge—None Are Named Bradley Manning
Renditions continue under Obama, despite due-process concerns | Rights & Liberties
Google Fights U.S. National Security Probe Data Demand | Rights & Liberties
Globalizing Torture: CIA Secret Detention and Extraordinary Rendition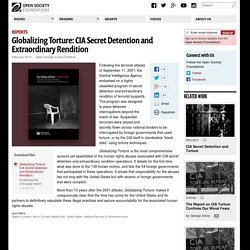 Download Files
OccupyArrests.com
The New Political Prisoners: Leakers, Hackers and Activists
Chelsea (nee Bradley) Manning
SUPPRESSING the black vote is a very old story in America, and it has never been just a Southern thing.
Frederick Douglass and Voter Fraud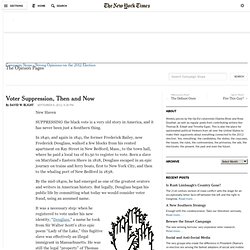 Voting Law Changes in 2012 | Brennan Center for Justice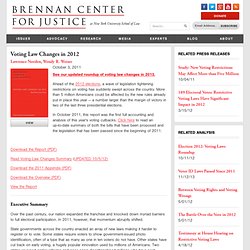 See our updated roundup of voting law changes in 2013.
The Government's Secret Plan to Shut Off Cellphones and the Internet, Explained
Photoillustration by Matt Connolly Update: The Electronic Privacy Information Center reports that the court just granted the government more time to decide whether to release the kill switch plan. It now has until January 13. This month, the United States District Court for the District of Columbia ruled that the Department of Homeland Security must make its plan to shut off the internet and cellphone communications available to the American public. You, of course, may now be thinking: What plan?! Though President Barack Obama swiftly disapproved of ousted Egyptian President Hosni Mubarak turning off the internet in his country (to quell widespread civil disobedience) in 2011, the US government has the authority to do the same sort of thing, under a plan that was devised during the George W.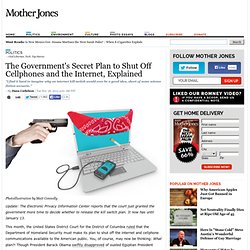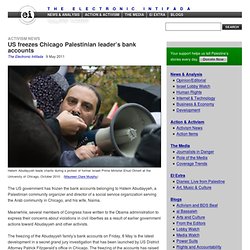 US freezes Chicago Palestinian leader's bank accounts
The US government has frozen the bank accounts belonging to Hatem Abudayyeh, a Palestinian community organizer and director of a social service organization serving the Arab community in Chicago, and his wife, Naima. Meanwhile, several members of Congress have written to the Obama administration to express their concerns about violations in civil liberties as a result of earlier government actions toward Abudayyeh and other activists. The freezing of the Abudayyeh family's bank accounts on Friday, 6 May is the latest development in a secret grand jury investigation that has been launched by US District Attorney Patrick Fitzgerald's office in Chicago.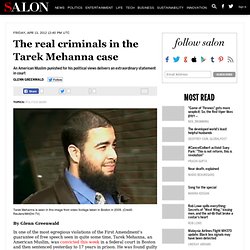 TAREK'S SENTENCING STATEMENT APRIL 12, 2012 Read to Judge O'Toole during his sentencing, April 12th 2012.
The real criminals in the Tarek Mehanna case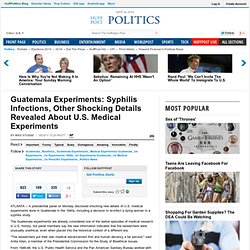 ATLANTA -- A presidential panel on Monday disclosed shocking new details of U.S. medical experiments done in Guatemala in the 1940s, including a decision to re-infect a dying woman in a syphilis study.
Guatemala Experiments: Syphilis Infections, Other Shocking Details Revealed About U.S. Medical Experiments
The Constitution Project
CDI - Center for Defense Information - Security Policy Research Organization - http://www.cdi.org/
U.S. to Host World Press Freedom Day in 2011
The United States is pleased to announce that it will host UNESCO's World Press Freedom Day event in 2011, from May 1 - May 3 in Washington, D.C.
Hate Crime - Bureau of Justice Statistics (BJS)
Groups Hail Obama's Order for Mass Atrocities Board - IPS ipsnews.net | Rights & Liberties | Scoop.it
WASHINGTON, Aug 4, 2011 (IPS) - Human rights groups here have welcomed Thursday's directive by President Barack Obama to create a new, high-level inter- agency mechanism designed to help prevent mass atrocities overseas before they occur.
Know Your Rights: What To Do If You're Stopped By Police, Immigration Agents or the FBI
We rely on the police to keep us safe and treat us all fairly, regardless of race, ethnicity, national origin or religion.
US law enforcement & criminal justice
Things we do to innocent people to prevent terrorism