USA: Rights & Liberties
Human rights and civil liberties in the USA.
10 Years Later, 9/11 Commission Says President Is Failing to Protect Civil Liberties. The 9/11 Commission released a 10-year report card on the recommendations they made back in 2004.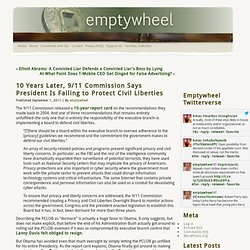 And one of three recommendations that remains entirely unfulfilled–the only one that is entirely the responsibility of the executive branch–is implementing a board to defend civil liberties. "[T]here should be a board within the executive branch to oversee adherence to the [privacy] guidelines we recommend and the commitment the government makes to defend our civil liberties." Obama's regressive record makes Nixon look like Che. Redditor Federal Reservations has made a handy post enumerating all the regressive, authoritarian, corporatist policies enacted by the Obama administration in its one-and-a-bit terms.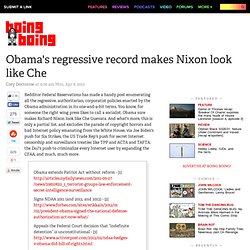 You know, for someone the right wing press likes to call a socialist, Obama sure makes Richard Nixon look like Che Guevara. And what's more, this is only a partial list, and excludes the parade of copyright horrors and bad Internet policy emanating from the White House, via Joe Biden's push for Six Strikes, the US Trade Rep's push for secret Internet censorship and surveillance treaties like TPP and ACTA and TAFTA; the DoJ's push to criminalize every Internet user by expanding the CFAA, and much, much more. There Are People Who Should Have to Plead for Mercy from a Judge—None Are Named Bradley Manning. Pfc.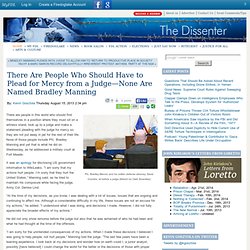 Bradley Mannin and his civilian defense attorney, David Coombs, sit before a judge (Sketch by Clark Stoeckley) There are people in this world who should find themselves in a position where they must sit on a witness stand, look up to a judge and make a statement pleading with the judge for mercy so they are not put away in jail for the rest of their life.
Renditions continue under Obama, despite due-process concerns | Rights & Liberties. Google Fights U.S. National Security Probe Data Demand | Rights & Liberties. Globalizing Torture: CIA Secret Detention and Extraordinary Rendition. Download Files Download the 216-page report. 1.08 MB pdf Following the terrorist attacks of September 11, 2001, the Central Intelligence Agency embarked on a highly classified program of secret detention and extraordinary rendition of terrorist suspects.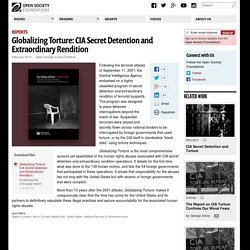 FBI. TSA. OccupyArrests.com. The New Political Prisoners: Leakers, Hackers and Activists. Barrett Brown. Jeremy Hammond. Chelsea (nee Bradley) Manning. Frederick Douglass and Voter Fraud. Weekly pieces by the Op-Ed columnists Charles Blow and Ross Douthat, as well as regular posts from contributing writers like Thomas B.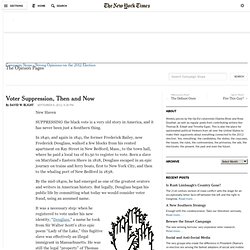 Edsall and Timothy Egan. This is also the place for opinionated political thinkers from all over the United States to make their arguments about everything connected to the 2012 election. Yes, everything: the candidates, the states, the caucuses, the issues, the rules, the controversies, the primaries, the ads, the electorate, the present, the past and even the future. Voting Law Changes in 2012. See our updated roundup of voting law changes in 2013.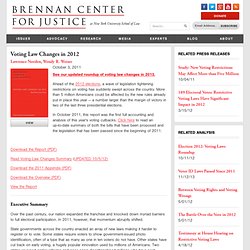 Ahead of the 2012 elections, a wave of legislation tightening restrictions on voting has suddenly swept across the country. More than 5 million Americans could be affected by the new rules already put in place this year — a number larger than the margin of victory in two of the last three presidential elections. In October 2011, this report was the first full accounting and analysis of this year's voting cutbacks.
The Government's Secret Plan to Shut Off Cellphones and the Internet, Explained. Photoillustration by Matt Connolly Update: The Electronic Privacy Information Center reports that the court just granted the government more time to decide whether to release the kill switch plan.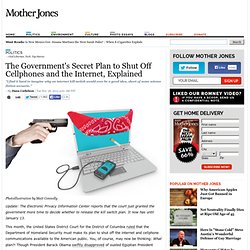 It now has until January 13. This month, the United States District Court for the District of Columbia ruled that the Department of Homeland Security must make its plan to shut off the internet and cellphone communications available to the American public. You, of course, may now be thinking: What plan?! Though President Barack Obama swiftly disapproved of ousted Egyptian President Hosni Mubarak turning off the internet in his country (to quell widespread civil disobedience) in 2011, the US government has the authority to do the same sort of thing, under a plan that was devised during the George W.
NSA. Whistleblowers. PATRIOT Act. Watchlist. US freezes Chicago Palestinian leader's bank accounts. The US government has frozen the bank accounts belonging to Hatem Abudayyeh, a Palestinian community organizer and director of a social service organization serving the Arab community in Chicago, and his wife, Naima.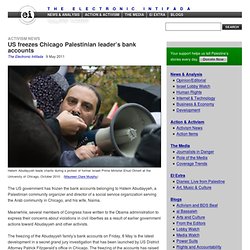 Meanwhile, several members of Congress have written to the Obama administration to express their concerns about violations in civil liberties as a result of earlier government actions toward Abudayyeh and other activists. The freezing of the Abudayyeh family's bank accounts on Friday, 6 May is the latest development in a secret grand jury investigation that has been launched by US District Attorney Patrick Fitzgerald's office in Chicago. The real criminals in the Tarek Mehanna case. TAREK'S SENTENCING STATEMENT APRIL 12, 2012 Read to Judge O'Toole during his sentencing, April 12th 2012.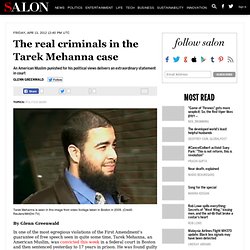 In the name of God the most gracious the most merciful Exactly four years ago this month I was finishing my work shift at a local hospital. As I was walking to my car I was approached by two federal agents. They said that I had a choice to make: I could do things the easy way, or I could do them the hard way. The "easy " way, as they explained, was that I would become an informant for the government, and if I did so I would never see the inside of a courtroom or a prison cell.
Guatemala Experiments: Syphilis Infections, Other Shocking Details Revealed About U.S. Medical Experiments. ATLANTA -- A presidential panel on Monday disclosed shocking new details of U.S. medical experiments done in Guatemala in the 1940s, including a decision to re-infect a dying woman in a syphilis study.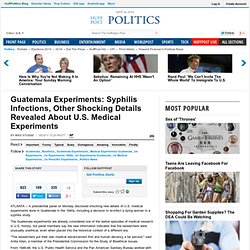 The Guatemala experiments are already considered one of the darker episodes of medical research in U.S. history, but panel members say the new information indicates that the researchers were unusually unethical, even when placed into the historical context of a different era. "The researchers put their own medical advancement first and human decency a far second," said Anita Allen, a member of the Presidential Commission for the Study of Bioethical Issues. From 1946-48, the U.S.
The Constitution Project. CDI - Center for Defense Information - Security Policy Research Organization - To Host World Press Freedom Day in 2011. The United States is pleased to announce that it will host UNESCO's World Press Freedom Day event in 2011, from May 1 - May 3 in Washington, D.C. UNESCO is the only UN agency with the mandate to promote freedom of expression and its corollary, freedom of the press. The theme for next year's commemoration will be 21st Century Media: New Frontiers, New Barriers.
The United States places technology and innovation at the forefront of its diplomatic and development efforts. New media has empowered citizens around the world to report on their circumstances, express opinions on world events, and exchange information in environments sometimes hostile to such exercises of individuals' right to freedom of expression. Hate Crime - Bureau of Justice Statistics (BJS) Groups Hail Obama's Order for Mass Atrocities Board - IPS ipsnews.net | Rights & Liberties | Scoop.it. WASHINGTON, Aug 4, 2011 (IPS) - Human rights groups here have welcomed Thursday's directive by President Barack Obama to create a new, high-level inter- agency mechanism designed to help prevent mass atrocities overseas before they occur.
They also praised a second White House order barring the entry into the United States of persons "who organize or participate in war crimes, crimes against humanity, and serious violations of human rights". "These actions are critical steps toward institutionalising prevention mechanisms in a more permanent way, rather than relying on the personal commitment and passion of current officials in key posts," said Elisa Massimino, the executive director of Human Rights First. "If 'never again' and 'not on our watch' are to be more than feel- good slogans, the United States must untie the bureaucratic knots that have at times undermined its ability to prevent and effectively confront mass atrocities," she added. Know Your Rights: What To Do If You're Stopped By Police, Immigration Agents or the FBI. We rely on the police to keep us safe and treat us all fairly, regardless of race, ethnicity, national origin or religion. This card provides tips for interacting with police and understanding your rights.
Note: Some state laws may vary. Separate rules apply at checkpoints and when entering the U.S. (including at airports).
US prisons/detention. Bill of Rights. Things we do to innocent people to prevent terrorism. Immigration. War on drugs. Civil forfeiture. USA & torture.
---