Ipads in education
Books - iPad Art by Cathy Hunt
Thinglink EDU Examples
10 Strategies & Apps to Manage the iPad Classroom - Getting Smart by Tom Vander Ark - edapps, edchat, EdTech, ipaded, mobile learning, moblieed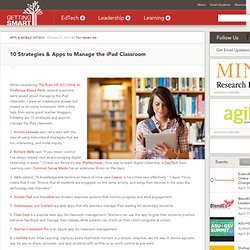 While considering The Rock Hill (SC) Climb to Challenge-Based Work, several questions were posed about managing the iPad classroom. I gave an inadequate answer but vowed to do some homework. With a little help from some great teacher bloggers, following are 10 strategies and apps to manage the iPad classroom. 1.
ICT AUP
Photo Table for iPhone
Description Multi-touch slideshow and collage designer In Photo Table you can add music to photo slideshows and mix photo collages. Using gestures (5+ fingers!) you can tap, zoom, flick, rotate, and drag photos around the table. Reviews • "Create photo collages and slide shows, or simply interact with and enjoy your photos in a totally new way… Add your music if you like.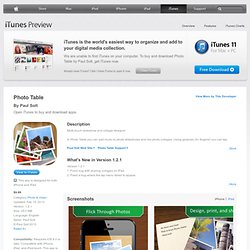 Clone Camera for iPad pour iPad 2 Wi-Fi, iPad 2 Wi-Fi + 3G, iPad (3rd generation), iPad Wi-Fi + 4G, iPad (4th generation), iPad Wi-Fi + Cellular (4th generation), iPad mini et iPad mini Wi-Fi + Cellular dans l'App Store d'iTunes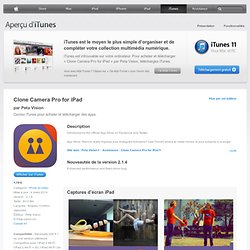 Description Introduced by the official App Store on Facebook and Twitter App Store: Want to really impress your Instagram followers? Use CloneCamera to make clones of your subjects in a single photo.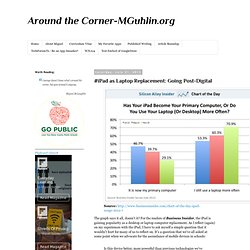 Source: http://www.businessinsider.com/chart-of-the-day-ipad-usage-2012-7 The graph says it all, doesn't it? For the readers of Business Insider, the iPad is gaining popularity as a desktop or laptop computer replacement.
#iPad as Laptop Replacement: Going Post-Digital
Links - history whispering
Remote Apps on Shamblesguru's iPad - Shamblesguru's iPad
3 Ways To Get iPads in Your Classroom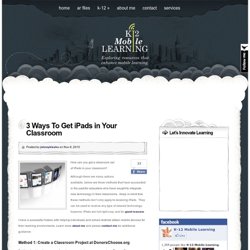 How can you get a classroom set of iPads in your classroom? Although there are many options available, below are three methods that have succeeded in the past for educators who have sought to integrate new technology in their classrooms. Keep in mind that these methods don't only apply to receiving iPads.
iPad, therefore I am, and keeping a wired open mind | Digital Citizenship in Schools
Ways to Evaluate Educational Apps .. Rubric | Mobile Learning k-12
BBHCSD iPads for Education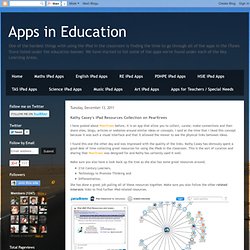 Kathy Casey's iPad Resources Collection on Pearltrees
I have posted about Pearltrees before, it is an app that allow you to collect, curate, make connections and then share sites, blogs, articles or websites around similar ideas or concepts.
Added by Jeff Dunn on 2012-02-02
Hot Apps to Improve Learner`s Thinking Skills for Free
Hot Apps 4 HOTS ( Higher Order Thinking Skills ) is a free iOS ebook that is available now in iTunes store. This is an ebook that is designed to promote learning and healp students acquire new skills. It basically provides learners with the neccessary practice and knwoldege they need to develop higher order thinking skills.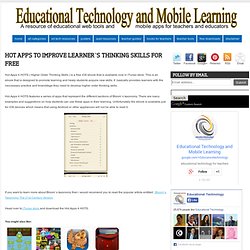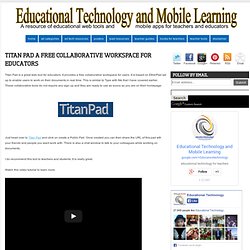 Titan Pad is a great web tool for educators.
Titan Pad A Free Collaborative Workspace for Educators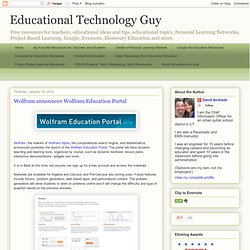 Wolfram announces Wolfram Education Portal
Wolfram, the makers of Wolfram Alpha, the computational search engine, and Mathematica, announced yesterday the launch of the Wolfram Education Portal. The portal will have dynamic teaching and learning tools, organized by course, such as dynamic textbook, lesson plans, interactive demonstrations, widgets and more. It is in Beta at this time, but anyone can sign up for a free account and access the materials.
iPad As....