Vidéos intéressantes
La voix de Gilles Deleuze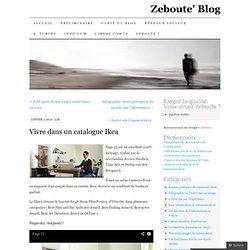 Vivre dans un catalogue Ikea
Page 23 est un excellent court-métrage, réalisé par le néerlandais Jeroen Houben, Tims Arts et Stefan van den Boogaard. Il met en scène l'univers froid en angoissé d'un couple dans sa cuisine Ikea, derrière un semblant de bonheur parfait. Le film a obtenu le lauréat du 48 Hour Film Project, d'Utrecht, dans plusieurs catégories ( Best Film and the Audience Award, Best Etiding Awaerd, Best actor Award, Best Art Direction, Best Use Of Line ). Regardez, réagissez !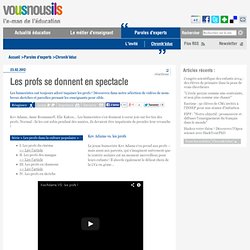 Kev Adams, Anne Roumanoff, Elie Kakou... Les humo­ristes s'en donnent à coeur joie sur les tics des profs. Normal : ils les ont subis pen­dant des années, ils devaient être impa­tients de prendre leur revanche ! Kev Adams vs. les profs Le jeune humo­riste Kev Adams s'en prend aux profs — mais aussi aux parents, qui s'imaginent naï­ve­ment que la ren­trée sco­laire est un moment mer­veilleux pour leurs enfants ! Il aborde égale­ment le déli­cat choix de la LV2 en 4ème...
Parodies et sketchs, vidéos en ligne sur les profs
"Ferme ta gueule Nadine Morano" : le coup de gueule de François Morel sur France Inter
Dans sa chronique hebdomadaire, François Morel est revenu sur les deux polémiques de la semaine générées par les propos de Nora Berra et Nadine Morano. Nadine Morano n'en finit plus de faire parler d'elle. Après sa bourde par SMS, ses clashs à répétition sur Twitter, la Ministre chargée de l'Apprentissage et de la Formation professionnelle a créé la polémique en critiquant le physique d'Eva Joly et Ségolène Royal dans les colonnes du Parisien. Ce matin, dans sa chronique hebdomadaire sur France Inter, François Morel est revenu sur cette nouvelle sortie de Nadine Morano.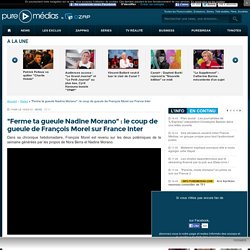 Mathemagic - (a+b)²=a²+2ab+b²... But Why???
Plonk et Replonk se plankent à l'Adresse Musée de La Poste de Paris
Quelques mots
<div style="padding:5px; font-size:80%; width:300px; background-color:white; margin-left:auto; margin-right:auto; border:1px dashed gray;"> Internet Archive's<!--'--> in-browser video player requires JavaScript to be enabled. It appears your browser does not have it turned on. Please see your browser settings for this feature. </div>
The Stranger : Sam Spiegel
Hollywood's depiction of school, learning and education is varied to say the least. There are some absolute masterpieces and some shocking disaster-pieces. Whether it be a provocative documentary or a light-hearted spoof, the teacher movies that have the biggest impact are those that we can instantly identify with. Here is our list of the 10 best teacher movies as rated by the Fractus team as well as independent reviewers.
Top 10 Teacher Movies To Inspire And Entertain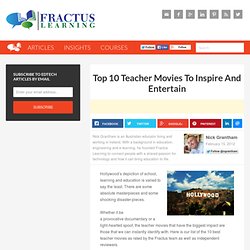 L'enfer c'est les oeufs