Food
Boston Organics: Tips
Apples Refrigerated apples last much longer than those left at room temperature. Apples emit ethylene, a naturally occurring gas that speeds ripening. To prevent apples from speeding up the ripening process of other items in your produce drawer, store them in a plastic bag. Conversely, if you want to speed up the ripening of bananas (or any other ethylene sensitive produce) you can place an apple in a bag with the bananas. To maximize an apple's flavor, let it come to room temperature before eating it.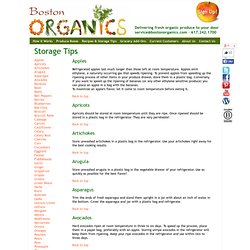 Jun29 Not to sound full of myself, but I'm pretty sure this is the be all, end all of popsicle roundups. There's a little something for everyone: the foodies, the purists, the ones who prefer frozen yogurt, the ones who prefer a little alcohol, everyone. Tweny-five options to be exact.
Design Crush & Popsicles!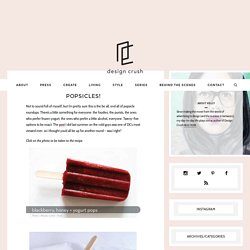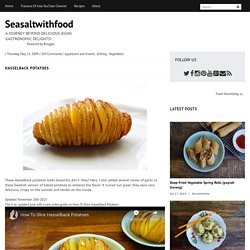 These Hasselback potatoes looks beautiful, don't' they? Here, I also added several cloves of garlic to these Swedish version of baked potatoes to enhance the flavor. It turned out great, they were very delicious, crispy on the outside and tender on the inside.. Updated: November 26th 2013 This is an updated post with a new video guide on How To Slice Hasselback Potatoes
Hasselback Potatoes
Scalloped Hasselback Potatoes | Tasty Kitchen Blog - StumbleUpon
"Scalloped" is an attractive word, isn't it? When I hear it I think of several things: first, there's scallops, as in the seafood—totally delicious. Then there's the scalloped shape that can live on the edge of a pair of shorts or on the collar of a woman's blouse—always pretty and dainty. And of course scalloped potatoes also comes to mind, which carries my imagination to a land of crispy potato skins drenched in a sea of cheese and cream. I can think of no better place to exist, actually. So when I came across TK member Shelbi Keith's recipe for Scalloped Hasselback Potatoes, I knew we were going to become fast friends.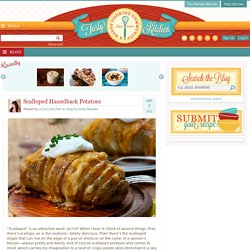 Crock Pot Chicken Taco Chili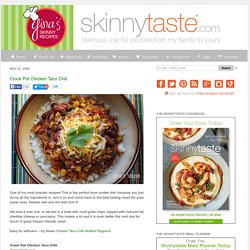 There is nothing like a lazy Sunday when you have a meal cooking all day in the crock pot and the aroma of food is in the air, or coming home from work on a weeknight and having dinner ready when you get home. I love my slow cooker and this chicken chili is a delicious, low point, high fiber meal. It's so easy to make and it is great over rice, with multi-grain chips, topped with low fat cheddar cheese or low fat sour cream. This makes a lot and it is even better the next day for lunch!
I must begin by saying where the recipe originated, if in fact it originated anywhere...really. I think bread has been baked for centuries using flour, salt, water, and yeast or other form of leavening. As far as I know the recipe for "No-Knead" bread dough was printed in the New York times. I don't know what month, day, or year. The originator is Jim Lahey of Sullivan Street Bakery. That's all I know.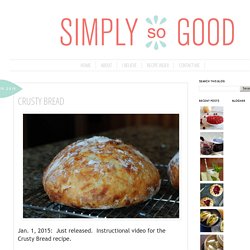 Crusty Bread
Foodbuzz 24, 24, 24: Chinese Buffet at Home | Free Online Recipes | Free Recipes - StumbleUpon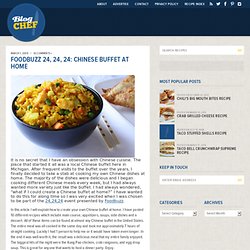 It is no secret that I have an obsession with Chinese cuisine. The place that started it all was a local Chinese buffet here in Michigan. After frequent visits to the buffet over the years, I finally decided to take a stab at cooking my own Chinese dishes at home.
The smell from your oven which will permeate through the air when you bake this delicious Parmesan, Herb, And Garlic Pull-Apart Bread is unlike anything else! The smell and taste of this bread is just fantastic when it's done. Simply flavored with some rosemary garlic butter, it's so easy to make and everyone will just love it! Parmesan, Herb, And Garlic Pull-Apart Bread
Parmesan, Herb, And Garlic Pull-Apart Bread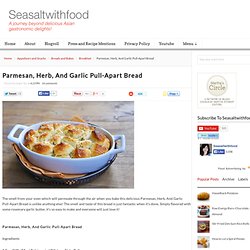 There are plenty of reasons to make your own protein bars. First, it's economical ! You'll save a lot of money, particularly if you have a habit of buying single bars one a time. Even better, you can customize your bars to your taste preferences, avoid any allergens, and leave out ingredients you don't want. You can make a bar with high quality protein, whole grains, real nuts or fruit, flaxseeds, whichever sweetener you prefer, and skip all the long-named chemical ingredients (preservatives and fortifications) that you may not need or want in your snack.
Homemade Protein Bars « askGeorgie.com - StumbleUpon
Nutrition Advice by Registered Dietitians - HealthCastle.com - StumbleUpon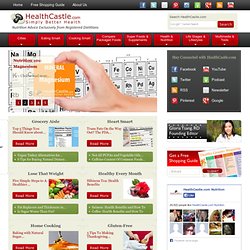 About HealthCastle.com HealthCastle, founded in 1997, is the largest online nutrition community run by Registered Dietitians. Information on this site is provided for informational purposes and is not meant to substitute for the advice provided by your own physician or dietitian. Information and statements have not been evaluated by the Food and Drug Administration and are not intended to diagnose, treat, cure, or prevent any disease.
Better Than Takeout Orange Chicken - StumbleUpon
Yesterday as I stood in the kitchen trying to figure out what to make for dinner I wondered to myself, how do those people do it on those shows where they are given random ingredients and are suppose come up with something genius. I think I stood there for a solid 20 minutes looking in the cupboards and staring into the freezer hoping that I would be struck by some ingenious idea. Then I saw the oranges, and it hit me "O-raang Shh-ikun"….that is orange chicken if you can't understand the accent. I love orange chicken, and I almost always order # 14 Orange Chicken when we order Chinese take out and I wondered to myself if I could make it better at home.
Onion & Cheese Bread - StumbleUpon
This bread is simply delicious. It's a great snacking dish, so pull some pieces off and enjoy the cheesey goodness. Yield: 8 servings Ingredients 1 sourdough loaf, 2 lbs.1 lb.
Apple Pies & Jo In the Kitchen - StumbleUpon
I know, I've made a few pies lately. But see how these are different? Look at how adorable these are! I mean, come on. Could you resist? I sure couldn't.
no-bake energy bites | gimme some oven - StumbleUpon
I probably should have poured a nice stiff drink recipe for you all on this loveliest of lovely tax days. Especially for my fellow small business owners who just gave half of their revenue back to the government. Good grief, I won't even go there. Instead though, I thought I'd offer my idea of a more comforting alternative. Pasta. When life is good, and when life gets crazy, I turn to pasta.
Punchfork - The best new recipes from top food sites - StumbleUpon
Baked Parmesan Tomatoes -EW - iVillage
Bacon-Wrapped Pork Tenderloin Recipe - CHOW - StumbleUpon
Baked Egg Boat recipe
50 Healthy Recipes to Kick Off 2012 | Two Peas & Their Pod - StumbleUpon
Easy Salad Rolls
Food Pyramid Submissions (Raw Image) - StumbleUpon
Top 10 Recipes of 2011 — Daily Dish Recipes
Billy Corgan to open tea house in Highland Park - Chicago Sun-Times
*Simply Scratch*: :Sugar Crusted Chocolate Chip Muffins:
The best new recipes from The Kitchn | punchfork.com - StumbleUpon
Better-Than-Crack-Brownies | How Sweet It Is - StumbleUpon
How to Make Your Own Energy Bars | Fezzari.com - StumbleUpon
How To Make Perfect Brownies | How To Cook Like Your Grandmother - StumbleUpon
Bacon Wrapped Jalapenos Recipe | Free Online Recipes | Free Recipes - StumbleUpon
Best Recipes for Party Hosting: 25 Sophisticated-Looking Meals Recipe - DinnerTool.com - StumbleUpon
Caramelized Chicken with Jalapeno Cream | How Sweet It Is - StumbleUpon
Two really helpful food sites