List 1
50 Life Secrets and Tips
23 Tools To Brainwash and Influence People Through Media | Alterati: The Inside Scoop on the Outside Culture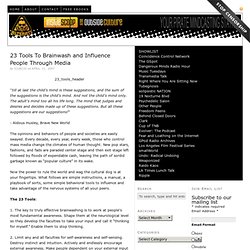 ''till at last the child's mind is these suggestions, and the sum of the suggestions is the child's mind.
If there's one thing Friedrich Nietzsche did well, it's obliterate feel-good beliefs people have about themselves. He has been criticized for being a misanthrope, a subvert, a cynic and a pessimist, but I think these assessments are off the mark.
40 Belief-Shaking Remarks From a Ruthless Nonconformist | Raptitude.com - StumbleUpon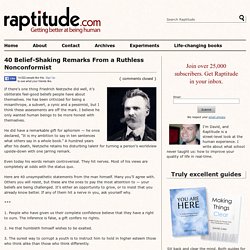 :mnmlist
Advice from Somewhere
index of free personality tests and intelligence tests - StumbleUpon
The most watched and most highly-rated TED talks at the moment
You've read several posts already.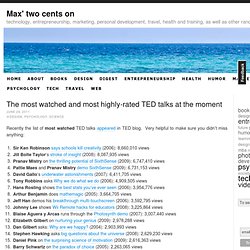 8 Things Everybody Ought to Know About Concentrating
"Music helps me concentrate," Mike said to me glancing briefly over his shoulder. Mike was in his room writing a paper for his U.S.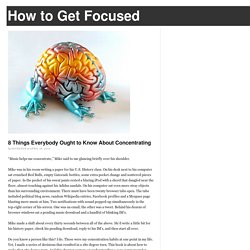 25 Beautifully Illustrated Thought-Provoking Questions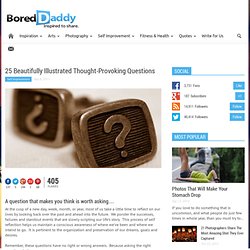 383 Flares Facebook 125 Twitter 5 Google+ 195 StumbleUpon 0 Pin It Share 58 383 Flares × A question that makes you think is worth asking… At the cusp of a new day, week, month, or year, most of us take a little time to reflect on our lives by looking back over the past and ahead into the future.
post written by: Marc Chernoff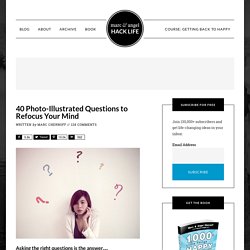 40 Photo-Illustrated Questions to Refocus Your Mind
10 Small Ways To Make Big Life Changes
8 Things Everybody Ought to Know About Concentrating - StumbleUpon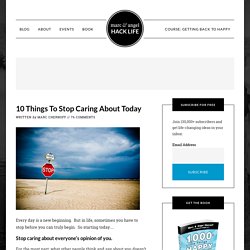 10 Things To Stop Caring About Today
Email Every day is a new beginning. But in life, sometimes you have to stop before you can truly begin.
"Original Fake" Photo Credit: courtesy of MashKulture Is your self-confidence natural, or a daily struggle?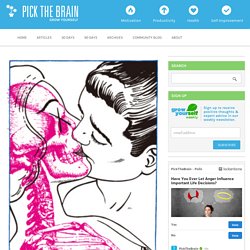 Fake it Till You Make it: 10 Ways to Feel Confident (Even When You Aren't)
New Year's Resolutions on 43 Things
5 Great Books to Build Your Character - ReadWriteWeb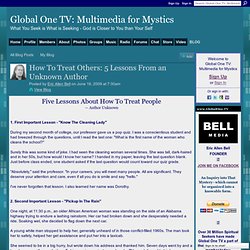 Five Lessons About How To Treat People -- Author Unknown 1. First Important Lesson - "Know The Cleaning Lady"
How To Treat Others: 5 Lessons From an Unknown Author
16 Ways to Love Your Lover (9780385310314): Otto Kroeger
Our personalities do more for us than determine our social circles. Temperament can impact a person's physical health. "The idea that behavior or personality traits can influence health is one that's been around for a long time.
7 Thoughts That Are Bad For You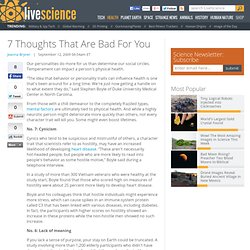 15 Styles of Distorted Thinking
Posted by rd on Monday, August 15, 2011 ·
17 things no one probably have told you yet (comics by alex noriega) - wave avenue - StumbleUpon
35 Life Hacks You Should Know [PIC]
A few years ago, my life was a mess. So was my house, my desk, my mind. Then I learned, one by one, a few habits that got me completely organized.
7 Secrets of the Super Organized
I am pleased to introduce this guest article by a new friend John, the creator of HiLife2B, where he hopes to inspire people and to help them achieve their dreams. Follow him on Twitter: @janyasor 1.
70 Reminders to Help You Break Any Barrier
60 Small Ways to Improve Your Life in the Next 100 Days
Contrary to popular belief, you don't have to make drastic changes in order to notice an improvement in the quality of your life. At the same time, you don't need to wait a long time in order to see the measurable results that come from taking positive action.
Top 10 Weird Ways We Deal With the Dead
10 Things You Didn't Know About You
7 Things That Will Make You Happy | Happiness Tricks & Tips | Well-being & Life Satisfaction
"I can't decide if you have everything or nothing." Don poses this quandary to Midge in the first season of the show, but we can easily see it as being reflective of the self-interrogation Don performs each season.
10 Steps To Get Don Draper's Swag
FOR THOSE WHO TAKE LIFE TOO SERIOUSLY
What's on Your Bucket List? 101 Things To Do Before You Die
new year resolution | ThaZing
8 Ways to be UBER Charismatic
14 websites to make you a more intelligent person - StumbleUpon
10 Websites To Make You Think | The Online Learning Blog from Study2U
25 Acts of Body Language to Avoid
Good Questions to Ask Your Girlfriend
Getting Better vs Being Good