Flash, Interactive, Generative & Online Art
Glennz Tees Concepts for Voting 2008 on the Behance Network. Sound Vibration Creates Form ( David Icke ) From the dark past .com by rafaël rozendaal, 2009. Magical dot. Interactive. Opticle Illusions. Watch This For A Minute - ok, focus long enough to count the almonds... 64yourself(beta) Vertigo inducing pictures. Lines go all over the place.
Vai avanti .com by rafaël rozendaal, 2006. Levitated Daily Source, the good source. The motz. Forked from: [BetweenAS3]uzumaki | wonderfl build flash online. G A L L E R Y. 3D Glass Panes. Using multiple layers of clear glass, Canada based David Spriggs and Chinese born Xia Xiaowan, transform flat artwork into 3D sculptures.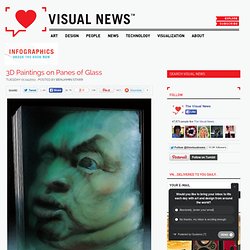 Viewers are treated to different shifting perspectives of the works based on where they stand in the art space. Spriggs work revolves around powerful explosive imagery, often resembling storms, cosmic blasts or firework like explosions. Xiawan's "spatial paintings," which often feature distorted figures, are drawn individually using colored pencil on tinted glass. Only when these pieces are combined on their floor racks do the images create the whole hologram like effect. Please touch me .com by rafaël rozendaal, 2005, collection of sébastien de ganay. Jello time .com by rafaël rozendaal, 2007, collection of sébastien de ganay.
Interactive Art. Water ink - BDDP Unlimited and Solidarités International. StumbleUpon. Fractale. Big long now .com by rafaël rozendaal, 2006, collection of sébastien de ganay.
Bomomo. Solvent Dreams. The persistence of sadness .com by rafaël rozendaal, 2010. Popcorn.js Pop! The Animator. Kerpoof Studio. Stagnation means decline .com by rafaël rozendaal, 2002, collection of christophe boutin. Nosquito .biz by rafaël rozendaal, 2005, collection of sébastien de ganay.
Generative Art. Seaquence. I am very very sorry .com by rafaël rozendaal, 2002. CAMPUSPEAK. Cold void .com by rafaël rozendaal, 2008, collection of niklas belenius. DeviantART muro. Gallery of Computation - StumbleUpon. Ball. Use the Previous and Next buttons to browse user-submitted balls.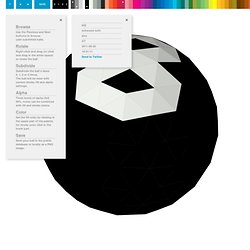 Right-click and drag (or click and drag in the white space) to rotate the ball. Subdivide the ball's faces 0, 1, 2 or 3 times. Wonderwall. The Animator. Psychadellivision by ~Volcanic-Penguin on deviantART. COLOR IN MOTION. Plumage: FineFlickrFeathers. ROXIK. Mister nice hands .com by rafaël rozendaal, 2001. The Shodo. Mimicry - Dean McNamee. Mimicry Interactive Lamp November 2010 Mimicry is a lamp that imitates the color of objects.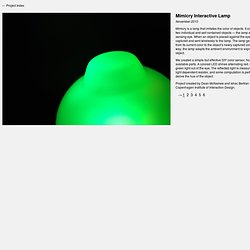 It consists of two individual and self contained objects — the lamp and the color sensing eye. When an object is placed against the eye, the color is captured and sent wirelessly to the lamp. Glitchscape. 360.swf (application/x-shockwave-flash Object) Chinese Shadow Play.
Pugly Pixel. Victor taba. Mitoza. [ uncontrol ] The mesmerizer. FlashDesign Laboratory ローレンツ・アトラクタ. YTMND - Blue Ball Machine (Classic GIF Returned) By Archetype. Webdev.stephband.info. T.001. Gartic - Canvas Sketch. Chinese Shadow Play. The adidas beat mashine. Particles :: physics simulation | dhtml experiment :: seb chevrel.
Js-fireworks - JavaScript Fireworks - A Chrome Experiment. Csismn. Spread. Online | Amazing Banksy painting costume. MAKE contributing illustrator Tim Lillis sent me pics of his friend George Schnakenberg's Banksy painting costume, and I'm totally having costume envy over here.
Hands down my favorite getup from this Halloween. Here's a comparison pic of George's costume versus the original Banksy "Flower Thrower" painting: He did an awesome job of painting his clothes to capture the shadows in the original stencil, and getting the flowers just right: Add a little white face paint, and he's good to go! Check out George's Flickr stream for pics of his costume on the dancefloor, eating a sandwich, and hanging out with Raggedy Anne. Globe Genie - Joe McMichael. Slow Mo Cymbal on Devour. Liquid Particles - spielzeugz.de canvas experiment - StumbleUpon. Preloaded - We do nice things. Whitney/whitneyChromatic.swf. BioMotionLab.
Flash Animations. Pearlers. Other.
---