Web UI / Design
Get flash to fully experience Pearltrees
Clean, simple web designs have become a popular trend. This article will cover the subject through a two-part discussion.
Pellentesque habitant morbi tristique senectus et netus et malesuada fames ac turpis egestas.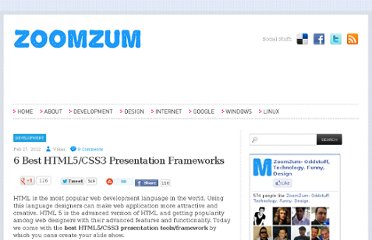 HTML is the most popular web development language in the world, Using this language designers can make web application more attractive and creative. HTML 5 is the advanced version of HTML and getting popularity among web designers with their advanced features and functionality. Today we come with the best HTML5/CSS3 presentation tools/framework by which you cans create your slide show.
Published by Guest Author
It all started with Responsive Web Design , an article by Ethan Marcotte on A List Apart. Essentially, the article proposed addressing the ever-changing landscape of devices, browsers, screen sizes and orientations by creating flexible, fluid and adaptive Web sites.
The Exceptional Performance team has identified a number of best practices for making web pages fast.
We love useful stuff .