FabricLive.30 Mixed by Stanton Warriors
Kerri Chandler - Planet Sonic
Stanton Warriors are the breakbeat duo Dominic Butler and Mark Yardley.
Stanton Warriors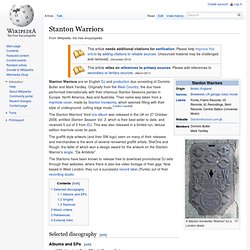 Spank Rock - Bump
Naeem Juwan , better known by his stage name Spank Rock, is an American rapper and songwriter from Baltimore .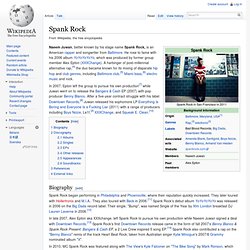 Spank Rock
FabricLive.33 is a DJ mix compilation album by Spank Rock , as part of the FabricLive Mix Series . [ edit ] Track listing
FabricLive.33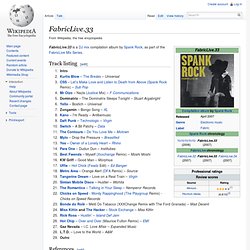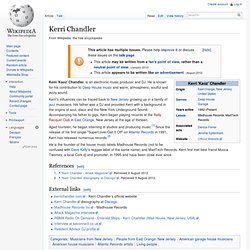 Kerri Chandler
Kerri 'Kaoz' Chandler , is an electronic music producer and DJ.
Peace Division - Club Therapy (Stanton Warriors Remix)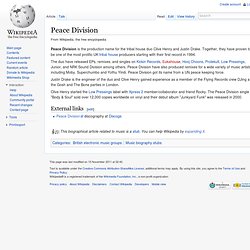 Peace Division is the production name for the tribal house duo Clive Henry and Justin Drake. Together, they have proven to be one of the most prolific UK tribal house producers starting with their first record in 1994.
Peace Division
Booka Shade - Mandarine Girl
Metric (band)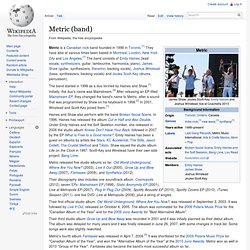 Metric is a Canadian indie rock and New Wave band founded in 1998 in Toronto . [ 1 ] The band has also at various times been based in Montreal , London , New York City and for a short time Los Angeles . The band consists of Emily Haines (vocals, synthesizers , guitar, tambourine), James Shaw (guitar, synthesizers, theremin , backing vocals), Joshua Winstead (bass, synthesizers, backing vocals) and Joules Scott-Key (drums).
Booka Shade is a German house duo. It is made up of Walter Merziger and Arno Kammermeier, described as veterans of the Frankfurt electronic music scene.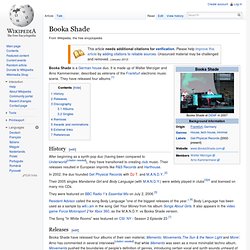 Booka Shade
Stanton Warriors - Make Em Shake It
Wahoo Discography at Discogs
Stanton Warriors
Bollywood Beatdown
Stanton Warriors
Claude Vonstroke - Who's Afraid Of Detroit
Barclay Crenshaw , who is known by the stage name Claude VonStroke , is an American house and techno producer based in San Francisco.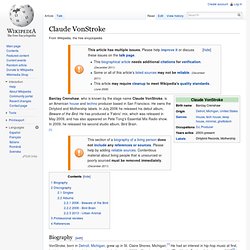 Claude VonStroke
Fabric 46 is a 2009 album by Claude VonStroke . The album was released as part of the Fabric Mix Series .
Fabric 46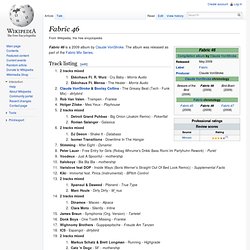 Oldskool Junx - Flamed up
Oldskool Junx Discography at Discogs
Stanton Warriors - Pop Ya Virus
Stanton Warriors
DJ Deekline & Ed Solo - Touch it Beats
Stanton Warriors - Shake It Up (Acapella)
Beatnuts, The Discography at Discogs
Stanton Warriors
DJ Dee Kline Discography at Discogs
Deekline is that rare figure in dance music, the seminal producer who balances the cutting edge and the mainstream with effortless flair. Up there with the busiest artists in the scene, Deekline splits his time between regular worldwide DJ tours, relentless production work and overseeing the six record labels he heads up; Sludge, Hot Cakes, Jungle Cakes, Booty Breaks, Rat Records and Giant Pussy Records, all of which work tirelessly to propel street level artists into the forefront of the electronic music scene.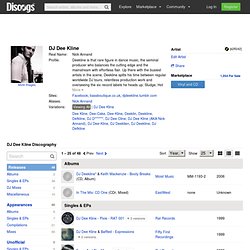 Ed Solo Discography at Discogs
CHASE & STATUS- TRICKY
Chase & Status are a British Electronic music production duo composed of Saul Milton (Chase) and Will Kennard (Status).
Chase & Status
THE MACHINE-BAOBINGA AND ID
Stanton Warriors - Still here ft. Eska
Eska Discography at Discogs
Stanton Warriors
Baobinga & I.D. Discography at Discogs
Night Mover
Stanton Warriors
Stanton Warriors - Dip And Get Low (feat. Rodney P)
Rodney P
Rodney P (born Rodney Panton in Battersea , London ) is an English [ 1 ] MC who entered the UK hip hop scene in the 1980s.
Stanton Warriors
Freeform Five 'No More Conversations' Mylo Radio Remix
Bass Kleph Discography at Discogs
Myles MacInnes (born 10 May 1978, Broadford , Isle of Skye , Scotland ), better known by the stage name Mylo , is a Scottish electronic musician and record producer . [ 1 ] [ edit ] Career MacInnes went to the top private school, George Watson's College , in Morningside , Edinburgh .
Mylo
Freeform Five
Freeform Five is London-based band led by DJ, producer, and songwriter Anu Pillai. [ 1 ] It was his remix of Isolee's "Beau Mot Plage" in 1999 that alerted many to this production outfit. The Freeform Five DJ mix albums Bisous Bisous II and Misch Masch were released in 2005 and 2006. [ 2 ] Over the years, Anu has remixed tracks for artist such as N*E*R*D , Brian Wilson , X-Press 2 and David Byrne , Jamie Lidell , Justin Timberlake , Felix Da Housecat and The Killers .
King Unique - To The Left (Stanton Warriors Remix)
Stanton Warriors
King Unique is Matt Thomas, an all round studio junkie and dj with a taste for tripped-out cosmic techno and rough-edged underground house; in a career spanning over a decade KU's distinctive sound has won an enviable global following.
King Unique Discography at Discogs
Shake That Ass Bitch - Original-Splack Pack
Splack Pack Discography at Discogs