FabricLive.30 Mixed by Stanton Warriors
Kerri Chandler - Planet Sonic
A Stanton Ironworks "Warrior" on a London street. Stanton Warriors are an English DJ and production duo consisting of Dominic Butler and Mark Yardley. Originally from the West Country, the duo have performed internationally with their infamous Stanton Sessions parties in Europe, North America, Asia and Australia. Their name was taken from a manhole cover, made by Stanton Ironworks, which seemed fitting with their style of underground, cutting edge music.[citation needed]
Stanton Warriors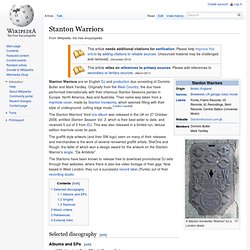 Spank Rock - Bump
Naeem Juwan, better known by his stage name Spank Rock, is an American rapper and songwriter from Baltimore. He rose to fame with his 2006 album YoYoYoYoYo, which was produced by former group member Alex Epton (XXXChange). A harbinger of post-millennial alternative rap,[4] the duo became known for its mixing of disparate hip hop and club genres, including Baltimore club,[5] Miami bass,[6] electro music and rock. In 2007, Epton left the group to pursue his own production[7] while Juwan went on to release the Bangers & Cash EP (2007) with pop producer Benny Blanco.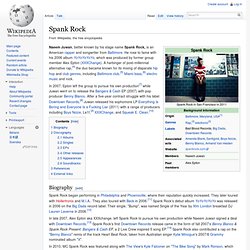 Spank Rock
FabricLive.33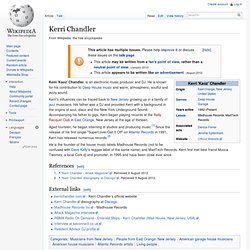 Kerri Chandler
Kerri 'Kaoz' Chandler, is an electronic music producer and DJ. He is known for his contribution to Deep House music and warm, atmospheric, soulful and jazzy sound. Kerri's influences can be traced back to New Jersey growing up in a family of jazz musicians. His father was a DJ and provided Kerri with a background in the origins of soul, disco and the New York Underground Sound. Accompanying his father to gigs, Kerri began playing records at the Rally Racquet Club in East Orange, New Jersey at the age of thirteen.
Peace Division - Club Therapy (Stanton Warriors Remix)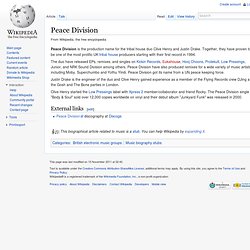 Peace Division is the production name for the tribal house duo Clive Henry and Justin Drake. Together, they have proven to be one of the most prolific UK tribal house producers starting with their first record in 1994. The duo have released EPs, remixes, and singles on Kickin Records, Eukahouse, Hooj Choons, Prolekult, Low Pressings, Junior, and NRK Sound Division among others. Peace Division have also produced remixes for a wide variety of music artists including Moby, Superchumbo and Yothu Yindi. Peace Division got its name from a UN peace keeping force. Justin Drake is the engineer of the duo and Clive Henry gained experience as a member of the Flying Records crew DJing at the Gosh and The Bone parties in London.
Peace Division
Booka Shade - Mandarine Girl
Metric (band)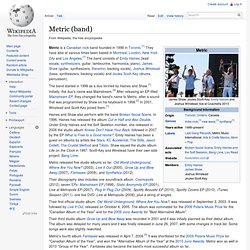 The band started in 1998 as a duo formed by Haines and Shaw.[1] Initially, the duo's name was Mainstream.[2] After releasing an EP titled Mainstream EP, they changed the band's name to Metric, after a sound that was programmed by Shaw on his keyboard in 1998.[2] In 2001, Winstead and Scott-Key joined them.[1] Their first official studio album, Old World Underground, Where Are You Now?, was released in September 2, 2003. It was followed by Live It Out, released on October 4, 2005. The album was nominated for the 2006 Polaris Music Prize for the "Canadian Album of the Year" and for the 2006 Juno Awards for "Best Alternative Album". Their third studio album Grow Up and Blow Away was recorded in 2001 and it was initially planned as their debut album.
Booka Shade is a German house duo. It is made up of Walter Merziger and Arno Kammermeier, described as veterans of the Frankfurt electronic music scene. They have released four albums.[1] History[edit] In 2002, the duo founded Get Physical Records with DJ T. and M.A.N.D.Y..[2] Their 2005 singles Mandarine Girl and Body Language (with M.A.N.D.Y.) were widely played in clubs[3][4] and licensed on many mix CDs.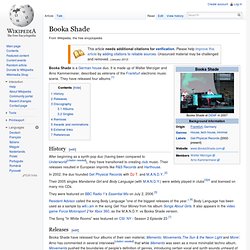 Booka Shade
Stanton Warriors - Make Em Shake It
Wahoo Discography at Discogs
Stanton Warriors
Bollywood Beatdown
Stanton Warriors
Claude Vonstroke - Who's Afraid Of Detroit
Barclay Crenshaw, who is known by the stage name Claude VonStroke, is an American house and techno producer based in San Francisco. He owns the Dirtybird and Mothership labels. In July 2006 he released his debut album, Beware of the Bird. He has produced a 'Fabric' mix, which was released in May 2009, and has also appeared on Pete Tong's Essential Mix Radio show.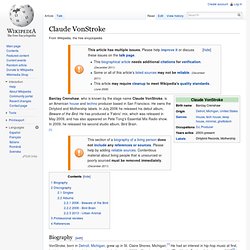 Claude VonStroke
Fabric 46 is a 2009 album by Claude VonStroke. The album was released as part of the Fabric Mix Series. Track listing[edit] 2 tracks mixedEkkohaus Ft. R. Wurz - Cry Baby - Morris AudioEkkohaus Ft.
Fabric 46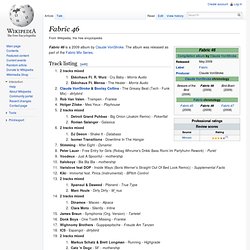 Oldskool Junx - Flamed up
Oldskool Junx Discography at Discogs
Stanton Warriors - Pop Ya Virus
Stanton Warriors
DJ Deekline & Ed Solo - Touch it Beats
Stanton Warriors - Shake It Up (Acapella)
Beatnuts, The Discography at Discogs
Stanton Warriors
DJ Dee Kline Discography at Discogs
Deekline is that rare figure in dance music, the seminal producer who balances the cutting edge and the mainstream with effortless flair. Up there with the busiest artists in the scene, Deekline splits his time between regular worldwide DJ tours, relentless production work and overseeing the six record labels he heads up; Sludge, Hot Cakes, Jungle Cakes, Booty Breaks, Rat Records and Giant Pussy Records, all of which work tirelessly to propel street level artists into the forefront of the electronic music scene. A bonafide musical shapeshifter, his countless releases have erupted into both the underground and mainstream worlds, gaining support from the likes of Diplo, Craze, DJ Hype, Afrojack, Stanton Warriors, Plump DJs and Krafty Kuts and representing bass music in its truest form; a melting pot of dubstep, UK funky, garage, bassline, dancehall and breakstep.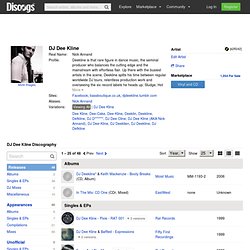 Ed Solo Discography at Discogs
CHASE & STATUS- TRICKY
History[edit] 2003-2005[edit] Saul Milton (Chase) and Will Kennard (Status) originally met in London through a mutual friend although met up again whilst university students in Manchester. Will studied History of Art at the University of Manchester, while Saul studied English and Humanities at Manchester Metropolitan University.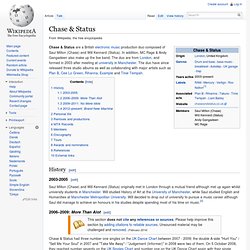 Chase & Status
THE MACHINE-BAOBINGA AND ID
Stanton Warriors - Still here ft. Eska
Eska Discography at Discogs
Stanton Warriors
Baobinga & I.D. Discography at Discogs
Night Mover
Stanton Warriors
Stanton Warriors - Dip And Get Low (feat. Rodney P)
Rodney P
Rodney P (born Rodney Panton in Battersea, London) is an English[1] MC who entered the UK hip hop scene in the 1980s. He started out as a member of the London Posse, one of the UK's first home grown hip hop acts who were highly influential in the development of the genre. Rodney P has had one of the longest and most respected careers in UK hip hop. Also known as da riddim killa, he cites the reggae he heard while growing up as a second-generation West Indian immigrant as an influence on his dub-heavy music.
Stanton Warriors
Freeform Five 'No More Conversations' Mylo Radio Remix
Bass Kleph Discography at Discogs
Myles MacInnes (born 10 May 1978, Broadford, Isle of Skye, Scotland), better known by the stage name Mylo, is a Scottish electronic musician and record producer.[1] Early life and education[edit] MacInnes was educated at his local high school on the Isle of Skye and, after successfully gaining admission and a scholarship, George Watson's College, a private school in Morningside, Edinburgh.[2] After completing his Certificate of Sixth Year Studies, with one course in chemistry and four in mathematics, MacInnes gained admission and matriculated to the University of Edinburgh.[2] MacInnes had no plan after high school and initially wanted to lay bricks in Australia, but he was unable to obtain a visa.[2]
Mylo
Freeform Five
Freeform Five is London-based band led by DJ, producer, and songwriter Anu Pillai.[1] It was his remix of Isolee's "Beau Mot Plage" in 1999 that alerted many to this production outfit. In addition to his own work, Anu writes and produces with other artists. He also puts out tracks by other artists on his record label Perspex Recordings. Discography[edit] Albums[edit] Misch Masch DJ Mix Album - 2005 FineStrangest Things Studio Album - 2005 Fine/Perspex RecordingsBisous Bisous II DJ Mix Album - 2006 Perspex Recordings
King Unique - To The Left (Stanton Warriors Remix)
Stanton Warriors
King Unique is Matt Thomas, an all round studio junkie and dj with a taste for tripped-out cosmic techno and rough-edged underground house; in a career spanning over a decade KU's distinctive sound has won an enviable global following. A ceaseless schedule of dj sets and festival gigs backed up by relentless studio sessions resulting in scores of records, remixes and radio broadcasts has made the KU sound an instantly recognizable part of the music-life of millions of the world's clubbers - and a fixture in the vinyl crates, cd wallets and laptops of the world's most influential djs. Consistently appealing across genres the tracks have been played by everyone from John Digweed to Soulwax, Richie Hawtin to Tiesto, and have turned up everywhere from Hollywood soundtracks to mobile ringtones - not to mention countless compilations and mix albums.
King Unique Discography at Discogs
Shake That Ass Bitch - Original-Splack Pack
Splack Pack Discography at Discogs