Books by reading level
Get flash to fully experience Pearltrees
"Popular magazines tend to have higher Flesch Reading Ease scores, and research indicates that popularity is correlated with higher readability scores. What should your eLearning readability scores be? Well, that depends on your audience, of course. But in general, they should be least in the 50s, and preferably higher.
Mockingbird by Kathryn Erskine. 2010. New York: Philomel Books. Genre: First-person novel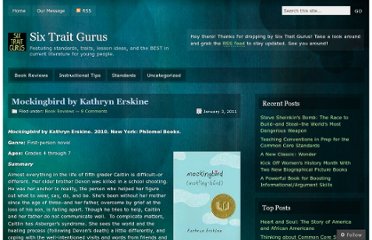 One of the major challenges in creating and publishing literacy resources is attaching a reading level to them. Adult students that are learning to read better probably wouldn't like to see a "Grade 3" sticker on the front of the book. Literacy practitioners and instructors can assist their students more effectively if they provide motivational material at the correct reading level – not too hard and not too easy. In order to realistically meet the instructional needs of readers at any level, we, as a publisher need to provide the instructors with this information. This is where the challenge begins.
The Gradient of Text Difficulty At Benchmark Education Company, we recognize that any gradient is fallible because a book's level of difficulty will vary among districts and schools, and from student to student. We recommend that teachers make careful decisions in selecting leveled texts for students and consider the student's current literacy behaviors and his/her prior knowledge of the content being presented. If prior knowledge of the topic is a limitation, the designated reading level of the text may need to be altered. We encourage teachers to confer with one another as they establish a schoolwide book room and develop a sensitivity to appropriate text levels for their school population. Please note that the grade levels assigned to letter and number levels on this chart reflect ideal expectations only.
Measuring the reading age of books and other reading matter. This article outlines the subject of readability, and its relevance to school books. The 4 main sections of the article are: 1. The effect of interest and motivation . 2. Legibility, including type, layout and reading conditions. 3. Sentence structure, including readability formulae . 4.