Debbiewhitfield
The Must-Have App Review Rubric. Added by Jeff Dunn on 2011-11-22 So you just downloaded a few educational apps that you think might be useful in your classroom.
How do you accurately compare and contrast them? Thanks to a new app review rubric from by eMobilize , it's easier than ever to understand just how useful an app may be in the classroom. On a related note, the Edudemic Directory features many educational apps and lets you quickly compare them to see how they stack up.
Give it a try today! iPod Touch & iPad Resources. Gardening. Growing Herbs - How To Grow Herbs. DIY Succulent Pallet Table | Far Out Flora. Max with the new Succulent Table.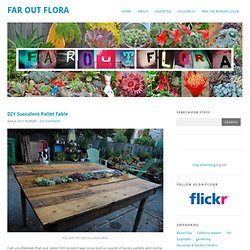 Can you believe that our latest DIY project was once just a couple of junky pallets and some scrappy table legs? Crazy…if I didn't have photos, I wouldn't believe it myself. Not too long ago, we whipped out a coffee table sized succulent table out of an old shipping crate. DIY Succulent Pallet Table | Far Out Flora. Growing a Vegetable Garden at Epicurious. Read the seed packet Most people don't read the instructions and then wonder why the plants don't thrive.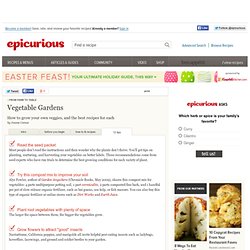 You'll get tips on planting, nurturing, and harvesting your vegetables on better labels. These recommendations come from seed experts who have run trials to determine the best growing conditions for each variety of plant. The Lazy Lady's Guide to DIY: Hanging Herb Garden. 7 Cheap But Beautiful DIY Garden Decor Ideas. I must be painting a terrible portrait of myself.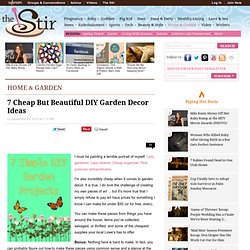 Lazy gardener. Lazy cleaner. Cheap organizer. Pest poisoner extraordinaire. How to turn water into marbles. My Tiny Plot. Create your own Vertical Garden - Living walls and Vertical Gardens. Vertical gardening is a fun, creative way to grow plants in urban spaces!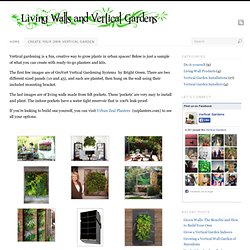 Below is just a sample of what you can create with ready-to-go planters and kits. The first few images are of GroVert Vertical Gardening Systems by Bright Green. There are two different sized panels (10 and 45), and each are planted, then hung on the wall using their included mounting bracket. Explore Cornell - Home Gardening - Introduction.
Getting started
Kathy Schrock's Guide to Everything - Bloomin' Apps. This page gathers all of the Bloomin' Apps projects in one place.Each image has clickable hotspots and includes suggestions for iPad, Google, Android, and Web 2.0 applications to support each of the levels of Bloom's Revised Taxonomy.I have created a page to allow you to share your favorite Web 2.0, iOS, or Android app with others.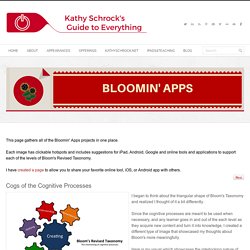 Cogs of the Cognitive Processes Option 1 I was recently reflecting on the triangular shape the Bloom's taxonomies utilize. Kathy Schrock's Guide to Everything - Home Page. Reading & Writing Apps. World Atlas and Maps –HD. Description * Updated to support both iOS 6 and iOS 7* Upgraded software with cool features* New structure & maps* Awesome search* Sharing of maps & information through Facebook & Email The only World Atlas on iPad with the facility to "Print", "Mail" and "Save" MapsThe only World Atlas on iPad with maps for each individual countryThe only World Atlas on iPad that works "Completely offline" for all utilities (except zoom down to city level maps world weather,time Zone and Airport Finder) The Best Atlas experience that your iPad can get.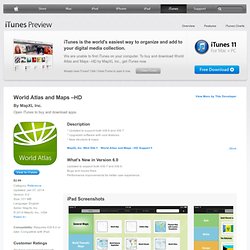 10 Essential iPad Tips & Tricks. 25 Questions To Ask As You Write. Sometimes, as you write it helps to keep your eye on the ball, lest the ball thwack you across the bridge of the nose and make you cry in front of all your friends.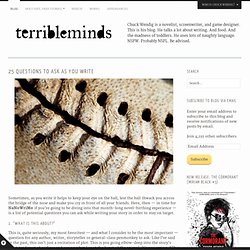 Here, then — in time for NaNoWriMo if you're going to be diving into that month-long novel-birthing experience — is a list of potential questions you can ask while writing your story in order to stay on target. 1. "What Is This About?" This is, quite seriously, my most favoritest — and what I consider to be the most important — question for any author, writer, storyteller or general-class penmonkey to ask. 40+ Tips to Improve your Grammar and Punctuation. After all these years you finally have the courage and opportunity to write the email announcing that you and you alone have single handedly saved the company from utter disaster.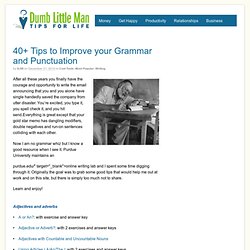 You're excited, you type it, you spell check it, and you hit send.Everything is great except that your gold star memo has dangling modifiers, double negatives and run-on sentences colliding with each other. Now I am no grammar whiz but I know a good resource when I see it. Purdue University maintains an. How to Write a Book Review. By Bill Asenjo A book review describes, analyzes and evaluates.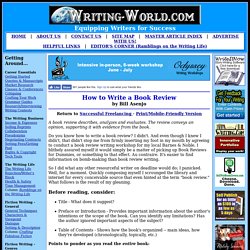 The review conveys an opinion, supporting it with evidence from the book. How to Show (Not Tell): A Writing Lesson from John LeCarre. Can you show (not tell)? I'm sure you agree that whether you write fiction or faction, stories are a great way to convey your message. Even in fact-focused blog posts, a good story can engage and inspire readers. As all storytellers know, a good story conveys mood, touches emotions, and holds the reader captive. The-holstee-manifesto1.jpg (JPEG Image, 600 × 803 pixels) - Scaled (86%) Best Quotes of All Time.
Photo Credit: BigStockPhoto.com It's been three years since we shared our original list of some of the best quotes of all time, and we felt it was a good time for an update. We've added another 25 quotes for you. But these aren't just any quotes. These are quotes designed to inspire. Life Inspirations. Dr. Seuss Quotes In Image. Everyone is a genius. eClassroom News. 55 Beautiful Apple iPad Wallpapers - Noupe Design Blog. May 31 2010 This is the age of iPhones, iPods and iPads, people simply love to have these amazing inventions of information technology. Apple iPhones have created a state of euphoria among its users with its amazing features and iPad is another product from Apple team that will let you browse internet, watch video, listen music, read books with just a finger touch. We are sure some of you have already purchased it and now want to customize it. For this you must be looking for some beautiful wallpapers that will match with the theme of your iPad.
iPads in the Classroom. English iPad Apps. The Ultimate Guide To Using iPads In The Classroom. Elementary iPad | iPads in Education Resources. Cool Drawing Apps for Primary School. iPads in the Classroom. 5 iPad Apps Every Teacher Should Have. TCEA-Recommended iPad Apps. Best Educational Apps For Students And Teachers - Education News. Teaching and Learning: Using iPads in the Classroom. Blooms Taxonomy with Apps. 65+ iPad Apps Perfect For Elementary School. App-lauded or App-alled. CloudOn. iPad Mate Platinum: Share files among iPad, iPod, iPhone, PC, iTunes. Free ebooks download :: free ebook C# vb.net rapidshare. 100 iPad Tips and Tricks.pdf. Best iPad Apps. iPaddiction. Top 100 apps - the definitive guide. Comprehension x3 - Comprehension with Common Core | Stephanie Harvey Consulting.
---
amsika Apr 6 2012

yes :) Just click on the "+pearltree" button :)

debbiewhitfield Apr 5 2012

I am using the iPad app. I would like to create a pearl category and put my related pearls into that category so that they are hidden until I click the title pearl. Can that be done?

amsika Apr 5 2012

are you using the iPad app or are you on the web?
As for the pearls, i'm not sure to understand your question, sorry...

debbiewhitfield Apr 5 2012

Oops sorry, it does not ended in the pearl I choose,nit just makes a new pearl so thatnmy acct page shows everything at once. Does that make sense?

debbiewhitfield Apr 5 2012

It tells me I have successfully added the pearler to the bar, but the pearler is not showing. Also when I try to add a pick to my account it does not imbed

amsika Apr 5 2012

This short video will help you :) can install the pearler by clicking on the "pearler" button at the bottom left of the screen :)

debbiewhitfield Apr 4 2012

I can't find the faq's or how to install the pearler. Also how do I create a new pearl category? Thanks for your help.
---