Debbiewhitfield
The Must-Have App Review Rubric
Added by Jeff Dunn on 2011-11-22 So you just downloaded a few educational apps that you think might be useful in your classroom.
iPod Touch & iPad Resources
Growing Herbs - How To Grow Herbs | Veggie Gardener
DIY Succulent Pallet Table | Far Out Flora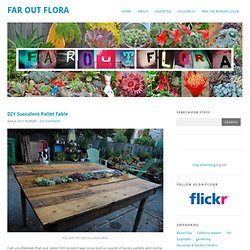 Max with the new Succulent Table.
DIY Succulent Pallet Table | Far Out Flora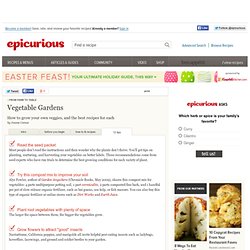 Read the seed packet
Growing a Vegetable Garden at Epicurious
The Lazy Lady's Guide to DIY: Hanging Herb Garden
7 Cheap But Beautiful DIY Garden Decor Ideas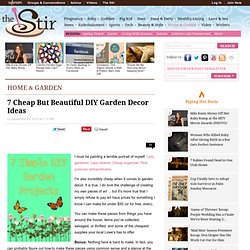 I must be painting a terrible portrait of myself.
How to turn water into marbles
My Tiny Plot
Create your own Vertical Garden - Living walls and Vertical Gardens
Vertical gardening is a fun, creative way to grow plants in urban spaces!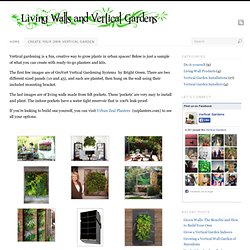 Explore Cornell - Home Gardening - Introduction
This page gathers all of the Bloomin' Apps projects in one place.Each of the images has clickable hotspots and includes suggestions for iPad, Google, Android, and Web 2.0 applications to support each of the levels of Bloom's Revised Taxonomy.The use of the triangle shape for Bloomin' apps projects was not used to help clear up the misunderstanding that the levels are hierarchical andthe top levels only make up a tiny portion of the cognitive processes.I have created a page to allow you to share your favorite Web 2.0, iOS, or Android app with others.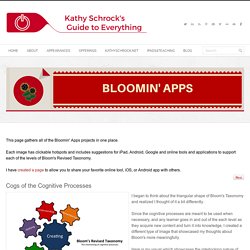 Kathy Schrock's Guide to Everything - Bloomin' Apps
Kathy Schrock's Guide to Everything - Home Page
Reading & Writing Apps
World Atlas and Maps –HD for iPad on the iTunes App Store
Description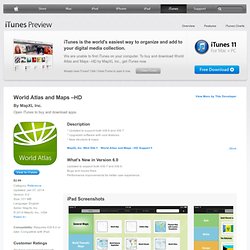 10 Essential iPad Tips & Tricks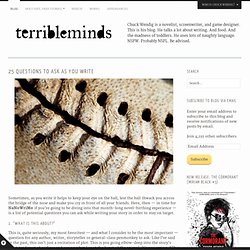 25 Questions To Ask As You Write
Sometimes, as you write it helps to keep your eye on the ball, lest the ball thwack you across the bridge of the nose and make you cry in front of all your friends.
40+ Tips to Improve your Grammar and Punctuation
After all these years you finally have the courage and opportunity to write the email announcing that you and you alone have single handedly saved the company from utter disaster. You're excited, you type it, you spell check it, and you hit send. Everything is great except that your gold star memo has dangling modifiers, double negatives and run-on sentences colliding with each other.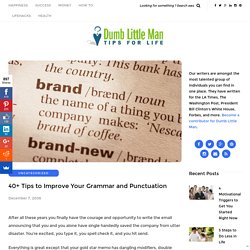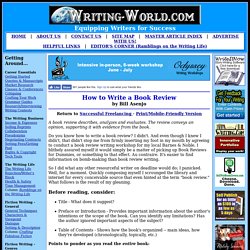 How to Write a Book Review
by Bill Asenjo A book review describes, analyzes and evaluates. The review conveys an opinion, supporting it with evidence from the book.
Can you show (not tell)? By Mary Jaksch I'm sure you agree that whether you write fiction or faction, stories are a great way to convey your message. Even in fact-focused blog posts, a good story can engage and inspire readers.
How to Show (Not Tell): A Writing Lesson from John LeCarre
the-holstee-manifesto1.jpg (JPEG Image, 600 × 803 pixels) - Scaled (86%)
Photo Credit: BigStockPhoto.com
Best Quotes of All Time
Life Inspirations
Dr. Seuss Quotes In Image
Everyone is a genius
eClassroom News
55 Beautiful Apple iPad Wallpapers - Noupe Design Blog
iPads in the Classroom
English iPad Apps
The Ultimate Guide To Using iPads In The Classroom
Elementary iPad | iPads in Education Resources
Cool Drawing Apps for Primary School
iPads in the Classroom
5 iPad Apps Every Teacher Should Have
TCEA-Recommended iPad Apps
Best Educational Apps For Students And Teachers - Education News
Teaching and Learning: Using iPads in the Classroom
Blooms Taxonomy with Apps
65+ iPad Apps Perfect For Elementary School
App-lauded or App-alled
CloudOn for iPad on the iTunes App Store
iPad Mate Platinum: Share files among iPad, iPod, iPhone, PC, iTunes
Free ebooks download :: free ebook C# vb.net rapidshare
100 iPad Tips and Tricks.pdf
Best iPad Apps
iPaddiction
Top 100 apps - the definitive guide
Comprehension x3 - Comprehension with Common Core | Stephanie Harvey Consulting