Web Technologies
10 Free Website Thumbnail Generation Services. Automatically created website thumbnails have a wide usage from links in a website to a web application presenting URLs with their thumbnails.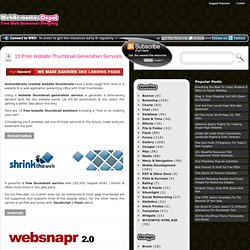 Using a website thumbnail generation service is generally a time-saving decision both for the website owner (as it'll be automated) & the visitor (for getting a better idea about the link). Here are 10 free website thumbnail solutions including a "how to on creating your own".
The Top 50 Proprietary Programs that Drive You Crazy — and Their Open Source Alternatives | WHdb. Update January 22, 2013: This article was originally posted February 7, 2008.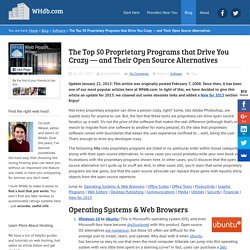 Since then, it has been one of our most popular articles here at WHdb.com. In light of this, we have decided to give this article an update for 2013: we cleaned out some obsolete links and added a New for 2013 section. Enjoy! Not every proprietary program can drive a person crazy, right? Some, like Adobe Photoshop, are superb tools for anyone to use. Considering MDM? Compare 30 MDM vendors online and off with our community-generated chart. | Enterprise iOS. Whether you BYOD or not, Mobile Device Management is a crucial tool for managing iOS in the enterprise.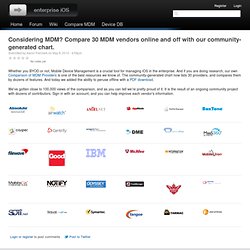 And if you are doing research, our own Comparison of MDM Providers is one of the best resources we know of. The community-generated chart now lists 30 providers, and compares them by dozens of features. And today we added the ability to peruse offline with a PDF download. We've gotten close to 100,000 views of the comparison, and as you can tell we're pretty proud of it. Pinry by Isaac Bythewood. Atari Arcade. Saschagehlich/node-whatsapp. Mobile HTML5 - compatibility on iPhone, Android, Windows Phone, BlackBerry, Symbian and other mobile and tablet devices.
Sketch Mobile. Sketch Mobile is a drawing app build for mobile browsers; taking advantage of technologies such as multi-touch, the accelerometer, and the gyroscope; providing a fun & novel environment to express yourself in colorful ways Sketch Mobile was commissioned by Google as part of the Mobile Chrome Experiments released at Google I/O show in San Francisco.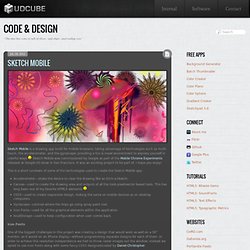 It was an exciting project to be part of, I hope you enjoy! This is a short rundown of some of the technologies used to create the Sketch Mobile app; How to Use the Gyroscope of Your iPhone in a Mobile Web App - Peter Friese. This week's release of iOS 4.2 for iPad and iPhone comes with some nice little features most people will not immediately become aware of as they're neither directly visible in the iOS UI nor are they mentioned in Apple's official release notes.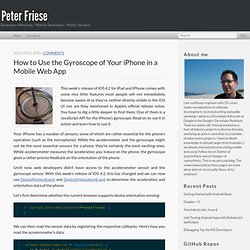 You have to dig a little deeper to find them. One of them is a JavaScript API for the iPhone's gyroscope. Read on to see it in action and learn how to use it. Your iPhone has a number of sensors, some of which are rather essential for the phone's operation (such as the microphone). CodeHookup. Bootstrap. The Making of Fastbook: An HTML5 Love Story. When we started what became Sencha, we made a bet on the web: a bet that modern application development didn't need anything except the browser, a great set of frameworks and a great set of tools.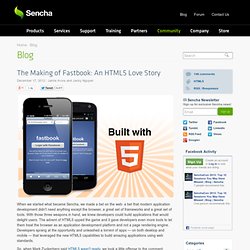 With those three weapons in hand, we knew developers could build applications that would delight users. The advent of HTML5 upped the game and it gave developers even more tools to let them treat the browser as an application development platform and not a page rendering engine. Developers sprang at the opportunity and unleashed a torrent of apps — on both desktop and mobile — that leveraged the new HTML5 capabilities to build amazing applications using web standards.
Welcome - ticalc.org. Branches · libin/sipml5. Idoubs - SIP/IMS VideoPhone for iOS (iPhone, iPad and iPod Touch) and MAC OS X. This application uses Doubango Framework. iDoubs v2.x-preview (beta) is now available for developers The source code is under branches/2.0 and depends on doubango v2.x To build the source code: New features: - The SIP/IMS Stack is 7 times faster.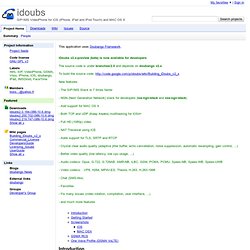 Sipml5 - The world's first HTML5 SIP client. Source code freely provided to you by Doubango Telecom ® under BSD terms.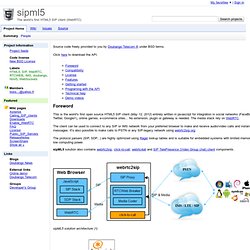 Click here to download the API. Foreword This is the world's first open source HTML5 SIP client (May 12, 2012) entirely written in javascript for integration in social networks (FaceBook, Twitter, Google+), online games, e-commerce sites... No extension, plugin or gateway is needed. Geolocation. 25 Amazing HTML5 Tricks and How to Make Them. Apps 25 Amazing HTML5 Tricks and How to Make Them HTML5 has managed to start a new era in the web world, an era in which the web is faster and creating a much pleasant user experience.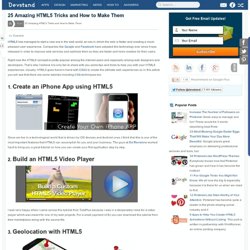 Companies like Google and Facebook have adopted this technology ever since it was released in order to improve web services and optimize them so they are faster and more creative for their users. Using the Notifications API. This article is outdated and references a deprecated API.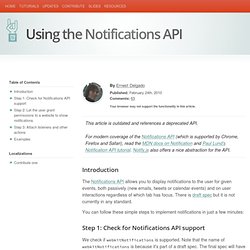 For modern coverage of the Notifications API (which is supported by Chrome, Firefox and Safari), read the MDN docs on Notification and Paul Lund's Notification API tutorial. Notify.js also offers a nice abstraction for the API. Introduction The Notifications API allows you to display notifications to the user for given events, both passively (new emails, tweets or calendar events) and on user interactions regardless of which tab has focus. There is draft spec but it is not currently in any standard. Kanned Tomatoes: A Kanban / Pomodoro Way of Getting Things Done | Sup-a-Dillie-O. I've been a big fan of personal kanban for a while now. I even have a couple articles about my journeys in kanban land. Kanban gives me a great way of seeing what I'm doing, what is waiting for feedback from others, and what I need to do. However, lately I've been getting rather scattered in actually accomplishing my various tasks.
To remedy this, I decided to try out a little something I read about a while back, the Pomodoro Technique. Open Source Web Servers in Java. Jakarta Tomcat Go To Jakarta Tomcat Jetty Go To Jetty Simple Go To Simple. Jetty - Jetty WebServer. Jetty is used in a wide variety of projects and products, both in development and production.
Jetty can be easily embedded in devices, tools, frameworks, application servers, and clusters. See the Jetty Powered page for more uses of Jetty. The current recommended version for use is Jetty 9 which can be obtained here: Jetty Downloads. Also available are the latest maintenance releases of Jetty 8 and Jetty 7.
Compare Task Management Apps. 1 to 50 based on popularity Task management applications give users a place to build an online to-do list that can be kept private or assigned to others. AppAppeal ranks all task management apps based on worldwide popularity. Popularity rank 4,520 AppAppeal rating 5/5 Pricing (p/month): $99.00. A free app that helps you remember. Personal Kanban 101 | Personal Kanban. Chomp. 4 Beautiful Pinterest WordPress Themes. EssayTyper.
Cool Stuff
Virtual Appliance Server. Tools. New Learning. The Lazy Sys Admin | Why do things the hard way? WSX: Virtual Machines in Your Browser « ChipLog. There's a Pinterest for that: A list of niche Pinterest clones. Clone Scripts of Popular Websites - Open Source and Commercial PHP Scripts. Torrent Search :: Torrent Finder :: Torrent Search Engine.
5 Pinterest Clones – Exact Copy of Pinterest Website. Pinterest clone script - To share pictures and create your own pinterest clone. Cubby.com.
Read More
CloudPassage | Cloud Security, Server Security and Firewall Management. Meetings.io. Plancake - GTD Software Online, Task Manager, Todo and Calendar. Tutorials. /r/onions: Things That Make You Cry.
---