Building a business
Editor's note: Aileen Lee is founder of Cowboy Ventures, a seed-stage fund that backs entrepreneurs reinventing work and personal life through software. Previously, she joined Kleiner Perkins Caufield & Byers in 1999 and was also founding CEO of digital media company RMG Networks, backed by KPCB. Follow her on Twitter @aileenlee. Many entrepreneurs, and the venture investors who back them, seek to build billion-dollar companies. Why do investors seem to care about "billion dollar exits"? Historically, top venture funds have driven returns from their ownership in just a few companies in a given fund of many companies.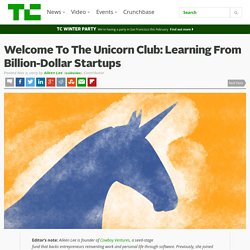 Welcome To The Unicorn Club: Learning From Billion-Dollar Startups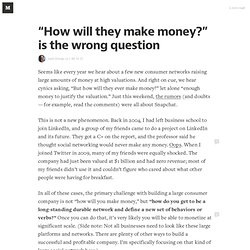 "How will they make money?" is the wrong question — I.M.H.O.
Seems like every year we hear about a few new consumer networks raising large amounts of money at high valuations. And right on cue, we hear cynics asking, "But how will they ever make money?" let alone "enough money to justify the valuation."
Very insightful post but a bit partial by PED Jun 14
Startup = Growth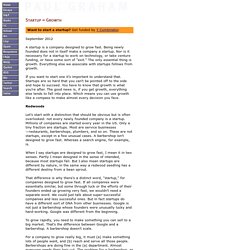 September 2012 A startup is a company designed to grow fast. Being newly founded does not in itself make a company a startup.
Tremendous post by PG as usual by PED Sep 25
July 2013 One of the most common types of advice we give at Y Combinator is to do things that don't scale. A lot of would-be founders believe that startups either take off or don't.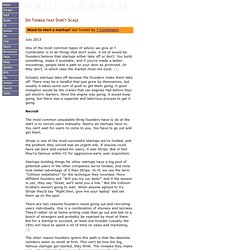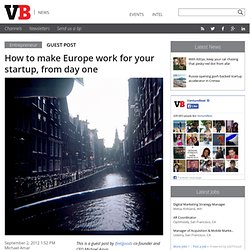 How to make Europe work for your startup, from day one
This is a guest post by Ifeelgoods co-founder and CEO Michael Amar. For too many American technology start-ups, Europe is a dirty word. Classically, US start-ups have pursued the European market after their Series B or C funding rounds, or even later. Many companies only consider Europe when their US growth begins slowing down.
The experience economy
Before World War 2, the middle-class in the developed world struggled to afford basic needs. In the post-war boom, standards of living rose dramatically, and people consumed far beyond what they needed. It was the age of conspicuous consumption: a race to own bigger cars and houses, and accumulate more stuff. The mean income in the developed world became sufficient to provide for a comfortable life.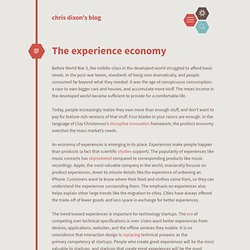 Are Typosquatters Hijacking Your Brand? - Advertising Age - Digi
Brands only have a few seconds to make an impression and engage a visitor online. Companies that deliver their message where and when consumers expect to find it will grow trust, loyalty, and ultimately garner a wider consumer base.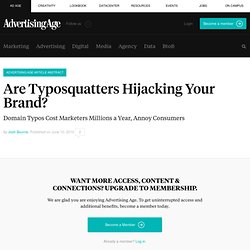 I believe that a good domain name is an important success factor in building and launching consumer web services.
Finding And Buying A Domain Name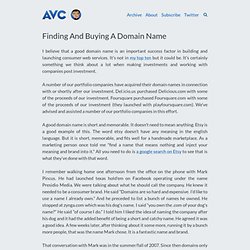 My Hunch cofounders and I frequently ask ourselves: "If we were to start over today, would we build our product the same way we had so far?"
Dr. Evil's 7 Tips for Achieving Worldwide Marketing Domination |
5 Tips To Transition From A Free To A Paid Service
Editor's Note: This post is written by Dave Schappell , Founder and CEO of TeachStreet . In it, he talks about his company's transition from a free to a paid service, and shares five tips that may help other startups make the leap as well.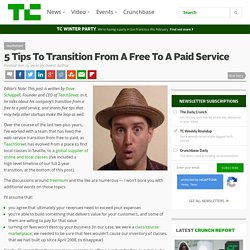 How To Make Your Product Stand Out Without Going Broke
As the company scales the yin and yang of product and engineering often gets out of whack.
The Yin And Yang Of Product And Engineering
The 6 Keys To Real Sustainable Competitive Advantage
Challenges of Getting Early Adopters, Acquiring Customers & Monetizing | Femgineer
I've gotten some requests recently to write a post on how we've gotten early adopters at my startup BizeeBee and how we got them at Mint .
From Business Models to "Betterness" Models - Umair Haque - Harv
Note: this post has been expanded to an HBR Single, Betterness: Economics for Humans .
Accelerate Your Startup: Get the Right Product/Market Fit: Tech News «
As a VC and five-time entrepreneur, I frequently see two common mistakes being made by startups: Companies spend too much attempting to grow the business when it's not ready for such growth; or Companies don't spend enough money when the business is ready to scale. It's a CEO's responsibility to decide when to hit the startup accelerator pedal.
Should Startups Focus on Profitability or Not?
Creating Something Big & Significant – Dharmesh Shah Shares His