Séries
How Friends Decided to Pair Off Monica/Chandler. As Friends wrapped up its fourth season in May of 1998, Ross and Rachel's on/off relationship still provided the show's emotional core, with the other four roommates serving as the platonic Greek chorus to the couple's climactic kisses and "on-a-break"-dom.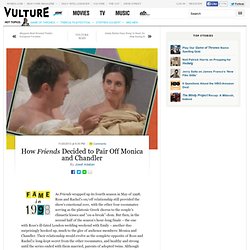 But then, in the second half of the season's hour-long finale – the one with Ross's ill-fated London wedding weekend with Emily – another duo surprisingly hooked up, much to the glee of audience members: Monica and Chandler. Their relationship would evolve as the complete opposite of Ross and Rachel's: long-kept secret from the other roommates, and healthy and strong until the series ended with them married, parents of adopted twins. A toi qui as laissé tomber Mad Men… A toi qui n'as jamais aimé Mad Men.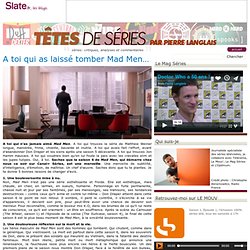 A toi qui trouves la série de Matthew Weiner longue, maniérée, frime, chiante, bavarde et inutile. A toi qui avais fait l'effort, avant d'abandonner Don Draper et les siens après une saison 5 décevante. A toi qui trouves Jon Hamm mauvais. A toi qui voudrais bien qu'on lui foute la paix avec les cravates slim et les jupes tulipes. Oui, à toi. Here's What Your Favorite TV Character's iPhone Would Look Like. Qui habille les séries US? - ChEEk Magazine.
De Girls à Sex And The City en passant par That '70s Show ou Gossip Girl, ces cinq stylistes ont mis la mode au premier plan dans les séries américaines, pour le meilleur et pour le pire.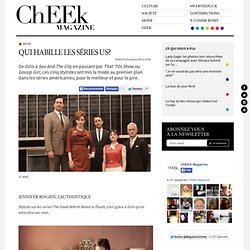 Jennifer Rogien, l'authentique Styliste sur les séries The Good Wife et Bored to Death, c'est grâce à Girls qu'on retiendra son nom. Girls, Lena Dunham © Home Box Office (HBO) Signe distinctif: une courte frange et une prédilection pour le corail et l'orange. Elle a réussi: des tenues volontairement étriquées d'Hannah à la robe transparente de Jessa lors d'un baby sitting, la styliste a, dans Girls, le don pour accentuer le potentiel comique des situations.
Likability-chart. The Most Ghastly Fashion Moments on 'Sex and the City': A Retrospective. As a former Sex and the City fan, I spent plenty of time viewing the show through rose-colored glasses.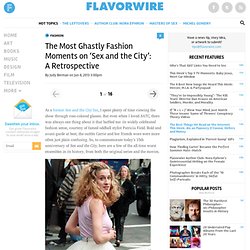 But even when I loved SATC, there was always one thing about it that baffled me: its widely celebrated fashion sense, courtesy of famed oddball stylist Patricia Field. Bold and avant-garde at best, the outfits Carrie and her friends wore were more often just plain confusing. So, to commemorate today's 15th anniversary of Sex and the City, here are a few of the all-time worst ensembles in its history, from both the original series and the movies. The first iconic Carrie Bradshaw look. 10 TV Writers and Showrunners On Their Most Controversial Episodes. Girls, Boardwalk Empire, and Mad Men are just a few of the current series that push the boundaries of how we view television, but there have been numerous TV shows that stretched the limits of prime time.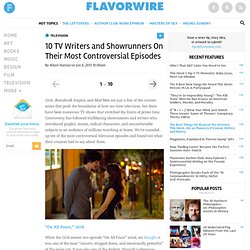 Controversy has followed trailblazing showrunners and writers who introduced graphic stories, radical characters, and uncomfortable subjects to an audience of millions watching at home. We've rounded up ten of the most controversial television episodes and found out what their creators had to say about them. "On All Fours," Girls When the Girls season two episode "On All Fours" aired, we thought it was one of the most "sincere, stripped down, and emotionally powerful" of the series yet. Previously, On Arrested Development. Agents of S.H.I.E.L.D saison 1. Joss Whedon's 'S.H.I.E.L.D.' Near Series Order at ABC. Joss Whedon Consider Marvel's Agents of S.H.I.E.L.D. on the air at ABC.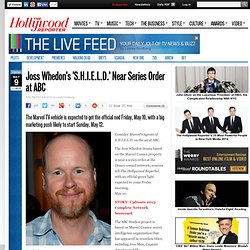 The Joss Whedon drama based on the Marvel Comics property is near a series order at the Disney-owned network, sources tell The Hollywood Reporter, with an official green light expected to come Friday morning, May 10. STORY: Upfronts 2013: Complete Network Scorecard The ABC Studios project is based on Marvel Comics' secret intelligence organization that has appeared in countless titles, including Iron Man, Captain America and The Ultimates, since being introduced in the 1960s.
The military law-enforcement agency's moniker stands for Strategic Hazard Intervention Espionage Logistic Directorate, which also has evolved over time in the comics. Les nouvelles séries annoncées aux Digital Newfronts. Best shows of the season. Tatiana Maslany has one of the year's best roles on "Black."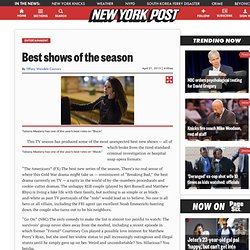 This TV season has produced some of the most unexpected best new shows — all of which broke from the tired standard criminal investigation or hospital soap opera formats: "The Americans" (FX) The best new series of the season. Avant / après : si la série Mad Men avait lieu en 2013. Pour marquer le retour de Mad Men qui a fait débuter sa sixième saison ce 7 avril sur AMC, la banque d'images en ligne shutterstock a imaginé à quoi pourraient bien ressembler les accessoires et gris-gris des acteurs de la série en 2013.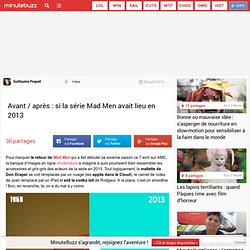 Tout logiquement, la mallette de Don Draper se voit remplacée par un nuage (les applis dans le Cloud), le carnet de notes de Joan remplacé par un iPad et exit la vodka lait de Rodgeur. A la place, c'est un smoothie ! Bon, en revanche, là, on a du mal à y croire. David Duchovny lance un appel aux fans de X-Files. David Duchovny a beau s'être offert une seconde vie télévisuelle avec Hank Moody, l'écrivain érotomane de Californication, c'est au personnage de Fox Mulder, dans X-Files, qu'il est devenu une star mondiale.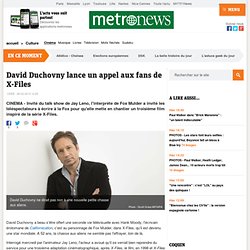 A 52 ans, la chasse aux aliens ne semble pas l'effrayer, loin de là. Interrogé mercredi par l'animateur Jay Leno, l'acteur a avoué qu'il se verrait bien reprendre du service pour une troisième adaptation cinématographique, après X-Files, le film, en 1998 et X-Files Régénération en 2008. "Nous le voulons toujours", a assuré David Duchovny. Lazy Movies | On my computer, there is a folder... Les Inrocks - Arte carbure grâce aux séries. Community est mort, vive Community ? Community • Une série où c'est la télé qui vous regarde. Community = Toy Stories Indispensable présentation.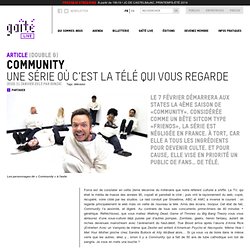 En gros, la série démarre sur le retour en fac de Jeff Winger, avocat contraint de retourner passer le diplôme de droit sans lequel il exerçait. Une fac oui, mais une fac publique, un Community College bien moins onéreux, et donc rendez-vous obligé des losers et cas sociaux ayant raté le coche de l'intégration. Disons cela : le Community College est à l'université ce que le National Hospital est à la clinique : un mouroir. N'empêche Jeff y rejoint un groupe d'étude disparate avec lequel il finit par sympathiser malgré lui.
Infographie : les six grandes familles de showrunners - Séries TV. LOL: The Recurring Prop Newspaper. If you watch enough television shows and movies, then you might even start to notice that a bunch of the same props are used over and over again. I first noticed this with a magazine prop in various television shows including Married With Children, which featured a gum advertisement on the back cover. Someone on Reddit recently put together a compilation of photos from various television shows, commercials and movies, showing how one newspaper prop gets around and is reused, and reused again. The_Big_Bang_Theory_by_nami86.png (Image PNG, 900x620 pixels) - Redimensionnée (96. INSTANT BAZINGA! Sérialogies - Analyses et critiques des séries télé anglophones.
Critictoo - Le Webzine séries TV - Critiques, actualité, chroniques,... TV Crunch.
Du top séries et du blablabla : Blabla-Series. Le site prosélytiste a-critique : garanti sans couenne. Pour cette nouvelle année (que je souhaite bonne, épanouissante, overfunky à tous mes chers e-visiteurs tant e-aimés), je cède à la pulsion effrénée des classements, pareil à Red, mon e-sériephile préféré. Top 10 des personnages 2008 "qu'on veut incarner ou épouser" 1# Cassie (Skins) "Wow, I didn't eat for three day, so i could be lovely » "I wear a white dress and now I can eat yoghurt, cup a soup and hazelnuts now. If I'm not sick, they let me play with the cats. LOL: The Recurring Prop Newspaper.
The Office
Le Monde Des Séries - Blog LeMonde.fr. 201002161123.jpg (Image JPEG, 404x480 pixels)
---