Rome
Nerva–Antonine dynasty. The Nerva–Antonine dynasty was a dynasty of seven Roman Emperors who ruled over the Roman Empire from 96 AD to 192 AD.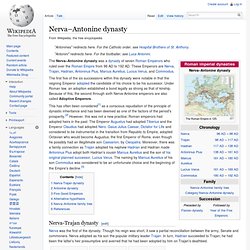 These Emperors are Nerva, Trajan, Hadrian, Antoninus Pius, Marcus Aurelius, Lucius Verus, and Commodus. The first five of the six successions within this dynasty were notable in that the reigning Emperor adopted the candidate of his choice to be his successor. Under Roman law, an adoption established a bond legally as strong as that of kinship. Nerva. Nerva (Latin: Marcus Cocceius Nerva Caesar Augustus;[1] 8 November, 30 AD – 27 January, 98 AD), was Roman Emperor from 96 to 98.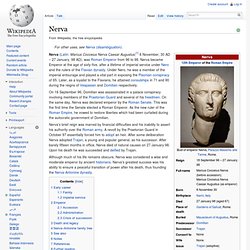 Nerva became Emperor at the age of sixty-five, after a lifetime of imperial service under Nero and the rulers of the Flavian dynasty. Under Nero, he was a member of the imperial entourage and played a vital part in exposing the Pisonian conspiracy of 65. Trajan. Trajan (English pronunciation: /ˈtreɪdʒən/; Latin: Imperator Caesar Nerva Traianus Divi Nervae filius Augustus;[1] 18 September 53 – 9 August 117 AD) was Roman emperor from 98 AD until his death.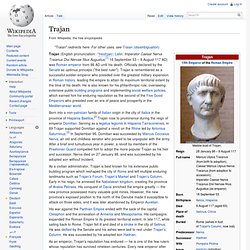 Officially declared by the Senate as optimus princeps ("the best ruler"), Trajan is remembered as a successful soldier-emperor who presided over the greatest military expansion in Roman history, leading the empire to attain its maximum territorial extent by the time of his death. He is also known for his philanthropic rule, overseeing extensive public building programs and implementing social welfare policies, which earned him his enduring reputation as the second of the Five Good Emperors who presided over an era of peace and prosperity in the Mediterranean world.
As a civilian administrator, Trajan is best known for his extensive public building program which reshaped the city of Rome and left multiple enduring landmarks such as Trajan's Forum, Trajan's Market and Trajan's Column. Hadrian. Hadrian (Latin: Publius Aelius Hadrianus Augustus[note 1][2][note 2] 24 January, 76 AD – 10 July, 138 AD) was Roman Emperor from 117 to 138.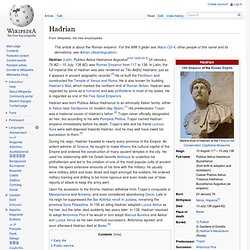 In Latin, the full imperial title of Hadrian was also rendered as Tito Ael[io] Hadriano, just as it appears in ancient epigraphic records.[3] He re-built the Pantheon and constructed the Temple of Venus and Roma. He is also known for building Hadrian's Wall, which marked the northern limit of Roman Britain.
Antoninus Pius. Early life[edit] Childhood and family[edit] He was born as the only child of Titus Aurelius Fulvus, consul in 89[3] whose family came from Nemausus (modern Nîmes).[6] He was born near Lanuvium[7] and his mother was Arria Fadilla.
Antoninus' father and paternal grandfather died when he was young and he was raised by Gnaeus Arrius Antoninus,[3] his maternal grandfather, reputed by contemporaries to be a man of integrity and culture and a friend of Pliny the Younger. His mother married Publius Julius Lupus (a man of consular rank) suffect consul in 98, and two daughters, Arria Lupula and Julia Fadilla, were born from that union.[8] Marriage and children[edit] Marcus Aurelius. Marcus Aurelius ( Latin : Marcus Aurelius Antoninus Augustus ; [ 1 ] [ notes 1 ] April 26, 121 CE – March 17, 180 CE), was Roman Emperor from 161 to 180.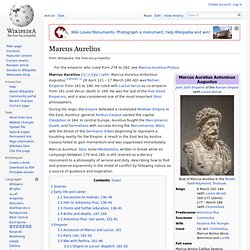 He ruled with Lucius Verus as co-emperor from 161 until Verus' death in 169. He was the last of the Five Good Emperors , and is also considered one of the most important Stoic philosophers. During his reign, the Empire defeated a revitalized Parthian Empire in the East; Aurelius' general Avidius Cassius sacked the capital Ctesiphon in 164. In central Europe, Aurelius fought the Marcomanni , Quadi , and Sarmatians with success during the Marcomannic Wars , with the threat of the Germanic tribes beginning to represent a troubling reality for the Empire. A revolt in the East led by Avidius Cassius failed to gain momentum and was suppressed immediately.
---