Ressources Rome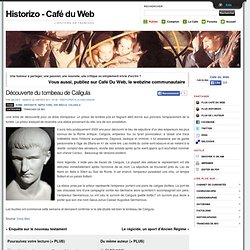 Une drôle de découverte pour ce drôle d'empereur: un pilleur de tombes pris en flagrant délit donne aux policiers l'emplacement de la tombe.
Découverte du tombeau de Caligula
Images - Rome Reborn 2.2 - City Views
Rome Reborn
Ostia - full-text books and articles
histoire critique du christianisme romain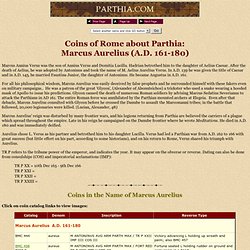 Marcus Aurelius (A.D. 161-180)
Marcus Annius Verus was the son of Annius Verus and Domitia Lucilla.
Rome Antique
Roman Emperors - DIR Marcus Aurelius
SAMNITES AND SAMNIUM - History and Archaeology
Caracalla, Museo della Civilta, Rome Caracalla was born on 4 April AD 188 in Lugdunum (Lyons), being named Lucius Septimius Bassianus.
Caracalla
Capitolium.org - Fori imperiali Roma - Imperial Forums - Officia
THE CHRISTIAN CATACOMBS OF ROME
La salle à manger rotative de Néron - Archéologie : sci-tech, sc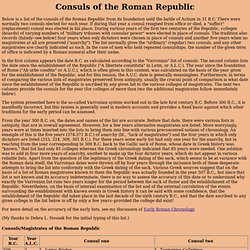 Below is a list of the consuls of the Roman Republic from its foundation until the battle of Actium in 31 B.C. There were normally two consuls elected for each year.
Consuls of the Roman Republic
Droit Romain - EAO
::: The Roman Law Library ( Last Update : January 22, 2010 )
Cui dono... Welcome to project Libellus, an ongoing attempt to provide a library of classical Latin (and Greek) texts with minimal redistribution restrictions.
Project Libellus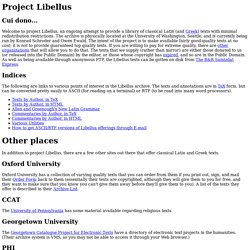 Nova Roma
J. POUCET : Georges Dumézil et les historiens de la Rome ancienn
Le Plan de Rome est une grande maquette en plâtre de près de 70 m² qui représente Rome antique au temps de l'empereur Constantin (IVe s. apr.
Classics | McMicken College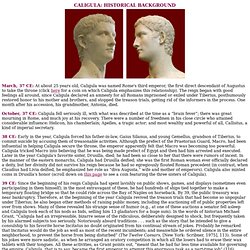 Caligula
March, 37 CE: At about 25 years old, Caligula was named Rome's third emperor, the first direct descendant of Augustus to take the throne (click here for a coin on which Caligula emphasizes this relationship). The reign began with good feelings all around, since Caligula declared an amnesty for all Romans imprisoned or exiled under Tiberius, posthumously restored honor to his mother and brothers, and stopped the treason trials, getting rid of the informers in the process.
VITRUVE ET SES DIX LIVRES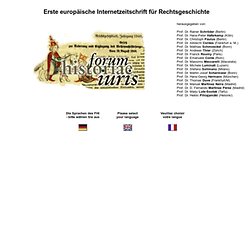 forum historiae iuris - Erste Europäische Internetzeitschrift fü
herausgegeben von: Prof. Dr.
Ostia - Harbour City of Ancient Rome
présentation du monument - ara pacis
Fragments of a lost ancient Roman law text have been rediscovered in the scrap paper used to bind other books. The Codex Gregorianus, or Gregorian Code, was compiled by an otherwise unknown man named Gregorius at the end of the third century A.D. It started a centuries-long tradition of collecting Roman emperors' laws in a single manuscript.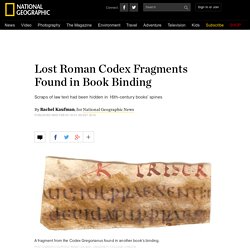 Lost Roman Codex Fragments Found in Book Binding