Relationships
Five Keys to Being Happy | ThirdAge Articles. The two most important things people want to discover in their lives are true happiness and meaning.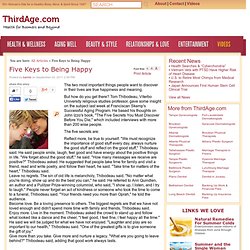 But how do you get there? Tom Thibodeau, Viterbo University religious studies professor, gave some insight on the subject last week at Franciscan Skemp's Successful Aging Program. He based his thoughts on John Izzo's book, "The Five Secrets You Must Discover Before You Die," which included interviews with more than 200 wise people. Women more likely to have an affair than men. "Women even go as far as claiming they didn't mean to cheat on a partner, and simply ended up doing it by accident.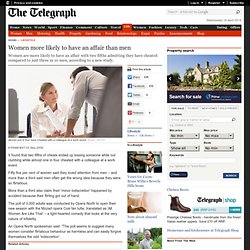 " The poll found that almost three fifths of women who have cheated have kissed someone other than their partner, while more than one in four have had sexual intercourse with someone else. A fifth of women admit they get a thrill from cheating on their partner, and despite knowing it is wrong want to do it again. When He Loses Desire. No desire?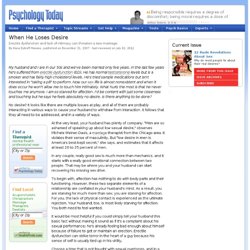 It looks like there are multiple issues at play, and all of them are probably interacting in various ways to cause your husband to withdraw from interaction. It follows that they all need to be addressed, and in a variety of ways. At the very least, your husband has plenty of company. How to Become a Better Husband, Boyfriend or Life Partner | The. Photo credit: vph.photo This article is not particularly insightful.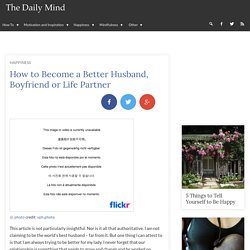 Nor is it all that authoritative. Do Relationships Kill Women's Sex Drives? A new book co-written by two psychologists aims to answer this question.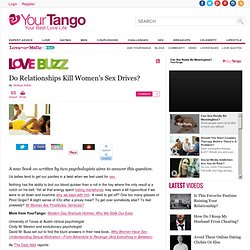 Us ladies tend to get our panties in a twist when we feel used for sex. Nothing has the ability to boil our blood quicker than a roll in the hay where the only result is a notch on his belt. Yet all that energy spent hating manwhores may seem a bit hypocritical if we were to sit down and examine why we slept with him. A need to get off? How to Mend a Broken Heart | Crazy, Weird And Funny Place. When suffering from heartache, the first wish one has is to make the pain go away.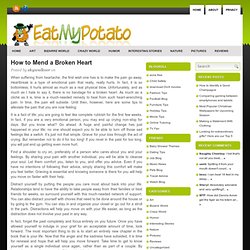 Heartbreak is a type of emotional pain that really, really hurts. In fact, it is so bottomless; it hurts almost as much as a real physical blow. Unfortunately, and as much as I hate to say it, there is no bandage for a broken heart. As much as a cliché as it is, time is a much-needed remedy to heal from such heart-wrenching pain. How to Make a Long Distance Relationship Work. Edit Article Edited by Imperatrix, Ben Rubenstein, Krystle C., Versageek and 216 others Long distance relationships are definitely risky, and if you are unfortunate enough to be far away from a significant other, the prospect of potentially ruining your relationship can seem daunting.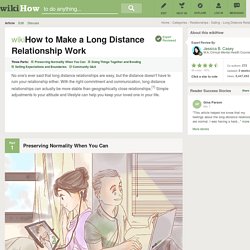 18 Signs You Are Falling in Love. Sometimes knowing if you are in love is hard, especially if it is your first time.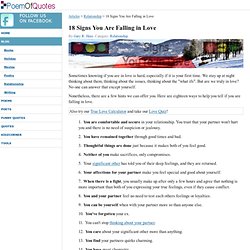 We stay up at night thinking about them, thinking about the issues, thinking about the "what ifs". But are we truly in love? Excerpt from 'He's Just Not That Into You' Excerpt from 'He's Just Not That Into You' By Greg Behrendt and Liz Tuccillo Chapter One: he's just not that into you if he's not asking you out Because if he likes you, trust me, he will ask you out Many women have said to me, "Greg, men run the world.
"
---