Clothes
silk sleepwear, women sleepwear, silk pajamas, women silk pajamas, satin pajamas, silk panties, satin silk nightwear, ladies nightwear, silk pyjamas women, silk loungewear, silk lingerie, silk nightgowns, silk chemises women, silk slips, silk babydolls, s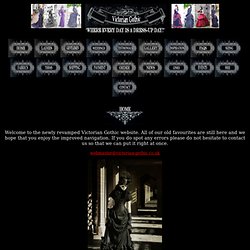 VICTORIAN GOTHIC WELCOME HOMEPAGE www.victorian-gothic.co.uk
Welcome to the newly revamped Victorian Gothic website. All of our old favourites are still here and we hope that you enjoy the improved navigation. If you do spot any errors please do not hesitate to contact us so that we can put it right at once. webmaster@victorian-gothic.co.uk Victorian Gothic has been featured in the book:
GAIA NOIR, Alternative and Steampunk Eco Fashion
Uptight Clothing; Englands leading designer of Couture corseted Period Inspired Fairytale wedding dresses, fantasy jewellery and bespoke Underwear corsets, by Janice whitehorn. Home of the coloured, corset alternative wedding dresses
Bloomers for men, directoire knickers, crossdressing, transgender, edwardian bloomer
Traditional style Directoire Kncickers with kite gusset made in 100% PURE SILK. Our silk is an extremely good quality fabric, lightweight but not see-through, and is 100% pure silk - it is not mixed with any other fibres unlike many other "silks" on the market. This purity is reflected in the price. We do not hold stock of silk, but will order it specifically for you - the colours listed are just a few examples of available colours, others may be available.. Please telephone us on 01260 295888 or email us at sue@boutique.co.uk to discuss your requirements for this item.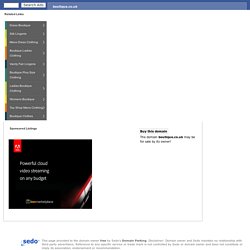 Plus Size Lingerie & Nightwear In Plus Sizes - Curvaceous Beauties™
PLUS SIZE-Vintage Clothing by ChicStar.com
Open Bottom Girdles, Rago Shapewear, Retro Lingerie, Fully fashioned
1950s Dresses from Vivien of Holloway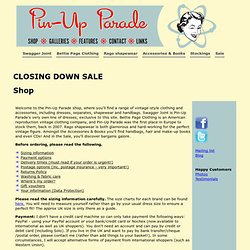 Welcome to the Pin-Up Parade shop, where you'll find a range of vintage-style clothing and accessories, including dresses, separates, shapewear and handbags. Swagger Joint is Pin-Up Parade's very own line of dresses, exclusive to this site. Bettie Page Clothing is an American reproduction vintage clothing company, and Pin-Up Parade was the first place in Europe to stock them, back in 2007. Rago shapewear is both glamorous and hard-working for the perfect vintage figure. Amongst the Accessories & Books you'll find handbags, hair and make-up books and even CDs! And in the Sale, you'll discover bargains galore.
Pin-Up Parade: Vintage-style Clothing & Accessories
Hepburn and Leigh
Miss Katie: The Brits Awards
Russell Brand Hollywood star Russell Brand was the presenter at the 07 Brit awards, shown here with Vanessa Upton and Valeria Dragova at the press launch. For the Brits Awards, Miss Katie was commissioned to make the outfits for the burlesque girls who assisted Russell Brand (in 2007) and Kelly Osbourne (in 2008). Check out the photos and video highlights of Valeria, Esme and Vanessa Upton with stars like Anthony Kiedis, Amy Winehouse, James Blunt and Take That! The Brits 2007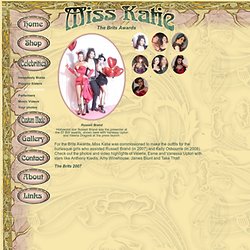 French Maid and Sissy Dress Clothing Shop