Free Clothes Patterns: Dolls Above 12"
12" Cloth Doll Clothes From 1950. 12" Or Larger Baby Doll Clothes. Doll Scarf & Hat - Dollar Store Crafts. Home » $1 and Free, cheap crafts, Gifts to Make, Headline, Holiday Crafts, Kids 8 December 2009 8,715 views 9 Comments by Care.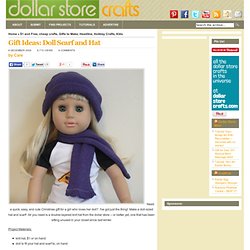 For Team Up Requests - Please Read.
Dora Doll/15in Doll Clothes Crochet Pattern Directory. Cabbage Patch Sweater Knitting Pattern. Free Princess Dress Pattern For Gene Doll. Princess seam dress I designed for Gene.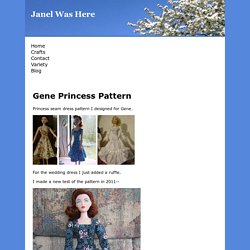 For the wedding dress I just added a ruffle. OOPS - Apparently the default on the pdf file was set at "fit to page" and if you print it that way, the pieces come out noticeably too large. Wow... so I've had a faulty file on the web for like two years and nobody told me. Who knows how many people may have tried it and it didn't work, and they just quietly threw it away and didn't say a word to me! ~Panel Skirt~ July 22, 2013 This skirt is designed to be a companion to our halter top for 1/4 size girl dolls.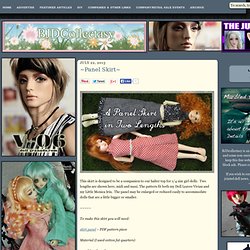 Two lengths are shown here, midi and maxi. The pattern fit both my Doll Leaves Vivian and my Little Monica Irin. ~Halter Top~ for 1/4 Girls. Your dolls will look great in this simple summer top!
The pattern is based on a style popular in the late 'sixties and early '70′s. Halters may be worn with casual wear or as part of a two-piece outfit set with matching skirt or trousers. The pattern is designed to fit a variety of smaller 1/4 size girls. Mine fit my Doll leaves Vivian, Little Monica Irin and Planetdoll Tara. Free Patterns For Brenda Starr / Tyler Wentworth.
That's the Brenda Starr by Tonner, which has the same body as Tyler Wentworth.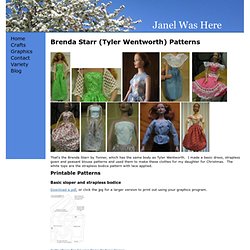 I made a basic dress, strapless gown and peasant blouse patterns and used them to make these clothes for my daughter for Christmas. The white tops are the strapless bodice pattern with lace applied. Basic sloper and strapless bodice Download a pdf, or click the jpg for a larger version to print out using your graphics program. Brenda Starr/Tyler Doll - German Dirndl Dress.
Free Patterns For AG, BFC Ink, Ellowyne, Karito Kids, Etc. T-Shirt For Large BFC, Ink Dolls Pattern. T-Shirt Pattern For Ellowyne Wilde Dolls. Crochet Betsy McCall Dress. Crocheted dress for Betsy McCall by Lise H.copyright May 2003 Materials Needed: baby yarn and an E hook Instructions: starting at neckline to make yoke, chain 17 1: sc across=16 sts. ch 3 turn2:dc in beg chain, 2 dcs in each st=32 sts. ch 3 turn3: ch-3 counts as 1 dc, dc in first st=2 dcs, 1 dc innext st, (2dc, 1dc across)=48 sts, ch 3 turn Now front and back of yoke is done, do not cut yarn.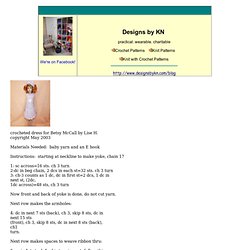 Next row makes the armholes: 14-Inch Fashion Doll Dress. Here is a 14 inch tall fashion doll that I've had for awhile.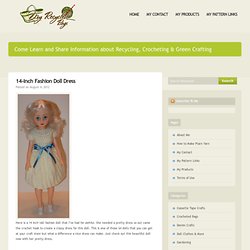 She needed a pretty dress so out came the crochet hook to create a classy dress for this doll. This is one of those $4 dolls that you can get at your craft store but what a difference a nice dress can make. Just check out this beautiful doll now with her pretty dress. 14" Fashion Doll Dress Materials: 1 Oz. 14" & Up Cloth/Rag Doll Clothes. Qi Pao for Female Action Figures Pattern. Super Dollfie (SD) & Mini SD (MSD) Patterns.
---