Free Patterns - Doll Clothes: American Girl, AG & 18in
Lots Of AG Patterns (Free Ones At Bottom Of Page)
American Girl Dress Patterns
AG Tops, Skirts & Pants Patterns
AG - Knitting & Crochet Patterns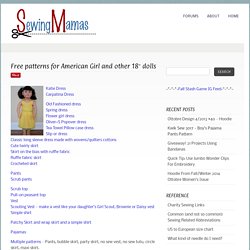 Katie DressCarpatina Dress Old Fashioned dressSpring dressFlower girl dressOliver+S Popover dressTea Towel Pillow case dressSlip or dressClassic long sleeve dress made with wovens/quilters cottonsCute twirly skirtSkirt on the bias with ruffle fabricRuffle fabric skirtCrocheted skirt PantsScrub pants Scrub topPull-on peasant top Simple shirt
Many Patterns: AG & Other 18″Dolls - Sewing Mamas Blog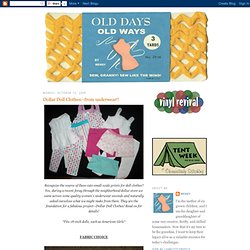 Dollar Doll Clothes - Free Patterns For AG & 18" Dolls
Recognize the source of these cute small-scale prints for doll clothes? Yes, during a recent foray through the neighborhood dollar store we came across some quality women's underwear seconds and naturally asked ourselves what we might make from them. They are the foundation for a fabulous project--Dollar Doll Clothes!
American Girl Doll Sized Party Hat Template
Free American Girl Doll Slipper Pattern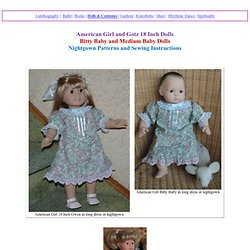 Nightgown Patterns for Bitty Baby and 18 inch American Girl Dolls
American Girl and Gotz 18 Inch Dolls Bitty Baby and Medium Baby DollsNightgown Patterns and Sewing Instructions Maxi Muffin in long dress Clothes Patterns for 18 Inch Dolls and Bitty Baby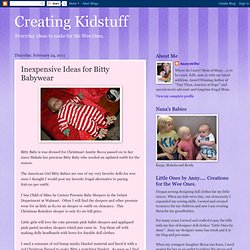 Bitty Baby is was dressed for Christmas! Auntie Becca passed on to her niece Mahala her precious Bitty Baby who needed an updated outfit for the season. The American Girl Bitty Babies are one of my very favorite dolls for wee ones I thought I would post my favorite frugal alternative to paying $26.00 per outfit. I buy Child of Mine by Carters Preemie Baby Sleepers in the Infant Department at Walmart. Often I will find the sleepers and other preemie wear for as little as $1.00 an sleeper or outfit on clearance. This Christmas Reindeer sleeper is only $7.00 full price.
Inexpensive Ideas for Bitty Babywear
I had quite a few of you email me looking for the pattern for the "bunny jacket" I made for the Notched-Collar lesson. Unfortunately, I had just made the jacket as I went along, using the pictures from The Book as a guide as to what I needed pieces to look like. It worked out that it fit my son's toy, but I didn't have a real pattern for it. I started making a larger, better constructed jacket for my five year old as my notched-collar assignment, but decided that I'd rather do a lined jacket if I was going to spend the time making one for an actual human to wear.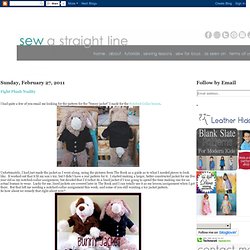 Jacket For 18" Build-A-Bear Stuffed Toys