Facebook Open Graph
Facebook's Open Graph initiative could be a whopper | The Equity. As you might have seen Facebook last week announced their Open Graph initiative.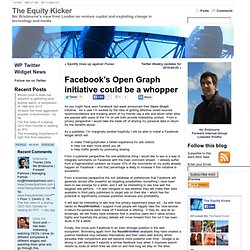 As a user I'm excited by the idea of getting effective crowd sourced recommendations and knowing which of my friends use a site and which other sites are popular with users of the I'm on will both provide interesting context. From a privacy perspective I would take the trade off of sharing my personal data in return for the benefits above. As a publisher, I'm marginally excited hopefully I will be able to install a Facebook widget which will: make TheEquityKicker a better experience for site visitorshelp me learn more about you allhelp traffic growth by promoting sharing From a publisher perspective the one additional thing I would like to see is a way to integrate comments on Facebook with the main comment stream. Facebook Open Graph: The Definitive Guide For Publishers, Users. Facebook just shook the tech world by announcing several major initiatives that collectively constitute an aggressive move to weave the social net on top of the existing Web.The rumors were that the leading social network would launch a "Like" button for the entire Web.
Instead, Zuckerberg & Co. unveiled a bold and visionary new platform that cannot be ignored. The bits of this platform bring together the visions of a social, personalized and semantic Web that have been discussed since del.icio.us pioneered Web 2.0 back in 2004. One Graph To Rule Them All? My partner Albert posted this on his blog yesterday: But I see at least one flaw with this plan for domination.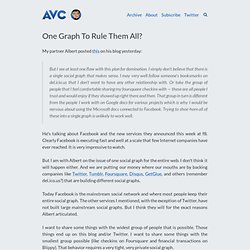 I simply don't believe that there is a single social graph that makes sense. I may very well follow someone's booksmarks on del.icio.us that I don't want to have any other relationship with. An inch closer to the end of privacy (thanks Facebook!) — Scoble. If the end of privacy is so evil, so awful, so unthinkable, then why am I liking the new Pandora so much?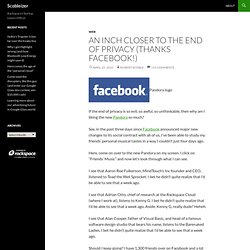 See, in the past three days since Facebook announced major new changes to its social contract with all of us, I've been able to study my friends' personal musical tastes in a way I couldn't just four days ago. Here, come on over to the new Pandora on my screen. I click on "Friends' Music" and now let's look through what I can see. Facebook's ambition. Ambition.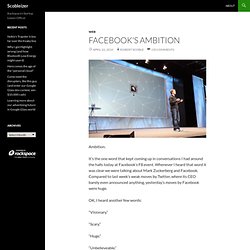 It's the one word that kept coming up in conversations I had around the halls today at Facebook's F8 event. Whenever I heard that word it was clear we were talking about Mark Zuckerberg and Facebook. Compared to last week's weak moves by Twitter, where its CEO barely even announced anything, yesterday's moves by Facebook were huge. Today Facebook, Tomorrow the World | Epicenter  With a dizzying array of announcements this week, it seems almost inevitable that the web will become, at least for the near future, an extension of Facebook.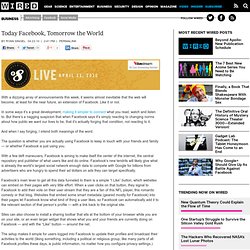 Like it or not. In some ways it's a great development, making it simpler to connect what you read, watch and listen to. But there's a nagging suspicion that when Facebook says it's simply reacting to changing norms about how public we want our lives to be, that it's actually forging that condition, not reacting to it. And when I say forging, I intend both meanings of the word.
---