Facebook Open Graph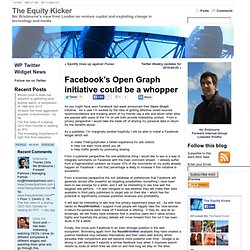 Facebook's Open Graph initiative could be a whopper | The Equity
As you might have seen Facebook last week announced their Open Graph initiative. As a user I'm excited by the idea of getting effective crowd sourced recommendations and knowing which of my friends use a site and which other sites are popular with users of the I'm on will both provide interesting context.
Facebook just shook the tech world by announcing several major initiatives that collectively constitute an aggressive move to weave the social net on top of the existing Web.The rumors were that the leading social network would launch a "Like" button for the entire Web. Instead, Zuckerberg & Co. unveiled a bold and visionary new platform that cannot be ignored. The bits of this platform bring together the visions of a social, personalized and semantic Web that have been discussed since del.icio.us pioneered Web 2.0 back in 2004. Facebook's vision is both minimalistic and encompassing - but its ambition is to kill off its competition and use 500 million users to take over entire Web. Whether we like it (pun intended) or not, we have to understand what this move means.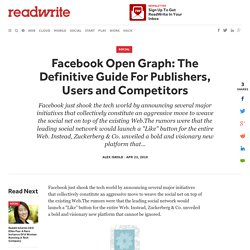 Facebook Open Graph: The Definitive Guide For Publishers, Users
One Graph To Rule Them All?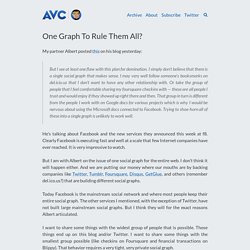 My partner Albert posted this on his blog yesterday:
If the end of privacy is so evil, so awful, so unthinkable, then why am I liking the new Pandora so much?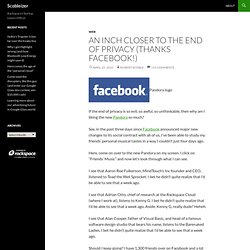 An inch closer to the end of privacy (thanks Facebook!) — Scoble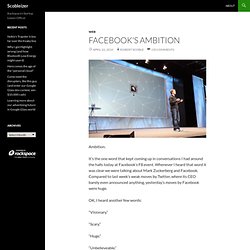 Facebook's ambition
Ambition.
Today Facebook, Tomorrow the World | Epicenter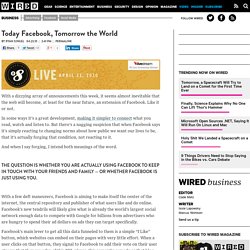 With a dizzying array of announcements this week, it seems almost inevitable that the web will become, at least for the near future, an extension of Facebook. Like it or not.