3ds Max
Scripts
Tutorials - Free Source of 3D Tutorials on 3DTotal.com Ltd. 3D Studio MAX Tutorials. | DesignReform. Ever wanted to create macros in 3ds Max?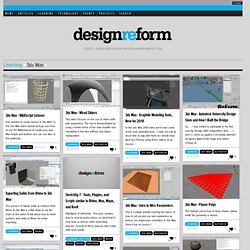 In this 3ds Max video tutorial we'll go over how to use the MAXListener to create your own Max Scripts and buttons you can use later. In this particular... The process of taking solids or surfaces from Rhino to 3ds Max is a little tricky to say the least. In this video I'll talk about how to mesh surfaces and solids in Rhino for better exporting... Have you ever needed to export curves from Rhino to 3ds Max? Max Cookie.
3D, Maya, Blender and more tutorials from beginner to advanced | Cgtuts+ 3DSMAX Tutorials, Maya Tutorials, Cinema4D Tutorials, Photoshop Tutorials, ZBrush Tutorials, Blender Tutorials, Mudbox Tutorials. Photoshop Tutorials, Flash Tutorials and More! P2L Tutorial Search.
CG Education. Apr 7th 2014Added a new tutorial called Structure And Naming Conventions For Materials.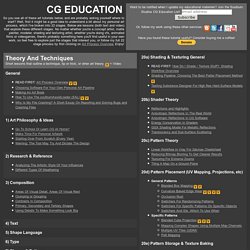 Mar 24th 2014 Added a new diagram to How Do I Shade / Texture Stuff? : Shading Pipeline Overview. Added a link to a new video on Blended Box Mapping. Added a new real world photo to Tiled Floor Material. Professional Training for Artists. ScriptSpot | Your community resource for 3ds MAXScript or SketchUp Rubyscript. CG, 3D, Animation and VFX Training and Tutorials. 3dsmax tutorials, 3ds max tutorials, tutorials for 3ds max. 3D.DTuts - Free Tutorials by 3D Modeling, Texturing, Animation. Tutorials - Free Source of 3D Tutorials on 3DTotal.com Ltd. Digital Tutors - 3ds Max Collection (9 Products / 22 CD) » Hotfile, Rapidshare, FileServe Downloads - MechoPortal. Tutorials. Juan Carlos Torres's cold and foggy visuals of a House in the Forest awarded him Best Visualization of the Week NO. 06/2014 for the great composition and mood he managed to convey, blending in the design so nicely with the forest environment.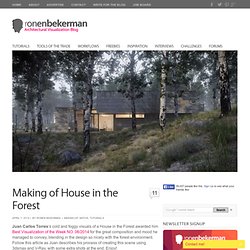 Follow this article as Juan describes his process of creating this scene using 3dsmax and V-Ray, with some extra shots at the end. Enjoy! Read More Uros and Igor, from EDiT, previously wrote here about the Making of the BOKA Artist Residence project and today they visit us again showcasing the process of making one of their most recent projects – The IEEG Energy Center. Focusing on a single shot, they will describe how they took it from model to final relying mostly on post-production workflow. 3ds max. 3D, Maya, Blender and more tutorials from beginner to advanced | Cgtuts+ Canal de 3dsMaxHowTos. MetaSL Material Library | Smooth Black Leather. The MetaSL Material Library website has been archived.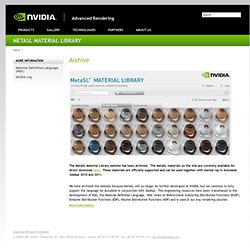 The MetaSL materials on the site are currently available for direct download here. These materials are officially supported and can be used together with mental ray in Autodesk 3dsMax 2010 and 2011. We have archived the website because MetaSL will no longer be further developed at NVIDIA, but we continue to fully support the language for Autodesk in conjunction with 3dsMax. The engineering resources have been transitioned to the development of MDL, the Material Definition Language.
---