3ds Max
Now go to 3dsmax and open the material editor (m) and pick an unused slot (one of the grey spheres). Click on the box next to Diffuse and choose Bitmap, just like before. Find your TGA texture and click ok. Now go back to the material main options (click the button circled in the image below)
Low-Poly Character Modeling and Texturing tutorial
Texturing with UVW & Unwrap UVW Maps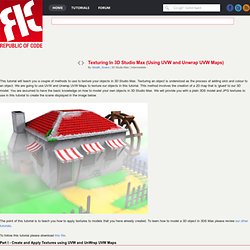 By Stealth_Snake | 3D Studio Max | Intermediate This tutorial will teach you a couple of methods to use to texture your objects in 3D Studio Max. Texturing an object is understood as the process of adding skin and colour to an object. We are going to use UVW and Unwrap UVW Maps to texture our objects in this tutorial. This method involves the creation of a 2D map that is 'glued' to our 3D model. You are assumed to have the basic knowledge on how to model your own objects in 3D Studio Max.
Eyes Creating a character is one thing but creating a character in 3d that has depth is another. In life, the eye is a window to the soul. Eyes show inner thought because they have depth to them. At some level we read the eye ball without even knowing how or why certain looks evoke an emotion.
Tutorial: Its all in the Eyes - By Adam Baroody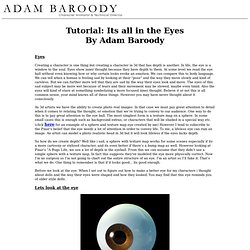 PolyBoost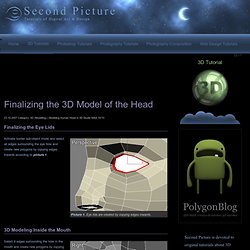 Second Picture is devoted to original tutorials about 3D graphics, Photoshop, Photography and Web Design. 23.10.2007 Category: 3D (Modeling) | Modeling Human Head in 3D Studio MAX 10/10 Finalizing the Eye Lids Picture 1. Eye lids are created by copying edges inwards. Activate border sub-object mode and select all edges surrounding the eye hole and create new polygons by copying edges inwards according to picture 1.
Finalizing the 3d model of a human head in 3ds max
Search our stock catalog to get the 3D model you want. Join the world's top artists who use TurboSquid 3D models in advertising, news, architecture, broadcast, games, training, film, the web, and just for fun. TurboSquid was founded in 2000 to serve the 3D model industry. With over 300,000 3D models available for download, TurboSquid is the leading source for 3D models on the web.