royal rainbow!!
Get flash to fully experience Pearltrees
Thursday, April 16, 2009 Mochi is one of my favorite desserts ever. The combination of ice cream with mochi is even better! The first type of mochi ice cream I sampled did not have a chewy shell.
Rainbow Jelly Shooter
I've always had a penchant for sunshine in a jar. Doesn't the very phrase itself, "sunshine in a jar," roll off your tongue and fill your mouth with magic? While I've never yet found myself a sunshine in a jar, I think we may have just concocted it in our kitchen tonight.
Posted December 11th, 2010 by BCTasteSeekers Is it a macaron?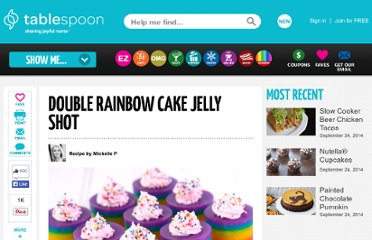 Posted August 31st, 2011 by jellyshottestkitchen My own August birthday may have also come into play. Regardless of the impetus, visions of tiny jelly shot "cakes" have been dancing in my head for weeks, so clearly the Tablespoon.com gang couldn't avoid the Double Rainbow Cake Jelly Shot had they tried!
With as many ways as there are to decorate cupcakes, they can be really boring if you just slap some plain icing on them.
June 22, 2010
But if you're like me, you've gotten bored with the old "roll, cut, sprinkle" routine. Luckily, a little food coloring is all takes to step up your sugar cookie game. Step it waaaay up!
If you've been following Tablespoon, you know we're serious rainbow fans! Our bloggers have turned some ordinary edibles into extraordinary incredibles by adding rainbow colors.