foursquare story
Get flash to fully experience Pearltrees
It's obvious that Facebook sees serious potential in mobile check-in service Foursquare: it tried to buy it for $125 million .
Pass the checkbook, please. Google has put Marissa Mayer in charge of location services , which suggests that Google is finally taking location seriously. That's good.
Comic-Con is obviously a very popular event among foursquare's geek-heavy user population.
The Wall Street Journal just checked-in on Foursquare – to tell people that Times Square has been evacuated due to a suspicious package (thankfully a false alarm ). Here is a screenshot of the check-in taken by Foursqure's CEO Dennis Crowley :
Afin d'en savoir un peu plus sur les utilisateurs français de Foursquare , l'agence lilloise NiceToMeetYou a organisé une enquête qui se tiendra du 1er au 22 septembre. Les adeptes du réseau social seront ainsi invités à se rendre sur Enquete-foursquare.ntmy.fr pour répondre à 8 petites questions . Par la suite, huit participants tirés au sort remporteront soit un sweat-shirt d'une valeur de 28 euros, soit un t-shirt Foursquare d'une valeur de 15 euros, soit un lot de 5 badges Foursquare d'une valeur de 3,5 euros.
NEW YORK—While millions of young, tech-savvy professionals already use services like Facebook and Twitter to keep in constant touch with friends, a new social networking platform called Foursquare has recently taken the oh, fucking hell, can't some other desperate news outlet cover this crap instead? Hip city-dwellers nationwide are embracing the new, come to think of it, haven't we used this photo for some other tech piece? Launched last year, Foursquare is unique in that it not only allows users to broadcast their whereabouts, but also offers a number of built-in incentives, including some innovative new crap The New York Times surely has a throbbing hard-on for.
J'utilise Foursquare tous les jours. De plus en plus, je constate que les notifications pour des promotions apparaissent lorsque je sors mon téléphone pour efectuer mon sacro-saint check-in quotidien. Oui mais voilà : je suis aussi réactif aux promotions sur Foursquare qu'aux feuillets de coupons qui traînent devant ma porte.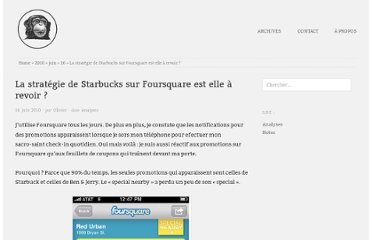 Dans la foulé de qui a récemment publié des chiffres concernant ses utilisateurs, c'est au tour du leader des applications de , j'ai nommé , de faire de meme.
Foursquare , the geo-mobile startup everybody tried to invest in or buy, now has officially closed its Series B funding round. The "wire transfer heard 'round the world," as board member Bryce Roberts puts it , was for $20 million, giving the company a $95 million pre-money valuation. The round was led by Andreessen Horowitz, as previously reported , with existing investors Union Square Ventures and O'Reilly AlphaTech Ventures participating.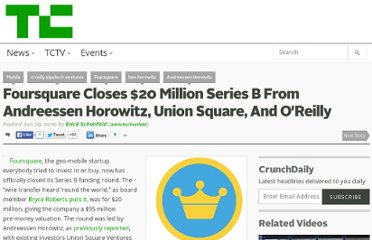 Our portfolio company Foursquare closed a second round of financing yesterday .