WONDERFUL THINGS!
Meet the Makers: Lightchimes. GADGETS 1. Printable, electrically conductive gel with unprecedented electrical performance synthesized. Stanford researchers have invented an electrically conductive gel that is quick and easy to make, can be patterned onto surfaces with an inkjet printer and demonstrates unprecedented electrical performance.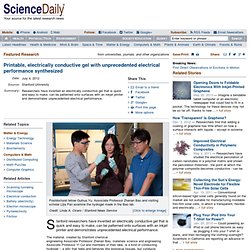 The material, created by Stanford chemical engineering Associate Professor Zhenan Bao, materials science and engineering Associate Professor Yi Cui and members of their labs, is a kind of conducting hydrogel -- a jelly that feels and behaves like biological tissues, but conducts electricity like a metal or semiconductor. That combination of characteristics holds enormous promise for biological sensors and futuristic energy storage devices, but has proven difficult to manufacture until now. The research recently appeared in the journal Proceedings of the National Academy of Sciences. Printing Jell-O. Scientists gain understanding of self-cleaning gecko foot hair. Imagine the money you'd save if you bought a roll of duct tape and could use it over and over again without having to toss it in the garbage after one use.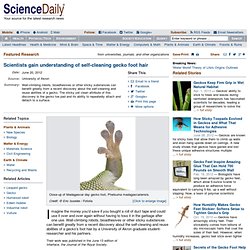 Wall-climbing robots, bioadhesives or other sticky substances can benefit greatly from a recent discovery about the self-cleaning and reuse abilities of a gecko's foot hair by a University of Akron graduate student-researcher and his partners. Their work was published in the June 13 edition of Interface, the Journal of the Royal Society. The sticky yet clean attribute of this discovery is the gecko toe pad and its ability to repeatedly attach and detach to a surface. Future Timeline | Technology | Singularity | 2020 | 2050 | 2100 | 2150 | 2200 | 21st century | 22nd century | 23rd century | Humanity | Predictions | Events. 12 Events That Will Change Everything, Made Interactive.
Futurology: The tricky art of knowing what will happen next. 23 December 2010Last updated at 02:38 By Finlo Rohrer BBC News Magazine Cheap air travel was among the predictions (illustration from Geoffrey Hoyle's book) A 1972 book which predicts what life would be like in 2010 has been reprinted after attracting a cult following, but how hard is it to tell the future?
Geoffrey Hoyle is often asked why he predicted everybody would be wearing jumpsuits by 2010. World Future Society | Tomorrow is built today. Explore Ancient Egypt. Explore Ancient Egypt With 360-degree and other imagery, walk around the Sphinx, enter the Great Pyramid, visit tombs and temples, and more.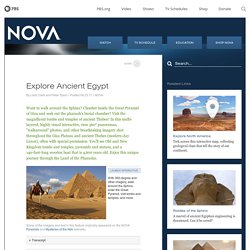 Want to walk around the Sphinx? Clamber inside the Great Pyramid of Giza and seek out the pharaoh's burial chamber? History: Egyptians. Ancient Egypt - Menu page. Ancient Egypt - Gods, Pyramids, Mummies, Pharaohs, Queens, Hieroglyphics, History, Life in Ancient Egypt, Maps.
Pyramids. Tombs of Ancient Egypt. The Met's Islamic Wing Opens, and the Debut of the Moroccan Courtyard. Shimogamo House by Edward Suzuki Associates. Edward Suzuki Associates have designed the Shimogamo House in Kyoto, Japan.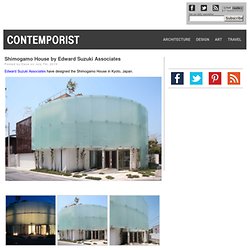 Shimogamo House by Edward Suzuki Architects "To be able to see green from every room"—such was all that the client requested. In order to meet this demand as well as to enable the residents to feel a sense of spaciousness in the rather small 360 square meter corner lot tightly flanked on two sides by neighboring houses, the long applied concept of "Interface" was again used here. A brief explanation of Interface is in order. Over the years, the practice of "borrowing the landscape" has been prevalent in Japan as a way of life. Luxurious Cave Hotel in Turkey. Posted by admin on May 16, 2011 Luxurious Cave Hotel in mountain cliff, the Yunak Evleri, Turkey - Tours and Travel Special Luxurious Cave Hotel in mountain cliff, the Yunak Evleri, Turkey – Tours and Travel Special Related posts: Natural Cave Street in Turkey.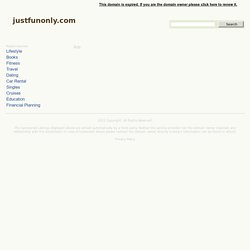 Turkey: Selected Internet Resources (Portals to the World, Libra. Design For Mankind. The Anatomy Of An Infographic. Information is very powerful but for the most bit it is bland and unimaginative.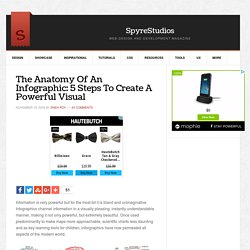 Infographics channel information in a visually pleasing, instantly understandable manner, making it not only powerful, but extremely beautiful. Once used predominantly to make maps more approachable, scientific charts less daunting and as key learning tools for children, inforgraphics have now permeated all aspects of the modern world. 10 Awesome Tools To Make Infographics. Who can resist a colourful, thoughtful venn diagram anyway?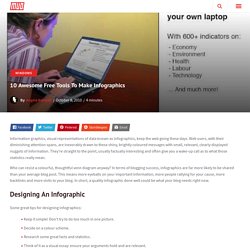 In terms of blogging success, infographics are far more likely to be shared than your average blog post. This means more eyeballs on your important information, more people rallying for your cause, more backlinks and more visits to your blog. 10 Astounding Infographics Comparing Money Matters Around the World. 47 Flares Google+ 2 Twitter 31 Facebook 4 Reddit 1 StumbleUpon 1 Pin It Share 0 LinkedIn 8 inShare8 47 Flares × It goes without the saying that comparing wealth and spending in different countries is almost impossible: people work, earn and even spend differently – moreover, their ways of life and views can be too different to compare.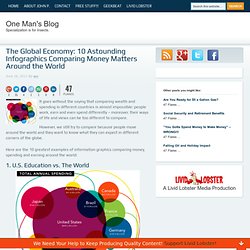 However, we still try to compare because people move around the world and they want to know what they can expect in different corners of the globe. Here are the 10 greatest examples of information graphics comparing money, spending and earning around the world: 1. CONTEMPORIST. Magazine > Digital Interiors: Pixel Furniture | 8-bit is exploding into a living room near you. Last month we brought you an article on Japanese designer Kunihiko Morinaga's pixel-inspired fashion designs, but it seems that the mighty pixel hasn't limited its sights to the catwalk...they''re invading your home too.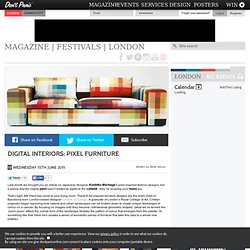 That's right, MS Paint has come to your living room. These 8-bit inspired furniture designs are the brain-child of Barcelona born London-based designer Cristian Zuzunaga. Prezi - The zooming presentation editor. Visual Complexity. 100 Principles for Designing Logos and Building Brands | Brand Identity Essentials.
Color Theory. Hot or Cool? Color-Changing Chameleon Tiles. There is virtually no limit to what you can decorate with color-changing tiles (from Inventables). Daytime cityscapes turn into urban night scenes as the temperature in a room shifts. Notable applications include showers, floors and others surfaces likely to be exposed to temperature variations over time.
IdeaPaint: Turn Your Entire Office Into a Whiteboard. Why didn't you think of this? John Goscha, at the ripe old age of 25 ditched a job offer at Goldman Sachs, and instead began marketing IdeaPaint, which is simply a paint that turns any paintable surface into a dry-erase board. The benefit--besides being able to brainstorm on almost every inch of your office--is that the paint is half the cost of whiteboard and better-performing--you can leave marks up indefinitely, and they won't stain the wall. IdeaPaint Dry-Erase Board Paint. IdeaPaint Dry-Erase Board Paint If you're like us, you've got notes everywhere– in old binders, on wall-stuck post-its, on your computer desktop… Having just moved in to a new office, we'd like to add a new dimension to our hand-written brainstorms, and a dry erase board is a logical step forward. Why get a dry erase board, however, when you can turn your whole wall into one?
IdeaPaint Dry-Erase Board Paint can be brushed on to a wall to create a write-board of epic proportions. Your ideas and doodles wipe off just like a standard office board, ready to be replaced by newer and better ideas. We're pumped to get this stuff going in our new office. Writable – Table With Writing Surface by Tianyu Xiao. Women in Business. I'm sure you've been filling out a RFP, or some mundane company information form, when you see the section that asks if your company is a Women-Owned Business. My company is not run by women, however, I work with several companies that have women owners and key stakeholders.
There are some advantages to being a women-owned business, but according to this infographic, women still only hold 3% of c-level positions. This is changing though. This infographic shows some positive numbers around salaries and GMAT numbers. 5 Ways Your Business Can Beat Its Competitive Bullies. New York Times Newsroom Guide to Useful Web Sites. New York City's Dragonfly A Locavore Wet Dream. Flying Architecture | free 3D models, materials, textures and tutorials for Rhinoceros, 3DS Max, C4D and all other programs. Kitchen Cabinet by He Ruimin. 10 Tips for Designing Presentations That Don't Suck: Pt.1 | Design Shack - StumbleUpon. PHOTOSHOP. Blueprint-Style Text in Adobe Illustrator - Layers Magazine | Layers Magazine. Texture Packs. Free High Res. Textures.
[CG Textures] - Textures for 3D, graphic design and Photoshop! Free Stock Textures - High Resolution Free Photos. Rust Textures Pack – 21 Free Images. Texture Warehouse. Ico (Windows Icon) Format. Illustrator Patterns. Art deco fabrics. Free DIY yarn from fabric scraps - Shirret crochet. Khan Academy. Open Yale courses.
Academic Earth | Online Courses | Academic Video Lectures. For Educators - Web Search. Blooms Taxonomy with Apps. iPads in the Classroom.
iPad - Why? How? Lorenzo Duran. Emmas designblogg - design and style from a scandinavian perspective. Dwellinggawker | focus on form. Cool furniture. 15 Amazing Chair Designs. Hug Chair by Ilian Milinov. Cradle Chair: Big Basket Seat Rocks Adults Gently to Sleep.
Space Saving 'Tulip' Shower Blooms into a Luxury Bathtub. 100 Creative Furniture. Universal lamp shade polygon building kit. NESTREST.
---