French teaching
some useful French teaching resources Nov 1
Les morts de la rue | Douce France
(L'Express) Peter McVerry, prêtre jésuite, travaille avec les sans-abri à Dublin depuis plus de trente ans. Lors de la publication récente du rapport annuel du Peter McVerry Trust, il a affirmé que le problème des SDF (sans-domicile fixe) continue à s'aggraver et qu'ils sont plus nombreux aujourd'hui que jamais.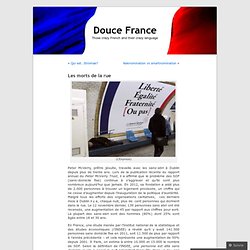 French Revolution Digital Archive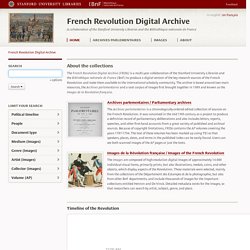 The French Revolution Digital Archive (FRDA) is a multi-year collaboration of the Stanford University Libraries and the Bibliothèque nationale de France (BnF) to produce a digital version of the key research sources of the French Revolution and make them available to the international scholarly community. The archive is based around two main resources, the Archives parlementaires and a vast corpus of images first brought together in 1989 and known as the Images de la Revolution française. Archives parlementaires / Parliamentary archives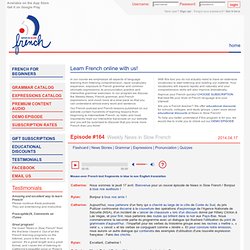 In our course we emphasize all aspects of language learning from listening comprehension, rapid vocabulary expansion, exposure to French grammar and common idiomatic expressions, to pronunciation practice and interactive grammar exercises. In our program we discuss the Weekly News, French grammar, and French expressions, and much more in simplified French at a slow pace so that you can understand almost every word and sentence. Our French Podcast and French lessons published on our website contain hundreds of learning lessons from beginning to intermediate French, so listen and most importantly read our interactive transcripts on our website and you will be surprised to discover that You know more French than you think! With this tool you do not actually need to have an extensive vocabulary to start listening and reading our material.
News in Slow French | Learning French online
Vive Le Vent -with lyrics-
Bavardons
Plus de 50h de vidéo sur les usages du numérique dans l'éducation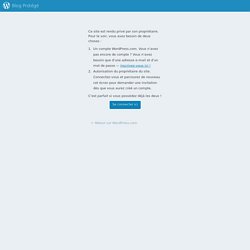 Vous trouverez ci-dessous plus de 50 heures de vidéo des experts du moment sur les questions du numérique dans l'éducation : Cultures numériques Société numérique Génération Y, mythe ou réalité ?
The French Corner: 15 French Teachers You Should Follow on Pinterest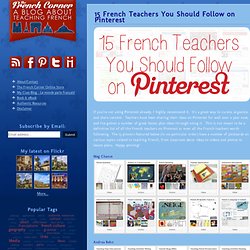 If you're not using Pinterest already, I highly recommend it. It's a great way to curate, organize, and share content.
Facebook
pronoms compléments | Pronoms
Blogues éducatifs francophones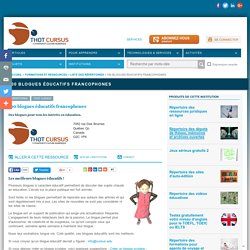 Accueil > Formations et ressources > Liste des répertoires > Blogues éducatifs francophones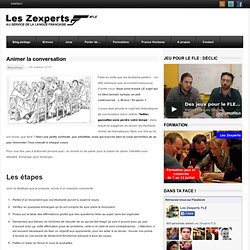 Faire en sorte que les étudiants parlent… Un défi classique que rencontrent beaucoup d'entre nous. Vous avez trouvé LE sujet qui va bien (actuel, sympa, un poil controversé…). Bravo ! Et après ?
Animer la conversation | Les Zexperts
Je tiens d'abord à préciser que j'enseigne aux États-Unis depuis quarante-sept ans et que donc je ne suis pas, et de loin, un ennemi de la langue anglaise.
Dire, ne pas dire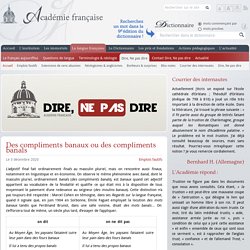 Thérèse Desqueyroux-quotations-caractère
Thinkovery | Un savoir d'avance
Culturethèque — Learn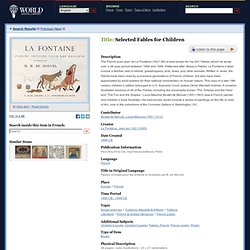 Selected Fables for Children
Description The French poet Jean de La Fontaine (1621-95) is best known for his 243 Fables, which he wrote over a 26-year period between 1668 and 1694. Patterned after Aesop's Fables, La Fontaine's tales involve a familiar cast of rabbits, grasshoppers, ants, foxes, and other animals.
Selected Fables for Children
fr.serious-fish.com/downloads/Presentation2.pdf
Français
Atelier de niveau avancé - Parlons français, c'est facile !
Tutoyer ou vouvoyer quelqu'un ? - Parlons français, c'est facile !
La France par les gares - Parlons français, c'est facile !
unnamed pearl
Dyslexie : apprendre l'orthographe en chansons ? Je suis l'auteur des Orthochansons. Avant que de commencer cet article, je précise que je n'ai aucune compétence particulière en matière de dyslexie.
dyslexie et orthographe en chansons | Le Blog Orthographique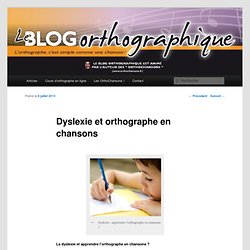 One of the most stunning views a traveler can have in Paris is to round a corner and see the massive four-legged base of the Eiffel Tower. One of the beautiful things about Eiffel's tower is that it is so colossal and yet so airy and delicate.
Building The Eiffel Tower: Three Google Exhibitions Revisit the Birth of the Great Parisian Monument
Thinking About Syncing? Technology Resources for the World Language Classroom - Catherine Ousselin
A Level French
Les petits déjeuners dans le monde - L'Internaute Voyager
Migrer facilement de Google Reader à Netvibes
Netvibes March 14th 2013 at 11:49 AM Comme vous le savez sans doute déjà, Google a décidé de fermer son service Reader le 1er Juillet.
Clavier blog
Color Photography of Paris in 1914
Sites de FLE
L'Agence de Promotion du FLE a pour vocation de mettre à la disposition des publics internationaux à la recherche de cours de français en France une information complète sur l'offre des centres de FLE privés et publics.
iPad > Reference > Leçons & cours pour enseignant
Blogs seem to come and go, but here are some (hopefully) up to date and interesting blogs.
Blogs
Reacc.en
ch1
(18) Twitter
A l'hotel
Littérature française 2, Auteurs, Oeuvres, Audio, Video, FLE, Flenet
Menace sur le café : un champignon ravage la production d'Amérique centrale
University of Warwick
Emile Zola
ALF: alevelfrench.com articles (Literature titles-images to jog the memory)
C2 - Écrire en français (formules) - Google Drive
Parler français B2 : Se préparer pour un débat
How has ICT access changed across the world between 2005 and 2010?
Les empreintes du russe au français…
Le numérique au coeur de la vie
FACE | French Heritage Language Program | Teaching Resources
Webinars | Teaching Shakespeare
Listening for key words in songs
Five Ways to Grow Your Personal Learning Network with Twitter
Fleuron
5 ways to use Twitter without being a Twitter user - Chris Hardie
Écriture/lecture : questions sur la réflexivité
The oral approach
Foreign tongues don't always come easy
Technology Innovators in the Classroom «
Publication Name:
Teaching Students How to do Online Research
e-Learning Stuff
Didactique professionnelle