PARAMETRIC ARCHITECTURE
Being in Cyprus this summer, I was commissioned to renovate the house of my cousin in Emba, Paphos. You can spot the plot on Google Earth (34°48′19.41″N, 32°25′59.57″E) . I have to highlight that the weather gets extremely hot in Cyprus, especially in the summer with daytime temperatures reaching 40 °C.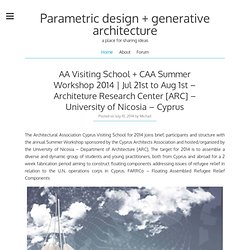 Parametric design & generative architecture
Information Society Category Laser Cut Wood Record Extracted from http://www.amandaghassaei.com/ In order to explore the current limits of 3D printing technology, I've created a technique for converting digital audio files into 3D-printable, 33rpm records and printed a few prototypes that play on ordinary turntables. Though the audio … Richard Rogers RA: Inside Out Richard Rogers RA is one of the most successful and influential architects in the world. He is responsible for some of the most radical designs of the 20th century, including the Pompidou Centre in Paris (with Renzo Piano), Lloyd's of …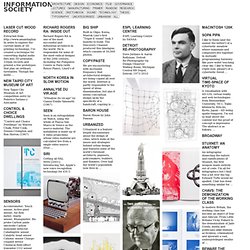 Information Society
morphogenesism
HEX curtain on Vimeo
Dezeen promotion: an exhibition of products for the garden designed by students from Rotterdam's Piet Zwart Institute will take place at the Ventura Lambrate design district in Milan later this month. Top: Brick Biotope by Micaela Nardella and Oana TudoseAbove: Blindfolded by Anette Backe and Dominika Dyminska Students from the Master of Interior Architecture & Retail Design programme were asked to explore traditional craft processes in their designs.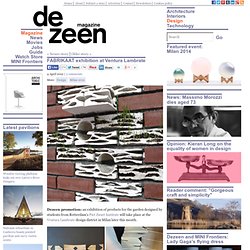 FABRIKAAT exhibition at Ventura Lambrate
March 2008
PINKCLOUD.DK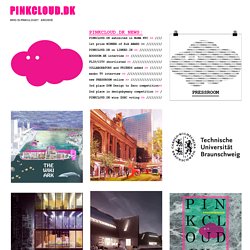 PINKCLOUD.DK exhibited in MoMA NYC >> //// 1st prize WINNER of RiA AWARD >> ///////// PINKCLOUD.DK on LINKED.IN >> ///////////// BOOOOOM.HK interview >> ////////////////// FLIP/CITY shortlisted >> ///////////////// COLLABORATORS and FRIENDS added >> ///////
Dịch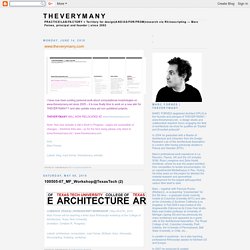 THEVERYMANY / Marc Fornes would like to present his:Best Wild Wishes for 2010* * according to the "etiquette" a new year best wishes card should be sent before Jan 1st - that if you are a purist - Jan 15th being the absolut deadline - Jan 14th is therefore more than on time... As "card" - here is a sample along 2009 of insider views of THEVERYMANY studio in Brooklyn - perfect timing before as changing for a larger space in order to build (and storage) larger projects/structures...
theverymany
Ezio Blasetti
www.architectural-review.com/reviews/
KINDLE BOOKS ARCHITECTURE
Autogenic Structures
Structure in Nature is a Strategy for Design (9780262660457): Peter Pearce
Workshop integrated into the Master's Advanced Design and Digital Architecture The participants will gain a new perspective on the creation of forms and spaces through knowledge of the material and its "intelligent" behaviour, complemented by learning Grasshopper, a software package that allows visual programing and advanced modelling of these forms and structures. This workshop will equip students to produce truly innovative designs in terms of material, form and behaviour, to the point of creating designs that are able to adapt to their environment. Ultimately, we will learn that the boundary between natural and artificial (or that produced by humans) has been redrawn from the perspective of biomimetic engineering. Schedule From 15 to 19 October 2012. The workshop lasts five days. Participation dates/terms Deadline Submission of documentation: by 15th September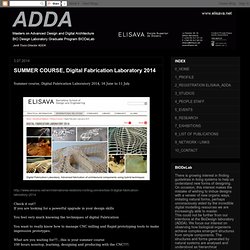 BIODeLab BIODesign Research Laboratory
modeLab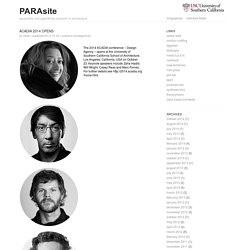 Interactive Wall Installation An interactive installation, 'Living Wall', by USC Post Professional Alumna, Behnaz Farahi, is on display in the 'Sight, Sound and Space' exhibition in the Main Gallery of the USC School of Cinematic Arts. Behnaz is currently a PhD student on the interdivisional Media Arts and Practice PhD program. 'Living Wall' is a prototype adaptive wall consisting of stretched fabric over a series of aluminum members activated by Shape Memory Alloy springs and controlled an Arduino control board: http://imap.usc.edu/news-and-events/sight-sound-space/#.UpY7gpVCaFI http://www.behnazfarahi.com/204244/2183048/gallery/the-living-breathing-wall viagra overnight Project Published
PARAsite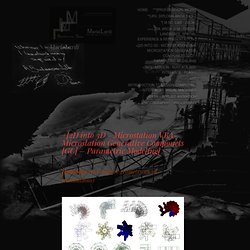 +[2D into 3D - Microstation VBA- Microstation Generative Componets [GC] – Parametric Modeling] « MariaLardi
Rotations (Descriptive geometry vs.3d translations) Geometric machines (Surface modelling) Parametric Design (Generative Components) transaction (top) +1:points +2:vertical lines on points +3:add line05, line06, line07, line08, line09 +4:delete line01, line03, line05 +5:add point05, point06, point07, point08 +6:change height, nrules, sixe +7:add line10, line11transaction
In the past few weeks, I have taken a whirlwind tour through the worlds of 3D scanning & position/orientation sensing. The product of this study is still a work in progress. Here is my project concept statement: If Photorealism is only one of many possible styles of painting, then the "realism" of our natural vision must similarly be one of many possible modes of realism. There is no reason to suspect that our natural vision presents the world as it really is. We are abstractly aware of this and yet are limited in our ability to experience other modes.
3D Scanning and Re-Presentation Final Projects « Patrick Hebron – ITP Blogs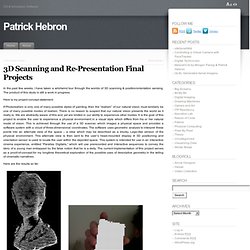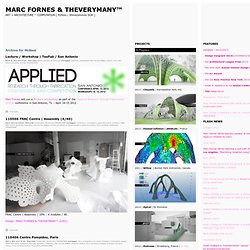 Archive for McNeel Lecture / Workshop | TexFab / San Antonio Marc Fornes will run a Python workshop as part of the "Applied Research through Fabrication" TexFab conference in San Antonio, Tx – April 14-15 2012 110506 FRAC Centre | Assembly (4/40) FRAC Centre | Assembly | 10% : 4 modules / 40… Design: MARC FORNES & THEVERYMANY™ ©2011
McNeel
Amazing Architecture
On behalf of the Battersea Power Station shareholders, Battersea Power Station Development Company has today unveiled the plans for Phase Three of the d...evelopment, designed by world-renowned architects Gehry Partners and Foster + Partners. Following an international design competition held in September 2013, the two architectural practices were chosen for the bold and innovative designs they had for both new homes and a new pedestrianised retail street in the area to the south of the Power Station. The designs reflect the shareholders' commitment to creating world-class buildings that will complement the iconic Power Station, while becoming destinations in their own right.
parametric research | Arturo Tedeschi
AA Rome VS | Form as (Dynamic) Unknown_research May 2013 The 10-day workshop has been focused on the design of computational kinetic structural systems, which interact with the behavior inherent in the city, environment and population. The aim of the workshop has been to investigate parametric kinetic strategies that transform according to the ever-changing data system.__Altro…
Have you ever looked into supernovas? So a star explodes and creates this light - so brilliant, so powerful, so bright that it shines more spectacularly than every other star in the sky combined, but briefly - then it's gone. A black hole. Nothing can escape.
patrick schumacher
Patrik Schumacher - People - Zaha Hadid Architects
Profile: Patrik has been with our practice since 1988. He is a company director and our Senior Designer, involved alongside Zaha Hadid herself in all projects we undertake. He maintains an active role in the development throughout the design phases. Education: Patrik studied architecture at the University of Stuttgart and at the Southbank University in London.
GT | Event Listing - School of Architecture Lecture Series: Patrik Schumacher
zaha hadid + Patrick schumacher "total fluidity" exhibit
Zaragoza Bridge Pavilion / Zaha Hadid + Patrick Schumacher
Patrik Schumacher
Grasshopper - generative modeling for Rhino
Apo Mechanes 2010 Studio
adrian lahoud
algorithmicdesign- ezio blasetti
from control to design parametric algorithmic architecture
suckerPUNCH
Biomimetic Architecture
Demonstrations Project
Erwin Hauer
algorithmic design
Safavid Surfaces and Parametricism | Features
Design Paramétrico - UP
2009/07
UrbanGENE
Parametric Sites and Blogs
experimentacion y software