Create Timeline
Timeline template, create a timeline. Watch and read thousands of fascinating timelines, or create your own.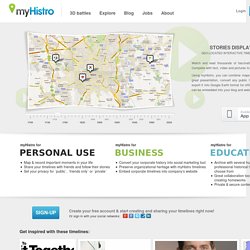 Complete with text, video and pictures to create a dynamic timeline mashup. Using myHistro, you can combine maps and timelines seamlessly into one great presentation, convert any public timeline into a personal pdf file, or export it into Google Earth format for offline storage. Memolane | Rediscover your favorite memories. Timekiwi — create beautiful timelines. Build and Share Interactive Timelines - whenintime. Application. Timeline Maker | Preceden - Make an amazing timeline in minutes.
TimeRime.com - Homepage. Dipity - Find, Create, and Embed Interactive Timelines. Explore and Create Free Timelines. Capzles Social Storytelling | Online Timeline Maker | Share Photos, Videos, Text, Music and Documents Easily. Beautiful web-based timeline software. Timeline JS - Beautifully crafted timelines that are easy, and intuitive to use. Create timelines, share them on the web | Timetoast timelines.
---