"Eaty & Makey" things
How To Mix Chalkboard Paint in Any Color. We love using chalkboards as backdrops for displays and parties (like this one here!).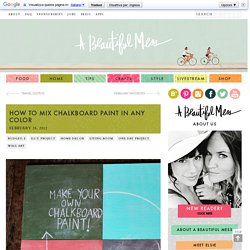 So we were super excited to learn that you can create your own custom colors-and it's really easy! We first learned how from Martha Stewart whose tutorial you can read here. The Brownie Project. 100 Useful Search Engines for Chefs, Cooks and Food Lovers | Culinary School Guide. By Alisa Miller While everyone has to eat, only those true foodies are absolutely devoted to their food.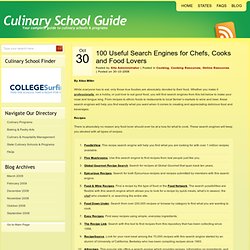 Whether you make it professionally, as a hobby, or just love to eat good food, you will find search engines from this list below to make your nose and tongue sing. From recipes to ethnic foods to restaurants to local farmer's markets to wine and beer, these search engines will help you find exactly what you want when it comes to creating and appreciating delicious food and beverages. Recipes. Insanewiches.com. Nutella Ice Cream. This is, by far, the best ice cream I've made.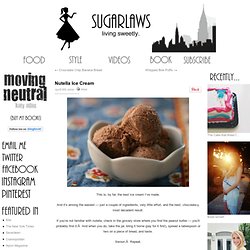 And it's among the easiest — just a couple of ingredients, very little effort, and the best, chocolate-y, most decadent result. If you're not familiar with nutella, check in the grocery store where you find the peanut butter — you'll probably find it. And when you do, take the jar, bring it home (pay for it first), spread a tablespoon or two on a piece of bread, and taste. Swoon. Repeat. Then make this ice cream. Nutella is, quite frankly, one of the best culinary creations out there — a mixture of chocolate and hazelnuts that almost defies words. It was the inspiration behind my flourless chocolate hazelnut cake, and now this.Â. Pretzel Buns. Well, technically this is a recipe for soft pretzels.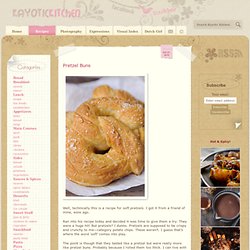 I got it from a friend of mine, eons ago. Ran into his recipe today and decided it was time to give them a try. They were a huge hit! But pretzels? Kayotic Kitchen. Christmas Recipes. My Fridge Food - Recipes you already have in your Fridge. Culinary Arts College & 100 Famous Restaurant Recipes You Can Replicate at Home. Eating out is becoming a more and more popular phenomenon.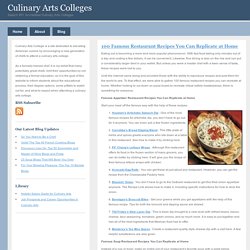 With fast food taking only minutes out of a day and costing a few dollars, it can be convenient. Likewise, fine dining is also on the rise and can put a considerably larger dent in your wallet. But unless you were a master chef with a keen sense of taste, these recipes were lost to you. Until the internet came along and provided those with the ability to reproduce recipes and post them for the world to see. Spice Advice. CalorieConnect.com. Love and Olive Oil. Rice Krispie Treat Watermelon. I used the standard Rice Krispie Ceral Treat recipe.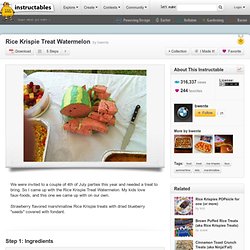 I had to double it to make mini watermelon. So buy 1 large box of cereal and 2 bags of strawberry marshmallows. You still need to make in two separate batches to make it easier to handle. Peak-Season Map at Epicurious.com. Perfect Summer Bangle - StumbleUpon. Here's a fun tutorial on how to make a message bangle that's one-of-a-kind, done in the sun, waterproof and weatherproof.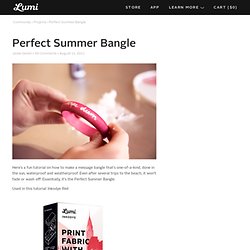 Even after several trips to the beach, it won't fade or wash off! Essentially, it's the Perfect Summer Bangle. Used in this tutorial: Inkodye Red. Better-Than-Crack-Brownies | How Sweet It Is - StumbleUpon. I'm sorry for doing this to you.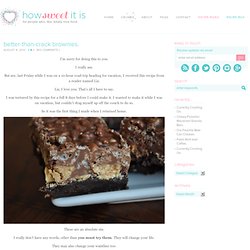 I really am. But see, last Friday while I was on a 10-hour road trip heading for vacation, I received this recipe from a reader named Liz. Oreo and Peanut Butter Brownie Cakes - StumbleUpon. So, after being gone all last week, this has been catch up on the house week.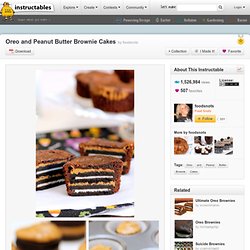 Mostly laundry actually. Man, who knew that a weeks worth of laundry from 5 people could be so daunting. Yikes!! But I am kind of behind on my cooking and baking as well since I've been gone and cleaning. Not to mention, I needed an Oreo fix! Baked Egg Boat recipe - StumbleUpon. Breakfast is my favorite meal.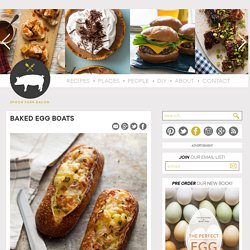 I like to drink iced coffee and watch the cream climb its way down the chunky ice cubes in a dazy before the caffeine hits. I like to order bacon with whatever I'm eating. Nutella Mug Cake | Family Kitchen - StumbleUpon. I have been experimenting with different mug cakes every since I heard about them about a year ago. None of them have been winners. They were either too chewy, too dry, or not sweet enough. Well, I continued experimenting, and thought why not add some decadent Nutella into the mix.
Chocolate, Fresas y Nata.....Feliz San Valentín . Homemade Baked Mozzarella Sticks | Penelope's Oasis - StumbleUpon. Mozzarella sticks are a delicious treat, probably one of the most popular appetizers at restaurants, and a fun party food. They tend to be rather fattening, especially considering they are usually fried, but they are so irresistibly tasty. So how do you give in to the temptation that is mozzarella sticks without the guilt? Mac and Cheese Cups - Cupcakes and Cashmere - StumbleUpon.
Share this image Share It Pin It When I first graduated from college, and was living in a dreary little apartment, mac and cheese was one of my few specialties. Granted it was straight from a box, but it was one of those meals that made me feel like I was home. I shared a gussied up truffle version a couple of years back (here), and since the Academy Awards are just days away, I thought I'd make it more party-friendly. How to make roses from maple leaves | haha.nu - the lifestyle blogzine - StumbleUpon. Apple Pies & Jo In the Kitchen - StumbleUpon. I know, I've made a few pies lately.
But see how these are different? Look at how adorable these are! 10 Snacks Under 100 Calories - YouBeauty.com - StumbleUpon. Thinkstock Preparation: In a food processor, combine garlic and cannellini beans with lemon juice and process until smooth. Mix in oil, cumin, chili powder, salt and pepper and process until blended. The BEST Play-Dough Recipe. Happy Hippity Hop! Mason Jar Love. Watermelonade Recipe at Epicurious.com - StumbleUpon. Graham Cracker S'mores Cookies | Sweet Pea's Kitchen - StumbleUpon. Snickerdoodle Muffins | Sweet Pea's Kitchen - StumbleUpon. Cheesy, oozy guacamole bean dip - The Kind Life - StumbleUpon.
Chocolate Chip Lava Cookies | Kevin & Amanda - StumbleUpon.
---