Logic/Paradox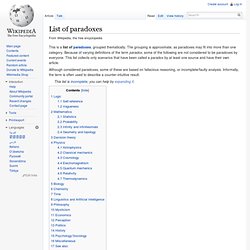 This is a list of paradoxes , grouped thematically.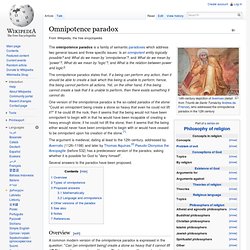 Omnipotence paradox
14th-century depiction of Averroes (detail from Triunfo de Santo Tomás by Andrea da Firenze ), who addressed the omnipotence paradox in the 12th century The omnipotence paradox is a family of semantic paradoxes which address two issues: Is an omnipotent entity logically possible? and What do we mean by 'omnipotence'?
Zeno's paradoxes are a set of philosophical problems generally thought to have been devised by Greek philosopher Zeno of Elea (ca. 490–430 BC) to support Parmenides's doctrine that "all is one" and that, contrary to the evidence of one's senses, the belief in plurality and change is mistaken, and in particular that motion is nothing but an illusion .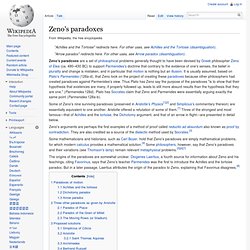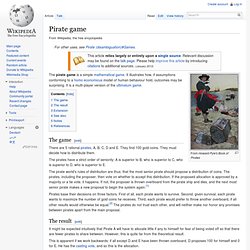 From Howard Pyle's Book of Pirates The pirate game is a simple mathematical game . It illustrates how, if assumptions conforming to a homo economicus model of human behaviour hold, outcomes may be surprising. It is a multi-player version of the ultimatum game . [ edit ] The game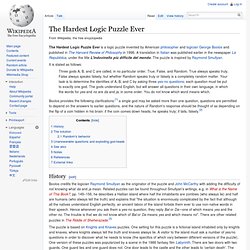 The Hardest Logic Puzzle Ever is a logic puzzle invented by American philosopher and logician George Boolos and published in The Harvard Review of Philosophy in 1996. A translation in Italian was published earlier in the newspaper La Repubblica , under the title L'indovinello più difficile del mondo . The puzzle is inspired by Raymond Smullyan .
The Paradox of Choice - Why More Is Less is a 2004 book by American psychologist Barry Schwartz . In the book, Schwartz argues that eliminating consumer choices can greatly reduce anxiety for shoppers. Autonomy and Freedom of choice are critical to our well being , and choice is critical to freedom and autonomy. Nonetheless, though modern Americans have more choice than any group of people ever has before, and thus, presumably, more freedom and autonomy, we don't seem to be benefiting from it psychologically. —quoted from Ch.5, The Paradox of Choice , 2004
The Paradox of Choice: Why More Is Less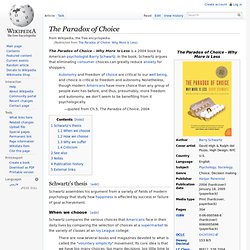 The irresistible force paradox , also called the unstoppable force paradox , is a classic paradox formulated as "What happens when an unstoppable force meets an immovable object?"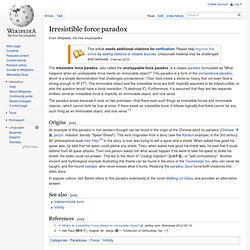 Irresistible force paradox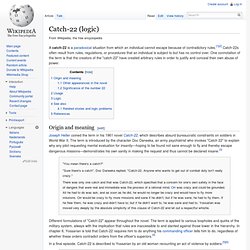 Catch-22 (logic)
A catch-22 is a paradoxical situation in which an individual cannot or is incapable of avoiding a problem because of contradictory constraints or rules. [ 1 ] Often these situations are such that solving one part of a problem only creates another problem, which ultimately leads back to the original problem.