Sliders&galleries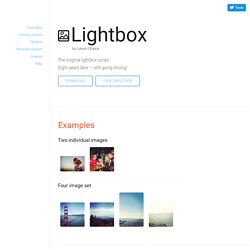 by Lokesh Dhakar Blog - Twitter - Github Lightbox is small javascript library used to overlay images on top of the current page. It's a snap to setup and works on all modern browsers. Single images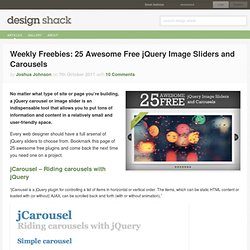 No matter what type of site or page you're building, a jQuery carousel or image slider is an indispensable tool that allows you to put tons of information and content in a relatively small and user-friendly space. Every web designer should have a full arsenal of jQuery sliders to choose from. Bookmark this page of 25 awesome free plugins and come back the next time you need one on a project. jCarousel – Riding carousels with jQuery
Weekly Freebies: 25 Awesome Free jQuery Image Sliders and Carousels
Moleskine Notebook with jQuery Booklet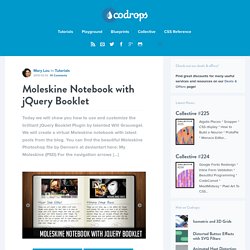 Today we will show you how to use and customize the brilliant jQuery Booklet Plugin by talented Will Grauvogel. We will create a virtual Moleskine notebook with latest posts from the blog. You can find the beautiful Moleskine Photoshop file by Dennern at deviantart here: My Moleskine (PSD) For the navigation arrows […] View demoDownload source
Content Rotator with jQuery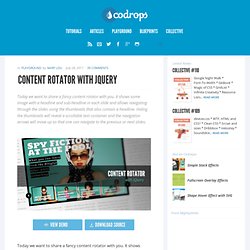 Today we want to share a fancy content rotator with you. It shows some image with a headline and sub-headline in each slide and allows navigating through the slides using the thumbnails that also contain a headline. Hiding the thumbnails will reveal a scrollable text container and the navigation arrows will move up so that one can navigate to the previous or next slides.
100+Useful jQuery Image Slideshow and Content Slider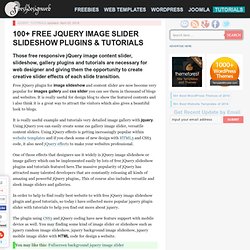 Free jQuery plugin for image slideshow and content slider are now become very popular for images gallery and css slider you can see them in thousand of blogs and websites.
Galleriffic is a jQuery plugin that provides a rich, post-back free experience optimized to handle high volumes of photos while conserving bandwidth. I am not so great at spelling, and it was much later that I realized that the more appropriate spellings would be Gallerific or Gallerrific, but is too late now for a name change, so Galleriffic remains. Features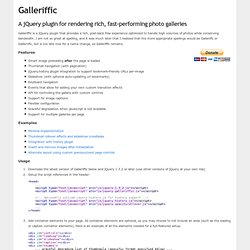 Galleriffic | A jQuery plugin for rendering fast-performing photo galleries
Estro - jQuery Ken Burns & swipe effect slider Preview
qGallery - beta 0.8.9 | Sebastian Brink - quadrifolia.de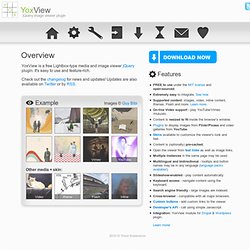 YoxView is a free Lightbox-type media and image viewer jQuery plugin. It's easy to use and feature-rich. Check out the changelog for news and updates!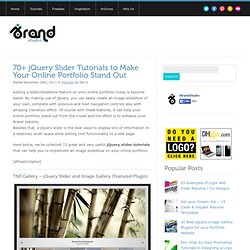 Adding a slider/slideshow feature on your online portfolio today is become easier. By making use of jQuery, you can easily create an image slideshow of your own, complete with previous and next navigation controls also with amazing transition effect. Of course with these features, it can help your online portfolio stand out from the crowd and the effect is to enhance your Brand Identity. Besides that, a jQuery slider is the best ways to display lots of information in a relatively small space while adding cool functionality to a web page. Here below, we've collected 72 great and very useful jQuery slider tutorials that can help you to implement an image slideshow on your online portfolio. [afiliasitutsplus]
70+ jQuery Slider Tutorials to Make Your Online Portfolio Stand Out | iBrandStudio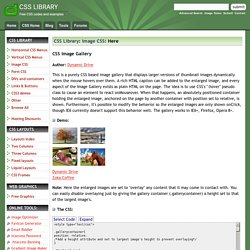 CSS Image Gallery Author: Dynamic Drive This is a purely CSS based image gallery that displays larger versions of thumbnail images dynamically when the mouse hovers over them. A rich HTML caption can be added to the enlarged image, and every aspect of the Image Gallery exists as plain HTML on the page.
A week ago, on our sister-site, Webdesigntuts+, we showed you how to design a "Juicy Tabbed Slider" in Photoshop. Today we're going to show you how to actually code it in a few quick steps. No heavy CSS or Javascript knowledge required – promise! We'll be using the popular Nivo Slider to handle the animation, so let's dig in! Let's Dig In!
Code Your Own Juicy Tabbed Slider (using the Nivo Slider)
Examples | bxSlider
20 (More) Fresh jQuery Image Gallery/Slider Plugins and Tutorials Worth a Look
In the last few years jquery image sliders and jQuery image galleries become very popular in blogs and especially in portfolio sites.One of the easiest solution to attract your visitors and to show your potential clients your portfolio is the image sliders and image galleries. Today we bring together jQuery image sliders and galleries which are released in the last few months or updated recently. Make your snazzy jquery websites work with powerful web hosting built to perform. TN3 Gallery TN3 Gallery is a full fledged HTML based customizable image gallery with slideshow, transitions and multiple album options.
Have a good portfolio website is essential for you, whether you're a freelance, student or unemployed. You need to showcase your best work and allow people to contact you. The one way to have a good portfolio website is by engage the visitors with your design showcase. And implemented jquery image gallery and jquery slider on your portfolio website is the best way to achieve this. This feature is commonly used in portfolio sites, corporate sites or personal blogs. In this article you'll find 50 Amazing jQuery Slider Plugins collection that you can implement into your portfolio website.
50 Amazing jQuery Slider Plugins for Perfect Portfolio Website | iBrandStudio
Creating a modern gallery with Raphael
Check out the new website with fresh and new jQuery plugins and tutorials! Visit jscraft.net Posted by: Marcin Dziewulski on 26.01.11 Today I would like to show you how to create a modern gallery (with cool animation effect) using Raphael library and jQuery. First of all, check out Raphael website and read the documentation.
Build a Simple Image Slideshow with jQuery Cycle
Image slideshows are a popular method of displaying numerous sequential photographs in web design. By making use of the handy Cycle plugin for jQuery, we can easily create a slideshow of our own, complete with previous and next navigation controls. Not a master of Javascript? Don't worry, the Cycle plugin makes it a breeze to add slideshow functionality to your site, with only a few lines of code required to get things up and running. It's my goal to one day own a Harley Davidson Sportster, but until that dream day comes, I'll have to settle with drooling over a bunch of photos.
Actually at first I wanted simple image gallery solution for web design project, but when I started to search I changed my mind and thought how great would be to create article about all the best image gallery solutions available on the Internet. So here it is – this list is separated in 3 big categories like Ajax, JavaScript and Lightbox based galleries, CSS based galleries and FLASH based galleries, so You can easy switch to category You got interest in. I think here You'll find gallery for every needs, should be enough to choose from! This article has been updated on May 16,2012 and we just created new roundup of 30 jquery image and slider plugins, which have been released just on 2012!