Social Media Strategies
Trends - Web Search Interest: pearltrees - Worldwide, 2004 - present
Time Banking Presentation
Welcome to the Web 2.0 Summit live stream. During one of our scheduled live broadcasts ( see schedule below ), the live presentation will appear automatically below.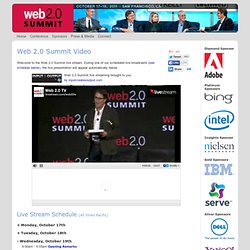 Video: Web 2.0 Summit 2011 - Co-produced by UBM TechWeb & O'Reilly Conferences, October 17 - 19, 2011, San Francisco
The E-mail That Initiated Spotify's Integration Into Facebook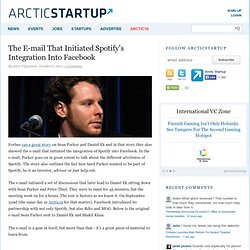 Forbes ran a great story on Sean Parker and Daniel Ek and in that story they also showed the e-mail that initiated the integration of Spotify into Facebook.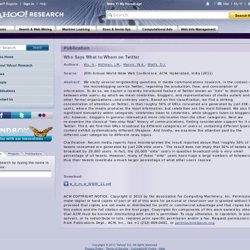 Source: 20th Annual World Wide Web Conference, ACM, Hyderabad, India (2011) Abstract:
Who Says What to Whom on Twitter
Apple's Big Subscription Bet: Brilliant, Brazen, Or Batsh*t Crazy?
We all knew it was coming, but the details of the App Store subscription model, which Apple outlined today, are fascinating on a number of levels.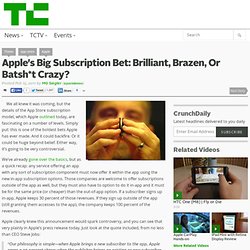 Apple's Big Subscription Bet: Brilliant, Brazen, Or Batsh*t Crazy?
How The iPad Time Shifts Online Reading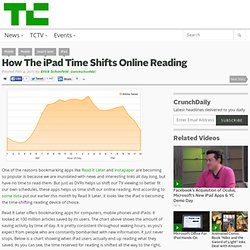 One of the reasons bookmarking apps like Read It Later and Instapaper are becoming so popular is because we are inundated with news and interesting links all day long, but have no time to read them. But just as DVRs helps us shift our TV viewing to better fit our own schedules, these apps helps us time shift our online reading.
Hier matin, USEO présentait sa nouvelle étude (la troisième) sur les réseaux sociaux d'entreprise.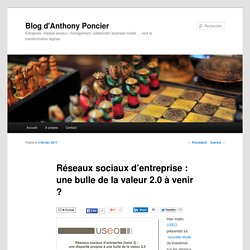 Réseaux sociaux d'entreprise : une bulle de la valeur 2.0 à venir ?
Social CRM: 3 stages of Social integration within sales force automation - [En] Orange Business Live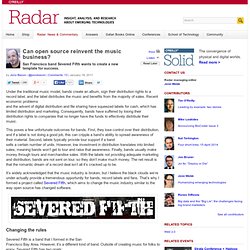 Under the traditional music model, bands create an album, sign their distribution rights to a record label, and the label distributes the music and benefits from the majority of sales.
Can open source reinvent the music business?
Why Marketers Should Invest in Crowdsourced Research
Chris Pitre is a social marketing strategist at Idea where he serves as an in-house maven on social, mobile, and integrated strategies. Chris is also an instructor at the Houston School of Advertising on social media and digital strategy.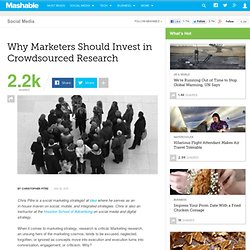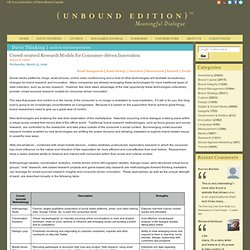 Crowd-sourced Research Models for Consumer-driven Innovation Wednesday, March 25, 2009 Social media platforms, blogs, smart phones, online video conferencing and a host of other technologies will facilitate revolutionary changes for brand research and innovation.
Unbound Edition | Crowd-sourced Research Models for Consumer-driven Innovation
7 tendances pour 2011
Web Wide World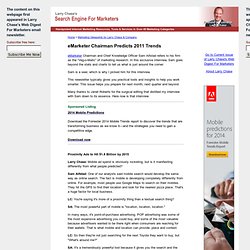 eMarketer Chairman and Chief Knowledge Officer Sam Alfstad refers to his firm as the "Veg-o-Matic" of marketing research.
eMarketer Chairman Predicts 2011 Trends
Steven Rosenbaum is a curator, author, filmmaker and entrepreneur. He is the CEO of Magnify.net , a real-time video curation engine for publishers, brands, and websites. His book Curation Nation is slated to be published this spring by McGrawHill Business.
The Art of the Checkin: From Location to Content to Brand
Caroline Giegerich is the blogstress behind the Daily Marauder and a digital marketing consultant. Follow her on Twitter for more social media and emerging tech insights.
Jesse Thomas is the CEO and Founder of JESS3 , a Creative Interactive Agency.
Marketing: A Brand's Best Bet in Social Media Is Randomness - Advertising Age - Digital
Leyl Master Black is a managing director at Sparkpr , one of the world's top independent PR agencies.
5 Predictions for the Public Relations Industry in 2011
Editor's note : This is the third of a three-part guest post by venture capitalist Mark Suster of GRP Partners on "Social Networking: The Past, Present, And Future." Read Part I and Part II first.
Social Networking: The Past
Tweetdeck, Seesmic, Hootsuite: Quel Business Model?
New Media Business Models
New Study: Social Media Has Changed The Business Buying Process... But How?
Socialnomics: How Social Media ...
Listening Comes First
4 must-have social-media dashboards for your business
5 Proven Strategies for B2B Social Media Marketing