Social Media Strategies
Trends - Web Search Interest: pearltrees - Worldwide, 2004 - present. Time Banking Presentation. Google AdWords. Video: Web 2.0 Summit 2011 - Co-produced by UBM TechWeb & O'Reilly Conferences, October 17 - 19, 2011, San Francisco. Welcome to the Web 2.0 Summit live stream.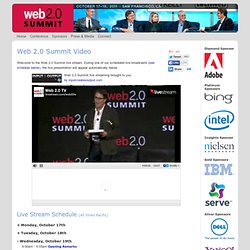 During one of our scheduled live broadcasts (see schedule below), the live presentation will appear automatically below. Live Stream Schedule (All times Pacific) Monday, October 17th 2:10pm - 2:35pm Sean Parker (Founders Fund), John Battelle @johnbattelle (Federated Media Publishing Inc.) The E-mail That Initiated Spotify's Integration Into Facebook. Forbes ran a great story on Sean Parker and Daniel Ek and in that story they also showed the e-mail that initiated the integration of Spotify into Facebook.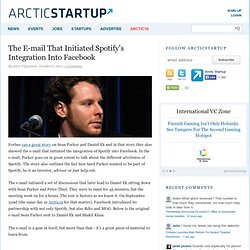 In the e-mail, Parker goes on in great extent to talk about the different attributes of Spotify. The story also outlines the fact how hard Parker wanted to be part of Spotify, be it an investor, advisor or just help out. The e-mail initiated a set of discussions that later lead to Daniel Ek sitting down with Sean Parker and Peter Thiel. They were to meet for 45 minutes, but the meeting went on for 5 hours. Twitter Fan Pages by Twylah : Transform your tweets into custom brand pages for your fans. The Enterprise Social Network. Apple's Big Subscription Bet: Brilliant, Brazen, Or Batsh*t Crazy?
We all knew it was coming, but the details of the App Store subscription model, which Apple outlined today, are fascinating on a number of levels.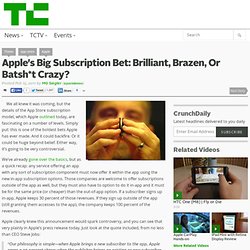 Simply put: this is one of the boldest bets Apple has ever made. And it could backfire. Or it could be huge beyond belief. Either way, it's going to be very controversial. Apple's Big Subscription Bet: Brilliant, Brazen, Or Batsh*t Crazy? How The iPad Time Shifts Online Reading. One of the reasons bookmarking apps like Read It Later and Instapaper are becoming so popular is because we are inundated with news and interesting links all day long, but have no time to read them.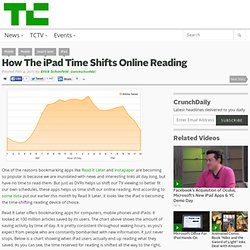 But just as DVRs helps us shift our TV viewing to better fit our own schedules, these apps helps us time shift our online reading. And according to some data put out earlier this month by Read It Later, it looks like the iPad is becoming the time-shifting reading device of choice. Read It Later offers bookmarking apps for computers, mobile phones and iPads. It looked at 100 million articles saved by its users. The chart above shows the amount of saving activity by time of day. Réseaux sociaux d'entreprise : une bulle de la valeur 2.0 à venir ? Hier matin, USEO présentait sa nouvelle étude (la troisième) sur les réseaux sociaux d'entreprise.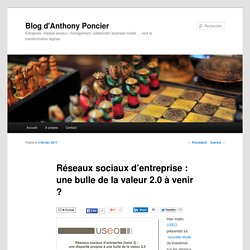 Petite précision, ce n'est pas la première fois que je parle des études d'USEO car je suis un directeur de ce cabinet de consultant (mais je parlais déjà d'eux avant de les rejoindre, car leurs études sont de qualités). Mais bon vous avez déjà pu voir que je parle aussi d'autres études, cabinets, travaux… l'idée de ce blog étant de faire avancer les idées de l'entreprise 2.0 et je crois que cette étude y participe. Voici donc les principales idées développées dans cette étude (vous trouverez aussi des infos dans les tweets avec #USEO en date du 2 février). Social CRM: 3 stages of Social integration within sales force automation - [En] Orange Business Live. Beyond Social CRM - [En] Orange Business Live. Can open source reinvent the music business? Under the traditional music model, bands create an album, sign their distribution rights to a record label, and the label distributes the music and benefits from the majority of sales.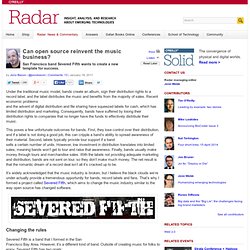 Recent economic problems and the advent of digital distribution and file sharing have squeezed labels for cash, which has limited distribution and marketing. Consequently, bands have suffered by losing their distribution rights to companies that no longer have the funds to effectively distribute their music. This poses a few unfortunate outcomes for bands. Why Marketers Should Invest in Crowdsourced Research. Chris Pitre is a social marketing strategist at Idea where he serves as an in-house maven on social, mobile, and integrated strategies.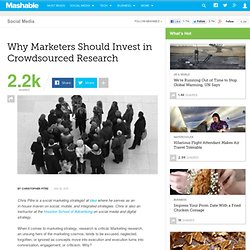 Chris is also an instructor at the Houston School of Advertising on social media and digital strategy. When it comes to marketing strategy, research is critical. Marketing research, an unsung hero of the marketing cosmos, tends to be excused, neglected, forgotten, or ignored as concepts move into execution and execution turns into conversation, engagement, or criticism. Why? Sometimes the cost alone to execute a valid study can blow the budget. Crowd-sourced Research Models for Consumer-driven Innovation.
Crowd-sourced Research Models for Consumer-driven Innovation Wednesday, March 25, 2009 Social media platforms, blogs, smart phones, online video conferencing and a host of other technologies will facilitate revolutionary changes for brand research and innovation.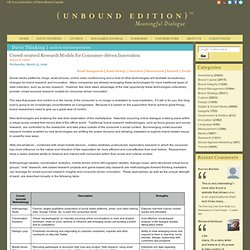 7 tendances pour 2011. eMarketer Chairman Predicts 2011 Trends. Home > Marketing Viewpoints by Larry Chase & Company eMarketer Chairman and Chief Knowledge Officer Sam Alfstad refers to his firm as the "Veg-o-Matic" of marketing research.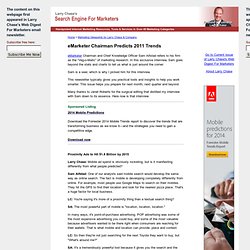 In this exclusive interview, Sam goes beyond the stats and charts to tell us what is just around the corner. Sam is a seer, which is why I picked him for this interview. 4 Promising Curation Tools That Help Make Sense of the Web. Steven Rosenbaum is a curator, author, filmmaker and entrepreneur.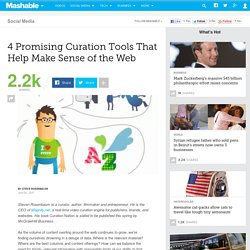 He is the CEO of Magnify.net, a real-time video curation engine for publishers, brands, and websites. His book Curation Nation is slated to be published this spring by McGrawHill Business. The Art of the Checkin: From Location to Content to Brand. Caroline Giegerich is the blogstress behind the Daily Marauder and a digital marketing consultant. Follow her on Twitter for more social media and emerging tech insights. Within the spectrum of social media, the act of sharing essentially amounts to a desire to personally define ourselves to others. In the age of the social network, there are an almost infinite number of options for creating that personal definition on the web. Checking in is just one of the newer ones.
There is an art to checking in and a way to make it part of your online identity. 6 Predictions for Digital Advertising in 2011. Jesse Thomas is the CEO and Founder of JESS3, a Creative Interactive Agency. JESS3 designs products and experiences for brands like Google, Nike, Facebook, MySpace, C-SPAN, Microsoft and NASA. "Likes," views and followers were all the rage in 2010. Despite the social media community emphasizing engagement instead of reach, media agencies quickly learned that engagement doesn't scale easily, making it difficult to sell. Enter Facebook, YouTube and Twitter. Marketing: A Brand's Best Bet in Social Media Is Randomness - Advertising Age - Digital.
5 Predictions for the Public Relations Industry in 2011. Leyl Master Black is a managing director at Sparkpr, one of the world's top independent PR agencies. Leyl has more than 15 years experience driving high-impact communications programs for emerging technology companies. The past decade has been rough on the media industry. As media consumption has shifted online, many print publications have struggled to adjust their editorial approach, advertising infrastructure and revenue models to accommodate a rapidly changing readership. Social Networking: The Future. Editor's note: This is the third of a three-part guest post by venture capitalist Mark Suster of GRP Partners on "Social Networking: The Past, Present, And Future." Read Part I and Part II first. This series is an adaptation of a recent talk Suster gave at the Caltech / MIT Enterprise Forum on "the future of social networking." You can watch the video here , or you can scroll quickly through the Powerpoint slides embedded at the bottom of the post or here on DocStoc.
Follow him on Twitter @msuster. In my first post I talked about the history of social networking from 1985-2002 dominated by CompuServe, AOL & Yahoo! Social Networking: The Present. Editor's note: This is the second of a three-part guest post by venture capitalist Mark Suster of GRP Partners on "Social Networking: The Past, Present, And Future." Read Part I first, this one, and then Part III. Follow him on Twitter @msuster. This series is an adaptation of a recent talk he gave at the Caltech / MIT Enterprise Forum on "the future of social networking." Social Networking: The Past. New Media Business Models. New Study: Social Media Has Changed The Business Buying Process... But How? Socialnomics: How Social Media ... Listening Comes First. 4 must-have social-media dashboards for your business. Social Media for Business. 5 Proven Strategies for B2B Social Media Marketing.
38 New Social Media Resources You May Have Missed. 4 Winning Strategies for Social Media Optimization.
---