Religion / Atheism
Epicurus Quote - Plain, dark version T Shirt from Zazzle
The Association for the Study of Religion, Economics, and Culture exists to promote interdisciplinary scholarship on religion through conferences, workshops, newsletters, websites, working papers, teaching, and research. ASREC supports all manner of social-scientific methods, but seeks especially to stimulate work based on economic perspectives and the rational choice paradigm. The economic study of religion comprises a variety of subfields, which collectively embrace all aspects of the social-scientific study of religion.
The Association for Religion, Economics and Culture (ASREC)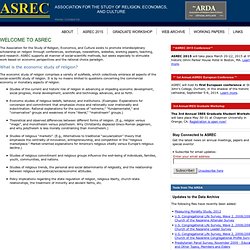 From Abracadabra to Zombies - 749 entries | View All What's New? See the most recent entries, updates, and reader comments Sample the Skeptic's Dictionary Josephy Mercola is an osteopath whose main practice is the selling of a lifestyle that he characterizes as "natural." Much of his advice is in opposition to science-based medicine.
The Skeptic's Dictionary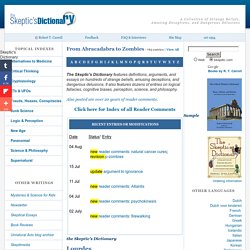 Tasmanian bus advertisement 2010 Atheism is the acceptance that there is no credible scientific or factually reliable evidence for the existence of a god, gods or the supernatural. LATEST NEWS: With God on their side: when religion and politics collide Incoming AFA President Michael Boyd was recently quoted in an article titled With God on their side: when religion and politics collide by Cathy Alexander on Crikey on 5 July 2013. An excerpt from that article is reproduced below.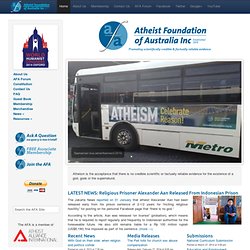 Atheist Foundation of Australia Inc | Founded 1970
NOVA Energy LabHelp design energy systems that meet demand and save the greatest amount of carbon emissions for the least amount of moneyAstro Drone Crowdsourcing GameIf you own a Parrot AR.Drone Quadricopter, you can participate in the European Space Agency's (ESA) Astro Drone crowdsourcing game to help improve robot visionWeddell Seal Population CountHelp scientists in the field monitor the Weddell seal population in McMurdo Sound, Antarctica
Science News, Articles and Information | Scientific American
Born Again Pagan - An Atheist Smorgasbord: Movies, Comics, Photos, Stories and Much More!
The Skeptic's Dictionary
NCSE | National Center for Science Education - Defending the Teaching of Evolution in Public Schools.
Charles Darwin and other early evolutionists were fascinated by religious phenomena and how they might be explained from an evolutionary perspective. Nevertheless, evolutionary theory became restricted to the biological sciences and excluded from the study of many human-related subjects for most of the 20th century. Only now is the theory being used to explain all aspects of humanity in addition to the rest of life.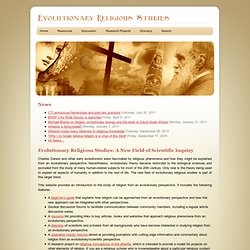 ERS
The Sociology of Islam and Muslim Societies Newsletter: Winter 2011 Newsletter No. 7 - ISSN:1942-7948 Contents
Portland State Sociology of Islam & Muslim Societies | Home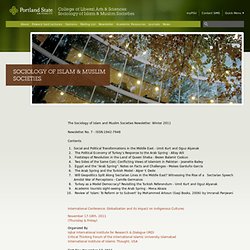 The British Humanist Association
Sandwalk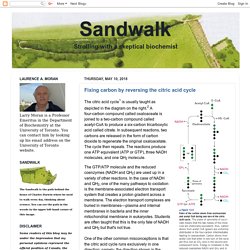 My department is in a Faculty of Medicine and the main source of research funding for biomedical sciences in Canada is the Canadian Institutes of Health Research (CIHR). The current Conservative Government has been consistently underfunding CIHR over the past six years so that the number of grants available for basic research (e.g. biochemistry and molecular biology) has been falling. This is the time of the year when my colleagues hear the results of the latest grant competitions. It's been a sad couple of days because four labs failed to get funding for their main research projects. Eight other labs failed to get additional funding for ongoing projects that were not part of their main grant. What does this mean?
PracticalDoubt.com
Secularism and Nonreligion
Institute for the Study of Secularism in Society & Culture
Religion Dispatches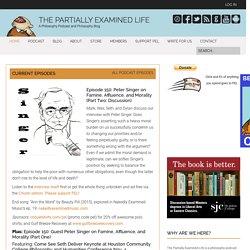 The Partially Examined Life | A Philosophy Podcast and Philosophy Blog
via @bellebethcooper at blog.bufferapp.com [From Lou Canelli] Late into the recent episode about Thomas Kuhn, the conversation settled into the apparent threat of relativism looming in Kuhn's ideas. This led to a tone of "been there, done that," especially in highlighting the psychological reality of the confirmation bias. This isn't a term used directly during the episode, but it captures precisely what was discussed: the notion that we see what we expect to see.
Heterodoxology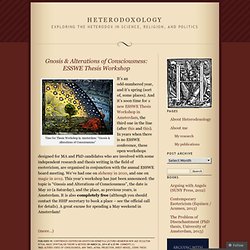 As was just announced at the Correspondences website, the journal has a new book review editor. It's me. As is well known, I've been enthusiastic about this new journal from the start.
Atheist Nexus
Skeptic » Home » The Skeptics Society &asmp; Skeptic magazine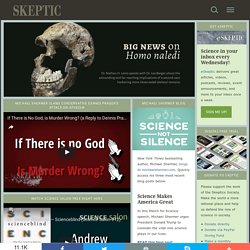 How To Boldly Go Into Space lecture by Dr. Linda Spilker and Dr. Thomas Spilker Sunday, December 8, 2013 at 2 pm
Michael Shermer
Americans United for Separation of Church and State
The Wall of Separation
Freedom From Religion Foundation
Login My Membership Register now! Listen here . .
Think Atheist
by Steve NeumannIt's cliche to claim that around the clock news outlets and social media such as blogs, Facebook and Twitter have revolutionized our culture and raised our global consciousness. These technologies have provided us with many benefits: they brought the gruesome reality of war and other political injustices into our living rooms in real time, which has inspired more and more people to oppose unnecessary or immoral wars and interventions; they have enabled greater communication and understanding between cultures; and they have even contributed to economic growth by allowing both corporations and individuals to reach ever wider audiences with their products and services.This trend is not without its side effects, of course - chief among them the fact that anyone can say anything at the press of a button pretty much with impunity.
Rationally Speaking
Evolving Thoughts
Welcome to my blog and website. This is where whatever passes through my forebrain in sufficient coherence gets put, as an aide memoir. It is unedited, unchecked and unneeded. I reserve the right to revise my posts to correct errors, but I'll mark them as they happen, if I think of it.
Secular News Daily
Welcome! The Secular Web is owned and operated by Internet Infidels Inc., a 501(c)(3) nonprofit educational organization dedicated to promoting and defending a naturalistic worldview on the Internet. As defined by Paul Draper, naturalism is "the hypothesis that the natural world is a closed system, which means that nothing that is not a part of the natural world affects it." Thus, "naturalism implies that there are no supernatural entities"—including God.
Secular Web
American Atheists
New Humanist Blog
The Humanist | A Magazine of Critical Inquiry and Social Concern
American Humanist Association
The Brights
RichardDawkins.net
Sam Harris
The Christopher Hitchens Web
Why Evolution Is True
EvolutionBlog
Epiphenom
Genealogy of Religion
A Theory of Mind
Biology of Religion
Neuroanthropology
NeuroTribes
Neurophilosophy
Skepticblog
The Skeptics' Guide to the Universe
Atheist Media Blog
Thoughts from Kansas
Dispatches from the Culture Wars
Stephen Law's Blog
Eric Kaufmann
Richard Carrier's Blog