Distributions Linux orientées MAO
puredyne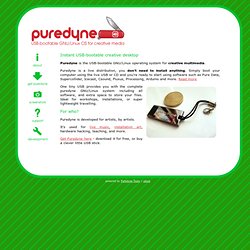 Puredyne is the USB-bootable GNU/Linux operating system for creative multimedia. Puredyne is a live distribution, you don't need to install anything. Simply boot your computer using the live USB or CD and you're ready to start using software such as Pure Data, Supercollider, Icecast, Csound, Fluxus, Processing, Arduino and more. Read more One tiny USB provides you with the complete puredyne GNU/Linux system including all software, and extra space to store your files. Ideal for workshops, installations, or super lightweight travelling.
Home Musix GNU+Linux
What is Musix GNU+Linux? It's a 100% free multimedia operating system intended for music production, graphic design, audio and video edition, and all kind of tasks. It contains an enormous collection of free (as in freedom) programs that can replace Windows.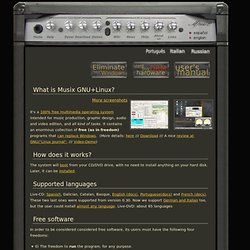 Audio Graphic Video Multimedia Linux
AndroidArt is the world's first website about Android applications for artists. www.androidart.org If you like ArtistX please consider making a small donation or visit our partners websites. ArtistX is a free DVD which turns a computer into a full multimedia production studio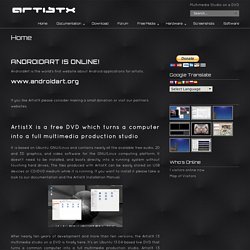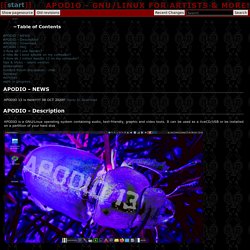 APODIO
critical point for advanced user! February 22nd, 2014 if you looking for the way to administrate your apodio / usual suspect sudo with pass "linux" then as you arrived there you should be able to go further by your own!! https://help.ubuntu.com/community/RootSudo more documentation about it : http://en.wikipedia.org/wiki/Sudo
Mission Since 2000 we run a nonprofit and planetary effort as a network of hackers committed to development. We support broad access to technology and knowledge with practices, tools and narratives for community empowerment . Code Code has become as important as natural language: it causes things to happen.
d y n e : b o l i c -- a free multimedia studio in a GNU/Linux live CD
Isle of Wight, UK, 25th November 2010 64 Studio has announced a partnership with Sourcefabric which will deliver enterprise content management systems for broadcasters and publishers on the GNU/Linux platform. Sourcefabric is a not-for-profit company headquartered in Prague, Czech Republic with offices in Germany, Canada, Belarus and Guatemala. It has over ten years experience developing specialized Open Source software for newspapers and radio stations, which has been deployed by more than 50 media organizations around the world.
64 Studio | Have GNU/Linux your way!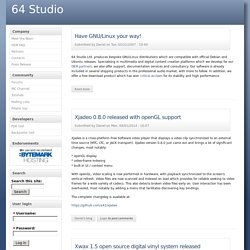 Home | Ubuntu Studio