Mao
Liquid Notes - Advanced Harmony Analysis, Chord Progression Management and Live Performance | RE-COMPOSE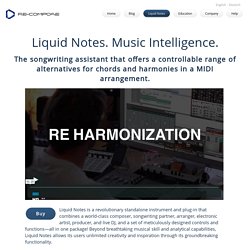 The music production tool that assists you with chords, scales, and harmonic movement with ease and efficiency. It works with all DAWs or standalone. Have a piece analyzed harmonically, at any stage of the composition process. And then rearrange it by substituting chords, altering their function, adding tension, building chord progressions, playing melody lines, improvising, and more.
The Wheels Of Steel: Turntables in your browser (a web-based DJ prototype)
MashupDJ
ClubCreate surfe sur la vague du moment en terme de musique électronique en proposant aux internautes de créer un morceau de dubstep en ligne. Dubstep Remix Studio est un site web qui vous propose l'artillerie d'un logiciel tel que Fruity Loops, Cubase, Logic ou autre, dont les fonctionnalités sont basiques mais suffisantes pour créer un morceau de dubstep ou de drum'n'bass (si vous augmentez le tempo jusqu'à 170 - 175bpm) assez facilement. Une librairie de sons est disponible ainsi que la possibilité de pré-écouter chaque échantillons avant de les intégrer à la playlist et vous pouvez également ajouter vos propres samples et les éditer.
Créez votre propre morceau de dubstep en ligne!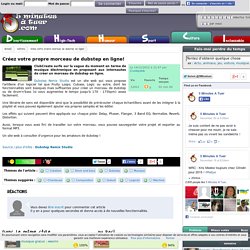 Mix 20 millions songs !
The basics: Controls Left-click a track to load it on the left turntable. Right-click or shift + click for the right turntable. Click and drag the needle to seek while the record is playing. If you're one of the "cool kids", you will see "scratch mode" which gives you more realistic DJ features like the demo video . ← ↑ → - Crossfader [ ] - Pseudo-transform (cross-fader cut / override) 1...5 / 6...0 : Cue points for left / right deck while playing.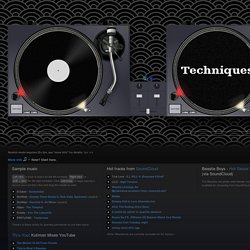 The Wheels Of Steel: Turntables in your browser (a web-based DJ prototype)
You've requested a page on a website (aux.zendesk.com) that is on the CloudFlare network. Unfortunately, CloudFlare is currently unable to resolve your requested domain (aux.zendesk.com). There are two potential causes of this: Timestamp: Mon, 25 Mar 2013 10:40:01 -0700 Your IP address: 198.27.80.99 Requested URL: aux.zendesk.com/wall/ Error reference number: 1001 Server ID: FL_21F12 Process ID: PID_54d624538fe063a User-Agent: Mozilla/5.0 (X11; Ubuntu; Linux x86_64; rv:17.0) Gecko/20100101 Firefox/17.0
Audiotool
Linux parent pauvre en matière musicale ? Pas du tout. Il existe en effet de nombreux logiciels pour faire de la musique avec une distribution Linux. Je viens de parcourir le web pour vous présenter une série de ces logiciels.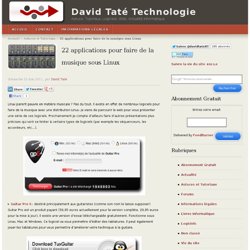 22 applications pour faire de la musique sous Linux
The P22 Music Text Composition Generator allows any text to be converted into a musical composition. This composition is displayed in musical notation and simultaneously generated as a midi file. 1. Usage Type or copy any text into the Text Field. Give the file a unique name.