The missing link of the modern dissociated mind
the Spiritual /Ecological"New Age" Imposture
In an age where data is available at the click of a mouse to 1.6 billion internet users (at last count) it seems to me we are becoming more ignorant rather than more enlightened. The sources of information we are exposed to, either inadvertently or through a deliberate act on our part, are increasingly uncontrolled. For example, blogs are increasing at about 100,000 per day.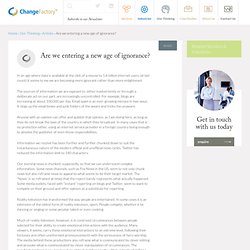 Are we entering a new age of ignorance? » Change Factory
Dying Cherry (in a cold, cold world)
Internet and collective intelligence criticism!
Internet and collective intelligence criticism!
Jorgen Leth - The Perfect Human (1967)
George Carlin: The Illusion Of Choice
L'«infamille» cherche à renouer le lien
Opinions PHILIPPE van MEERBEECK Psychiatre, psychanalyste, professeur à la Faculté de médecine de l'UCL. Auteur de «L'infamille ou la perversion du lien» (De Boeck)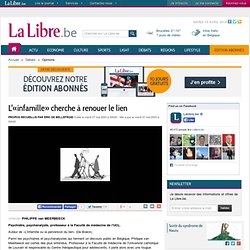 Slavoj Žižek interview on NiteBeat
Quick, think back to a major decision. You know, the kind that compelled you to read everything on a topic and lead you to spend hours devouring every last scrap of data. How'd that work out for you? We like to think that more information drives smarter decisions; that the more details we absorb, the better off we'll be. It's why we subscribe to Google Alerts, cling to our iPhone, and fire up our TweetDeck.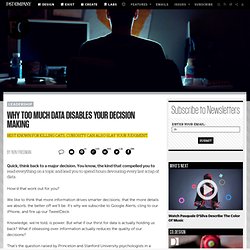 The spiritual link and the sacred space
Pas de culpabilité, triomphe de la honte (narcissisme et borderl
Men - Women: Keep the difference alive!
Société défaite, défaite de la société
Quelques idées contre la pensée unique (lire éditorial)
Nouveaux totalitarismes et pensées-pièges