Mind Mapping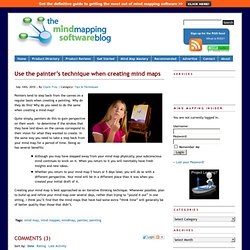 Use the painter's technique when creating mind maps
Sep 10th, 2010 | By Chuck Frey | Category: Tips & Techniques Painters tend to step back from the canvas on a regular basis when creating a painting.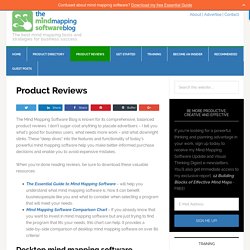 Product Reviews
New ConceptDraw MINDMAP/Evernote applet falls short I was recently excited to learn that CS Odessa has released an app in its Solution Park called Note Exchange that enables users of ConceptDraw MINDMAP program to send part or all of their mind maps to Evernote – my favorite writing platform and personal information capture tool. Unfortunately, it fell short of my expectations.
Read reviews of the best creativity software and brainstorming software
Read reviews of the best creativity software and brainstorming software
Read reviews of the best creativity software and brainstorming software
Read reviews of the best creativity software and brainstorming software
Read reviews of the best creativity software and brainstorming software
Read reviews of the best creativity software and brainstorming software
XMIND, developed by Mango Software of Beijing, China, is one of the newest entrants in the field of mind mapping software. And it aims to be one of the best, if XMIND 2008 Pro is any indication.
XMIND 2008 Pro offers a great set of features, impressive ease of use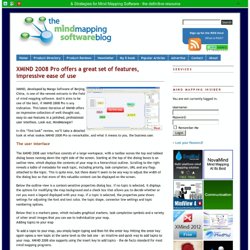 Visual Mind 9 opens new ground for collaboration with mind maps
Visual Mind 9 from Mind Technologies AS is a full-featured Windows application that has been designed to be easy for first-time users, yet offers an impressive array of advanced features that will appeal to experienced mind mappers, too. The big news in this latest version of Visual Mind, however, is the new client-server version of this product – the first of its kind in the world of desktop-based mind mapping software. In this "first look" product review, we'll take a look at some of the most notable new features of Visual Mind 9 and why you should include it on your short list of must-evaluate mind mapping tools.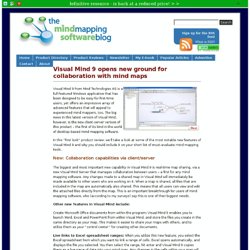 A review of iMindMap 3 beta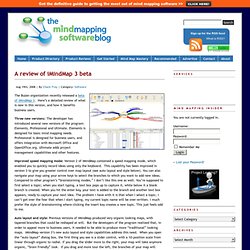 The Buzan organization recently released a beta of iMindMap 3 .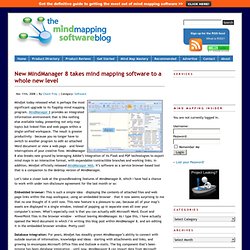 New MindManager 8 takes mind mapping software to a whole new level
Mindjet today released what is perhaps the most significant upgrade to its flagship mind mapping program. MindManager 8 provides an integrated information environment that is like nothing else available today, presenting not only map topics but linked files and web pages within a single-unified workspace.
TPAssist Limited recently announced the launch of a new MindManager add-in called TPAssistCapture , which enables you to quickly capture ideas, tasks, notes and next actions and send them to the mind maps that you use to manage them. I recently evaluated this program, and was pleasantly surprised with its power and flexibility. When you first install TPAssistCapture, it asks you to create any "quick links map" in MindManager, which defines the categories and tags actually used to classify your tasks, notes and ideas, and where items tagged with each category should be sent.
New TPAssistCapture utility adds valuable functionality to MindManager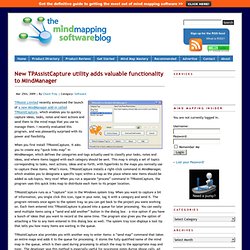 Review: iMindMap 4.0 offers well-designed presentation mode, numerous other enhancements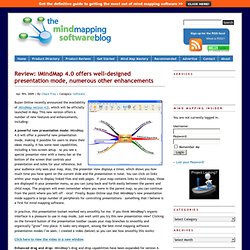 Buzan Online recently announced the availability of iMindMap version 4.0 , which will be officially launched in May. This new version offers a number of new features and enhancements, including: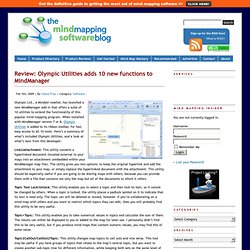 Olympic Ltd., a Mindjet reseller, has launched a new MindManager add-in that offers a suite of 10 utilities to extend the functionality of this popular mind mapping program.
Review: Olympic Utilities adds 10 new functions to MindManager
Review: Headspace offers an intriguing, sometimes frustrating 3D visual outliner for the iPhone and iPod Touch
Headspace is a visual mapping tool for the iPhone and iPod Touch that claims to be a mind mapping application. but is actually more of a hierarchical outliner with some cool 3D effects and the ability to link disparate topics to one another.
Mindsystems Pty. Ltd., a MindManager reseller located in Australia, recently launched a new program called Amode that takes the idea of visual mapping in an exciting new direction. In the process, it they have fashioned an integrated set of information management tools that will be very much appreciated by anyone who manages projects or large quantities of information.
Review: Amode takes a fresh approach to visual mapping, information management
Seavus , a developer based in Sweden, has used Microsoft's SilverLight technology to develop DropMind , a mind mapping application that is available in desktop and web-based versions, currently undergoing public beta testing.
Review: DropMind mind mapping tools offer promising capabilities – but also significant shortcomings
Ignited Software recently released version 2.0 of ThinkDigits, a unique combination of calculator and mind mapping application for the iPhone and iPod Touch. The first version focused more on calculation than visual mapping, so I haven't covered it in this blog before.
Review: ThinkDigits 2.0 for iPhone and iPod Touch offers an impressive blend of mind mapping and calculator features
Amode 2′s unique approach to information management is a perfect fit for today's business needs
Last year, Mindsystems launched Amode, a new program that took visual mapping in an exciting new direction. More of a flexible information management tool than a mind mapping program, it enbled users to represent information in several different contexts, rather than force-fitting it into a single visual mapping model.
New open-source mind mapping program Freeplane off to a promising start
Freeplane is a new open-source mind mapping software program that is an offshoot of the popular Freemind program.
Spinscape 2.0 breaks new ground with powerful, practical features
Review: iBlueSky v2.0 continues to lead the field for mind mapping on the iPhone and iPod Touch
Review: ConceptDraw MINDMAP 6 offers some attractive new features, but also a few shortcomings
MindManager Web Beta raises the bar on web-based visual mapping
Inspiration Software releases impressive web mapping beta
Mindjet takes visual mapping and collaboration to the next level with slick Catalyst platform
Read reviews of the best creativity software and brainstorming software
Review: iThoughts sets the bar high for mind mapping on the iPhone and iPod Touch
MindMeister's iPhone mind mapping app debuts with unique features, promising future
Review: MindView 3 Business Edition offers a powerful suite of visual mapping capabilities to business users
Review: New iFreeMind mind mapping app for iPhone is not quite ready for prime time
Review: New web-based mind map app SpicyNodes offers some intriguing functionality
Review: XMind 2008 offers an awesome, no-cost alternative to FreeMind
NovaMind 5 offers unprecedented freedom to create high-impact mind maps