Mind-Mapping
How to Mindmap - Mindmap. Discover the principles of mindmapping with the How to Mind Map Mind Map.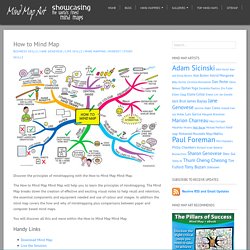 The How to Mind Map Mind Map will help you to learn the principles of mindmapping. The Mind Map breaks down the creation of effective and exciting visual notes to help recall and retention, the essential components and equipment needed and use of colour and images. In addition the mind map covers the how and why of mindmapping plus comparisons between paper and computer based mind maps.
You will discover all this and more within the How to Mind Map Mind Map Handy Links. Mind Mapping. Impress(.js) an Audience with Your Presentation. "Presentation!"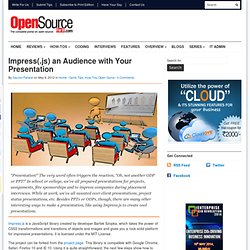 The very word often triggers the reaction, "Oh, not another ODP or PPT!" In school or college, we've all prepared presentations for projects, assignments, fête sponsorships and to impress companies during placement interviews.
Other people's trees for mind mapping
The Mindmap Blog. Mind map library - Biggerplate. Using Mind Maps. Author Creativity Exercise Mind Mapping Books | publishingacademy.com. If you're new here, you may want to subscribe to my RSS feed.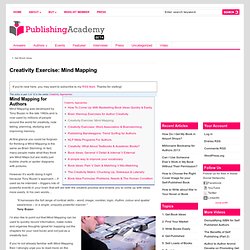 Thanks for visiting! Mind Mapping was developed by Tony Buzan in the late 1960s.and is now used by millions of people around the world for creativity, note taking, planning, studying and improving memory. At first glance you could be forgiven for thinking a Mind Mapping is the same as Brain Storming. Unleash Your Genius with Mind Mapping | Brain PathWays Blog. Image via Wikipedia Mind mapping is a powerful and underutilized whole brain system to solve problems, make decisions, develop plans, accelerate learning and communicate effectively with others.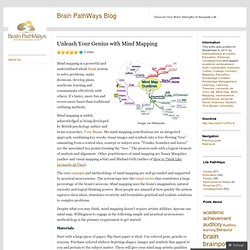 It's faster, more fun and covers more bases than traditional outlining methods. Mind mapping is widely acknowledged as being developed by British psychology author and brain researcher, Tony Buzan. Kaleidoscope Kreations: mindmap gifts: Zazzle.com Store. Madrid - Mind Map. Mindmap software. 5 Innovative Mind-Mapping Tools For Education. What do you do when you have an elaborate project, assignment, or paper that needs to be quickly organized?
Do you fire up Microsoft Word and whip up an outline? Do you pull out a pen and paper and start sketching? What if you could have the best of both options with a free online tool? 15 Great Mindmapping Tools and Apps. Mindmapping is the process of drawing up diagrams that show relations between various ideas, tasks or information.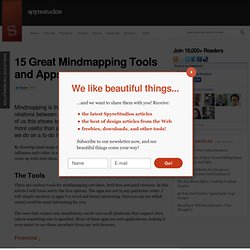 For many of us this shows to actually be a way of taking notes that can be more useful than just writing down keywords or sentences like we do on a to-do list. By drawing mind maps you actually visualize your tasks and how each task can influence each other in a better way, making your brain remember more easily and/or come up with new ideas. The Tools There are various tools for mindmapping out there, both free and paid versions.
In this article I will focus solely the free options. 30+ List. We all need to organize our thoughts sometimes, and there seems to be no better way to do it than in a visual fashion.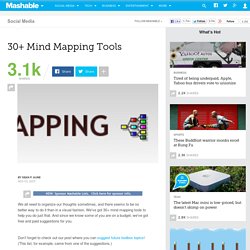 We've got 30+ mind mapping tools to help you do just that. And since we know some of you are on a budget, we've got free and paid suggestions for you. Don't forget to check out our post where you can suggest future toolbox topics! (This list, for example, came from one of the suggestions.) Free. Mindomo. Prezi. Alternatives. Online Mindmaps Galleries.
---
hip23u Apr 23 2012

I <3 mind-mapping. It keeps things planned organised well. :)
---