Mind Mapping
Toni Krasnic, creator of Conciselearning.com defines critical thinking as "… a continuous, purposeful, and reflective process about what to believe, do, think, or learn. It is fact based, hypothesis-driven, and structured thinking. It uses systematic and objective methods to solve problems and liberates you from inaccuracies, biases, and misleading information." Critical thinking skills are key to coming up with viable and feasible solutions to challenging situations. Toni created a mindmap that can help you become a more effective critical thinker (click or tap map to enlarge):
The Critical Thinking Mindmap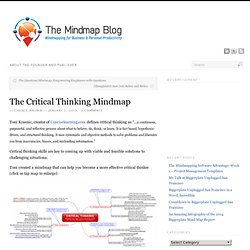 Biggerplate Unplugged - Utrecht - Eventbrite
WWP%20-%20Fall%20Issue%202012_FINAL_10-31-12_page5+6_book_review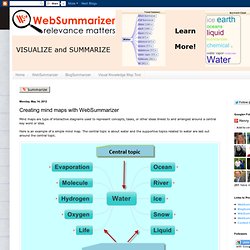 Creating mind maps with WebSummarizer
Mind maps are type of interactive diagrams used to represent concepts, tasks, or other ideas linked to and arranged around a central key word or idea. Here is an example of a simple mind map. The central topic is about water and the supportive topics related to water are laid out around the central topic. A mind map communicates visually the key ideas very effectively.
Preparing for exams using Mindmapping techniques - Surviving Exams, Education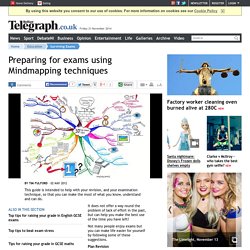 By Tim Fulford – 02 May 2012 This guide is intended to help with your revision, and your examination technique, so that you can make the most of what you know, understand and can do. It does not offer a way round the problem of lack of effort in the past, but can help you make the best use of the time you have left!
Everything begins with the way we think, leading to the way we act and behave. By changing the way we think, we can find new ways to do things better and be better in every aspect of our lives. Mind Maps are a profound tool for effective thinking. Their contribution and impact on our thinking is impeccable. Allow me to share with you my experiences on my journey with Mind Maps.
My Journey with Mind Maps! | Shalu Wasu is Tickled By Life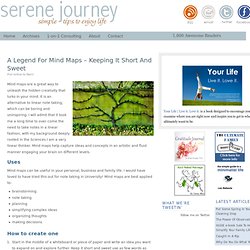 Mind maps are a great way to unleash the hidden creativity that lurks in your mind. It is an alternative to linear note taking, which can be boring and uninspiring. I will admit that it took me a long time to over come the need to take notes in a linear fashion, with my background deeply rooted in the Sciences I am a very linear thinker. Mind maps help capture ideas and concepts in an artistic and fluid manner engaging your brain on different levels. Uses Mind maps can be useful in your personal, business and family life.
A Legend For Mind Maps – Keeping It Short And Sweet | Serene Journey
Mind Maps Home - www.mindmaps.moonfruit.com
Mind Mapping app software
Mapping Your Mind | July-August 2011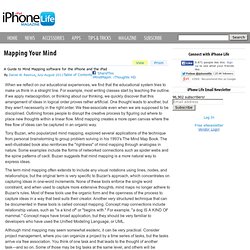 When we reflect on our educational experiences, we find that the educational system tries to make us think in a straight line. For example, most writing classes start by teaching the outline. If we apply metacognition, or thinking about our thinking, we quickly discover that this arrangement of ideas in logical order proves rather artificial. One thought leads to another, but they aren't necessarily in the right order.
I revisit with this article the food pyramid with a creative mind map. I extended it to a new piece of educational content that you will be able to use for informing or teaching kids, students or patients. I offer you all the resources and explanations so that you can operate in the classroom or at home in the best conditions, with the maximum of efficiency and return. I propose to revisit with this article the food pyramid with a creative mind map.
food-pyramid-revisited-with-mind-map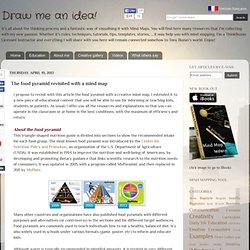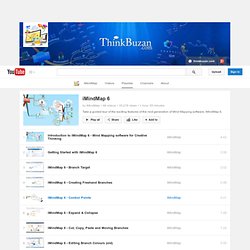 Getting Started with iMindMap in 2 minutes View new iMindMap 6.2 feature tutorials below. Sharing & Viewer
Products - iMindMap - Basic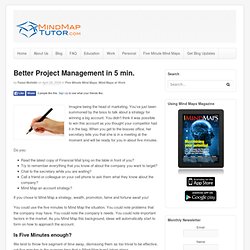 Imagine being the head of marketing. You've just been summoned by the boss to talk about a strategy for winning a big account.
Five Minutes to better Project Management using Mind Maps | Mind Map Tutor - Using Mind Maps to Learn Faster and Easier
iMindMap online
Think Buzan Account Login