Mandarin/Chinese
Where to download Chinese subtitles for movies | Learn Chinese Blog | Learn to speak Chinese
Recently, when I was surfing around on some Chinese learning websites, I noticed that some people were looking for a place where they can download Chinese subtitles for movies. And Since watching movies is one of great ways to learn Chinese, I'd like to share some resources today, hope it would be something helpful for those who want to learn Chinese by watching movies or for those just want it for entertainment. The website I'd like to introduce is called 射手网-shooter.cn, it's personal-owned website and has tons of subtitles from way back, probably any movie you can think of. You can download Chinese subtitles for Chinese or English movies, or English subtitles for Chinese or English movies.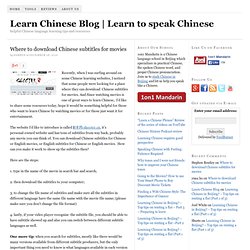 学汉语 | Study Forever, Never Say Never
士隐听得明白,心下犹豫,意欲问他们来历。只听道人说道: "你我不必同行,就此分手,各干营生去罢。三劫后,我在北邙山等你,会齐了同往太虚幻境销号。"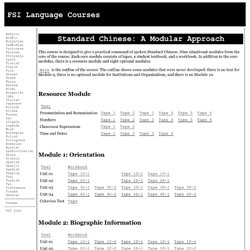 This course is designed to give a practical command of spoken Standard Chinese.
Chinese Reading Practice | Simplified Chinese Reading Exercises & Materials Blog
慢速中文 Slow Chinese
Learn Chinese - Learning Mandarin Chinese Lessons Conversation Tones Pronunciation Characters Chinese Culture Online Free on Mandarin Click by Click with James Steed
Learn Chinese Weekly
Study More Chinese - Learn Mandarin online - music, videos, blogs & discussion community.
Published Links | Social Mandarin
Chinese Hacks | Learn Chinese – Tips, Tricks, Hacks, Software and Websites to make learning Chinese easier!
Self Study Mandarin
鼠标悬停可以看词的英语和拼音;点击中文词可以看词的详细中文和英文数据。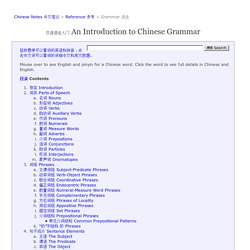 Chinese Notes — Grammar 中文笔记 - 语法
Chinese Learning Easy
Chinese Language Blog | my chinese notebook . . .
朗朗中文 Yes! Chinese - Learning Chinese
Welcome to WordBuddy
xuele
Library
Learn Chinese Online, How to Learn Chinese, with Audio and Video Chinese Podcast, HSK Chinese Test practice
(Displaying 1 - 10 of 60 lessons) *Basic Language: A Hello-Goodbye Chinese Rap 0/0+ This text provides terms for greeting, leave-taking, thanking, and apologizing in the form of a rap. *Basic Language: Asking and Answering Questions 0/0+ This text is a straightforward dialogue from a beginning Chinese textbook.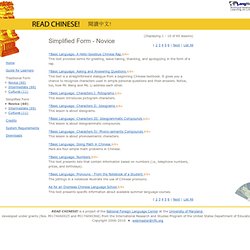 ReadChinese!
Chinese Language | Mandarin Chinese | Chinese Learning
Learn Chinese | CRIENGLISH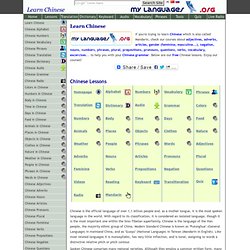 Chinese Lessons
Learn Chinese - Grammar and Vocabulary
MYLO: a new way to learn languages
Chinese Department
Zhongwen Red - Free Online Mandarin Chinese Lessons
Languages - Real Chinese
Learn Chinese Online | Chinese Lesson Online | Mandarin Chinese Lesson
About Our Progressive Chinese Course ChineseLearnOnline.com is an online course in Mandarin Chinese for absolute beginners to intermediate students. Our Mandarin Chinese course uses a progressive immersion technique that is unlike any other course out there.
learn chinese - clear and easy mandarin lessons
mandarin chinese lessons with serge melnyk
Test your Chinese | linguaChina
Zhongwen Blue - Free Online Materials for Learning Chinese
In the second lesson we will learn how to make simple questions using the question word 吗? ma? So how do you make a question?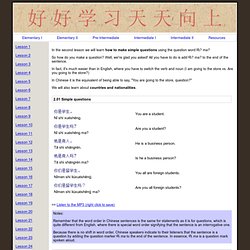 Day Day Up Chinese! Free Online Mandarin Chinese Self-Study Textbook
central-en.lingq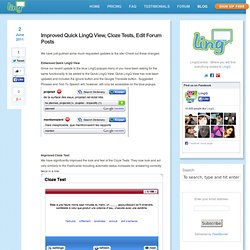 We have just pushed some much requested updates to the site! Check out these changes:
Learn Chinese Speaking, Free Chinese Lessons on Everyday Chinese.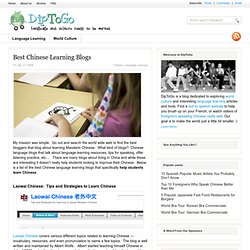 Best Chinese Learning Blogs | Dip To Go
My mission was simple.
Learn Chinese
Growing up with Chinese 成长汉语 - Free Mandarin Video Lessons on CCTV