HTML/CSS
Pearltree d'information sur le codage html/css, sa philosophie et ses avancées.
Le petit journal permanent de CSS3 — 100+ ressources pour commencer. Periodic Table of the Elements - Josh Duck. Should You Reset Your CSS? This article explores the ongoing debate on whether or not web designers and web developers should reset their CSS, sharing the thoughts and opinions of several web professionals.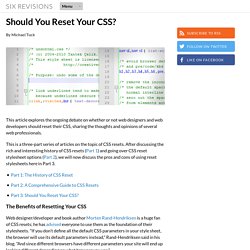 This is a three-part series of articles on the topic of CSS resets. After discussing the rich and interesting history of CSS resets (Part 1) and going over CSS reset stylesheet options (Part 2), we will now discuss the pros and cons of using reset stylesheets here in Part 3. A Comprehensive Guide to CSS Resets. This guide examines the infinite-like variety of CSS resets created by web developers and designers across the world.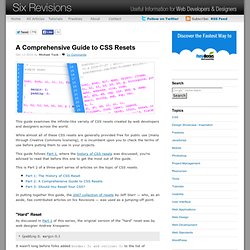 While almost all of these CSS resets are generally provided free for public use (many through Creative Commons licensing), it is incumbent upon you to check the terms of use before putting them to use in your projects. This guide follows Part 1, where the history of CSS resets was discussed; you're advised to read that before this one to get the most out of this guide. This is Part 2 of a three-part series of articles on the topic of CSS resets.
The History of CSS Resets. When artists begin a new painting, they don't immediately reach for the cadmium red and the phthalo blue.
They first prime the canvas . Why? 10 CSS3 Properties you Need to be Familiar with. We've already covered the thirty CSS selectors that we should all memorize; but what about the new CSS3 properties?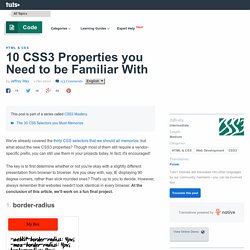 Though most of them still require a vendor-specific prefix, you can still use them in your projects today. In fact, it's encouraged! The key is to first determine whether or not you're okay with a slightly different presentation from browser to browser. Are you okay with, say, IE displaying 90 degree corners, rather than slick rounded ones? HTML5 : 20 Conseils et astuces pour coder proprement ses pages. Voici une liste de 20 astuces pour coder vos pages proprement en HTML5.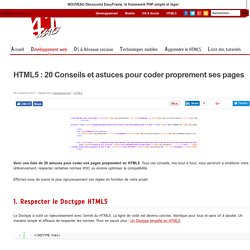 Tous ces conseils, mis bout à bout, vous serviront à améliorer votre référencement, respecter certaines normes W3C ou encore optimiser la compatibilité. Efforcez-vous de suivre le plus rigoureusement ces règles en fonction de votre projet. 1. Quelques notes, beaucoup de liens (et un peu de mauvaise foi) sur HTML5. Dégradés CSS3 WYSIWYG avec Ultimate CSS Gradient Generator. Quelques notes sur XHTML et CSS, au fil de l'eau…
Ressources en développement Front-end : HTML 5, CSS 3. Cette page collecte un ensemble d'articles sur les langages HTML 5 et CSS 3.
Elle est régulièrement mise à jour en fonction des éléments trouvés ou rapportés par d'autres via des réseaux sociaux. Alors encore merci à tous ces contributeurs... Ressources HTML 5 Les indispensables W3Cschool : HTML 5 - Langue anglaise : tout savoir sur toutes les balises de ce langage, leur utilisation, les attributs,... Tous les gabarits — Gabarits HTML-CSS. 35 Fresh CSS3 Articles & Tutorials / CSS / Splashnology - Web Design and Web Technology Community. InShare0 This is cool collection of most wanted, usefull tutorials and articles by CSS3.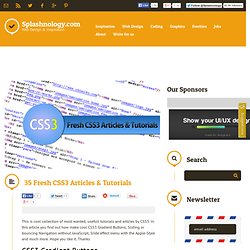 In this article you find out how make cool CSS3 Gradient Buttons, Sliding or bouncing Navigation without JavaScript, Slide effect menu with the Apple-Style and much more. Hope you like it. Thanks. Creating A Custom HTML and CSS Framework for Rapid Development. In this article I will go over creating a custom framework to have and use for your own projects.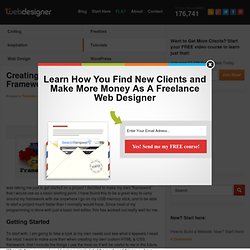 This to me has been one of the best resources to me in creating websites for clients. I found just like everyone else that after doing so many web pages you hit the point of realizing you keep typing the same things over and over. To try and cut down on some of the time it was taking me just to get started on a project I decided to make my own "framework" that I would use as a basic starting point.
I have found this to be a great way to carry around my framework with me anywhere I go on my USB memory stick, and to be able to start a project much faster than I normally would have. Coins arrondis CSS. Pour réaliser des blocs (menus ou autres) avec des coins arrondis, il existe principalement trois méthodes en CSS, qui offrent plus ou moins de fluidité et de possibilités graphiques.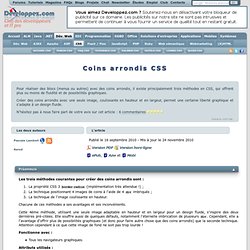 Créer des coins arrondis avec une seule image, coulissante en hauteur et en largeur, permet une certaine liberté graphique et s'adapte à un design fluide. N'hésitez pas à nous faire part de votre avis sur cet article : 6 commentaires Article lu 1053 fois. 30 menus de navigation en CSS pour votre site web. Huit sites très pratiques pour générer du CSS3. Les meilleurs livres pour CSS.
Blog Archive » HTML 5, c'est trop bien – engagez-vous! - Framasoft Framafox. Le HTML5, c'est génial.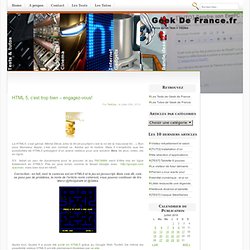 Même Steve Jobs le dit (et pourtant c'est le roi de la mauvaise foi…). Bon pour Monsieur Apple, c'est son combat vs. Adobe qui le motive. Les sprites CSS - Alsacréations. Utiliser CSS3 aujourd'hui, outils et ressources - Alsacréations. Slideshow en CSS3 - Alsacréations. FAQ sur le CSS. FAQ sur le HTML. Ce que nous réserve CSS3 en 2010 - Alsacréations. Osez HTML5 et CSS3 ! - Alsacréations. Apprenez à créer votre site web ! 24 frameworks CSS — Mettez une grille (ou pas) dans votre site w. Dive Into HTML5. A quick video overview of Canvas | Canvas.
Osez HTML5 et CSS3 ! - Alsacréations. Webmonkey: the Web Developers Resource. Create a Dynamically-resizing Background Image Using CSS (urbanm. Universal Internet Explorer 6 CSS | For A Beautiful Web. Mise à jour du tutoriel sur les ombrages en CSS3 - Alsacréations. Passez au player vidéo HTML5 en douceur. Html5media - Project Hosting on Google Code. CSS Monsters « VirtuousWeb. xCSS - OO CSS Framework. CSS 3 : les effets de texte. Float : le grand bluff ? - Alsacréations. Mise en page CSS avancée grâce à la propriété display - Alsacréa.
L'atteinte à la concurrence, trouble-fête de la carte musique je. Ovale et forme elliptique avec CSS3 sans image - Alsacréations. FFMpeg2Theora, guide par l'exemple. Tutoriel HTML : la structure d'une page. Tutoriel HTML : l'entête de la page. HTML5 presentation. 25 frameworks CSS — Mettez une grille dans votre site web. It's a Creasy blog! | HTML5 - L'attribut draggable. The HTML5 test - How well does your browser support HTML5? Générer des boutons en CSS. Gérer les débordements de contenu grâce à CSS - Alsacréations.
---