eLearning
Miemorehouse « TodaysMeet. Gameology 2.0 | We study videogames. Adobe Captivate. eLearning: It's Time for a Reboot | Innovation Insights. Image: courosa/Flickr It's been 10 years since eLearning emerged as a new category, and the market is now massive and growing: ASTD estimates that U.S. organizations spent approximately $156.2 billion on employee learning and development in 2011.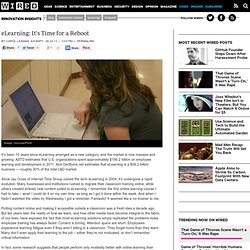 And Certifyme.net estimates that eLearning is a $56.2 billion business — roughly 30% of the total L&D market. Since Jay Cross of Internet Time Group coined the term eLearning in 2004, it's undergone a rapid evolution. Many businesses and institutions rushed to migrate their classroom training online, while others created entirely new content suited to eLearning. Rapid eLearning | Adobe Captivate Blog. April 9, 2014 Creating Advanced Drag & Drop Interactions with Adobe Captivate inShare6.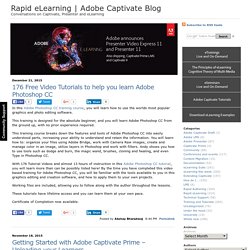 Virtual Classroom: Part 3 of 4. Three Tips for an Engaging Virtual Classroom The most common "hit" any type of e-learning takes is lack of engagement.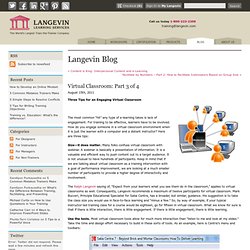 For training to be effective, learners have to be involved. How do you engage someone in a virtual classroom environment when it is just the learner with a computer and a distant instructor? Here are three tips: Cumberland County teachers can broadcast lessons across entire district. From wire service reports Read more by staff and wire services reports The computer software is one way the school system is meeting the federal requirement to have a certified teacher in every classroom.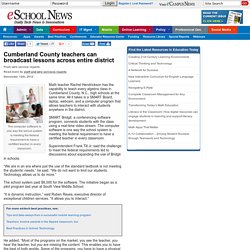 Math teacher Rachel Hendrickson has the capability to teach every algebra class in Cumberland County, N.C., high schools at the same time: All it takes is a SMART Board, laptop, webcam, and a computer program that allows teachers to interact with students anywhere in the district. SMART Bridgit, a conferencing software program, connects students with the class using a real-time video stream. The computer software is one way the school system is meeting the federal requirement to have a certified teacher in every classroom. How (And Why) Teachers Should Get Started With Blended Learning. Blended learning is quite simply one of the most overused terms to describe the current state of education's relationship with technology.
However, it fits. Blended learning is marrying the influx of technology with the learning principles that are proven to work. It's a powerful combination if done properly. Content is King: Interpersonal Content and e-Learning. Content is King: Interpersonal Content and e-Learning August 11th, 2011 There are three types of content that we teach in the world of training: technical, interpersonal, and conceptual.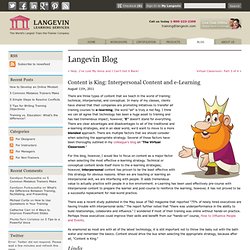 In many of my classes, clients have shared that their companies are promoting initiatives to transfer all training courses to e-learning; the word "all" is truly a red flag. I think we can all agree that technology has been a huge asset to training and has had tremendous impact; however, "E" doesn't stand for everything. How Can We Stop Cheating In Online Courses? This is an excerpt from a longer article in the October issue of Edudemic Magazine for iPad.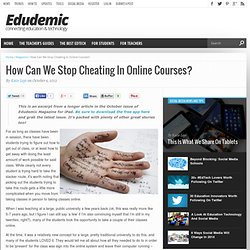 Be sure to download the free app here and grab the latest issue. It's packed with plenty of other great stories too! For as long as classes have been in session, there have been students trying to figure out how to get out of class, or at least how to get away with doing the least amount of work possible for said class. While clearly not every student is trying hard to take the slacker route, it's worth noting that picking out the students trying to take this route gets a little more complicated when you move from taking classes in person to taking classes online.
When I was teaching at a large, public university a few years back (ok, this was really more like 5-7 years ago, but I figure I can still say 'a few' if I'm also convincing myself that I'm still in my twenties, right?) Online insight: Challenges beat cheerleading | Superintendent's Center. Educators consider how to foster meaningful interaction among students in online courses By Meris Stansbury, Assistant Editor, eSchool News Read more by Meris Stansbury.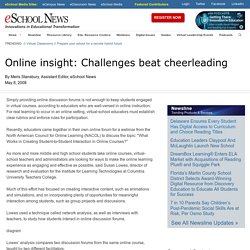 ---